This post is sponsored by Milford Valley Chicken. As always, all opinions are mine.
Are you a football loving family? I'll be honest, I didn't fully understand football until a few years ago when I finally figured out what all the 1st, 2nd and 3rd downs meant (go ahead and laugh at me). Now, I can't get enough. My husband and I even compete in a family fantasy football league with his three sisters and their spouses. It's fun and now I really enjoy watching the games to cheer on my fantasy team members.
Our family likes to host football viewing get togethers, but big parties can be stressful. I've learned to keep it simple over the years. People come for football, snacks and fun! Here are my tips for an easy, frugal and fun football party. Host an awesome party and have it all ready in as little as 30 minutes!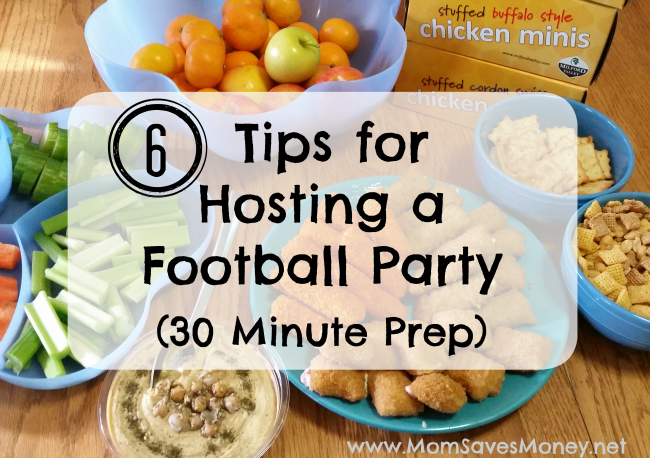 1. Prep the Day Before – Many food items can be made the night before the party and pulled out right before you eat. I usually cut veggies (no more than 3 types) and keep them in containers in the fridge. I add some to a veggie tray right before the game and can always add more veggies to the tray throughout the party as needed. Don't forget the ranch dressing or hummus for dip! I also assemble a selection of in-season fruit for guests.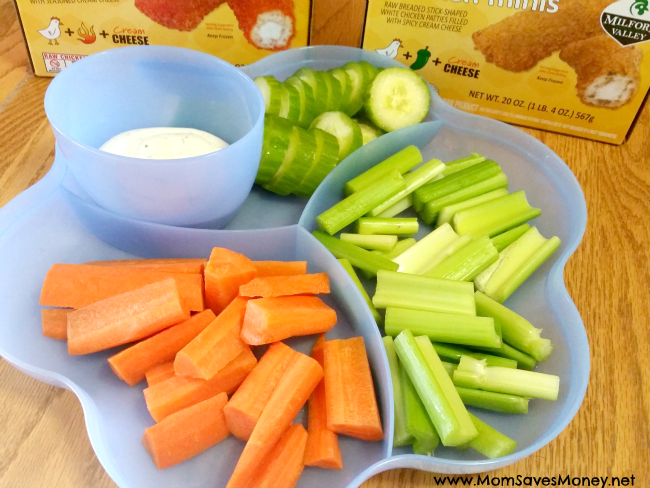 2. Buffet style – Serve food buffet style for easy set up. For warms dishes, consider using a crockpot to keep them warm throughout the football game. And, don't forget paper plates! (Who wants to do a ton of dishes after a party?)
3. Finger Foods – To keep your food selections simple, stick with finger foods! It's so hard to sit on a couch to watch a game and try to each with silverware. Finger foods are definitely the way to go! That's why I love the Milford Chicken Valley chicken minis, currently available at Hy-Vee. They are great little appetizers and are super easy to cook. Just pop them in the oven for 25-26 minutes and they are done and ready to serve. There are currently three flavors, buffalo, jalapeno and chicken cordon swiss and they are all crowd pleasers!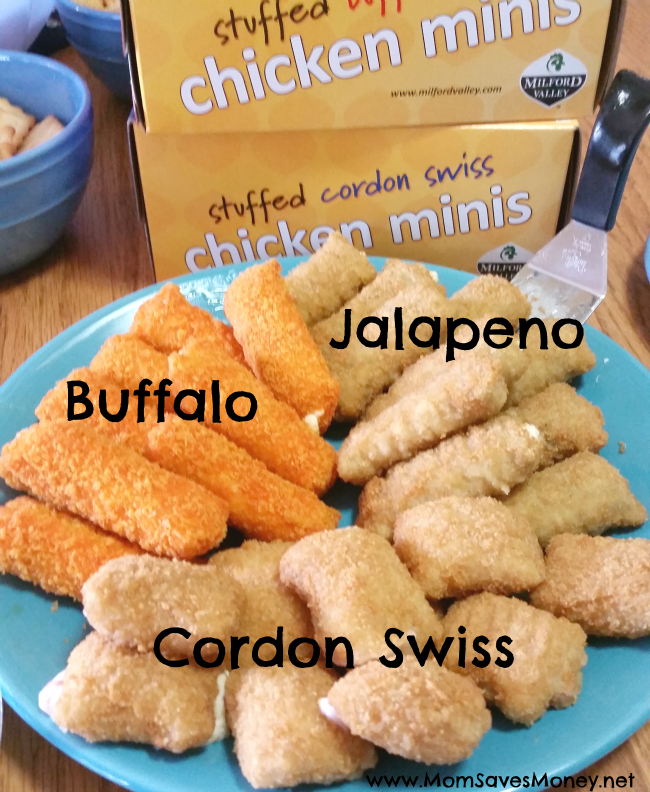 4. Refreshments & BYOB – I keep the drinks simple and usually offer water and pop. I know serving adult beverages can get very costly, so I encourage my guests to bring their own choice of drink if they want something other than pop.
5. Game Day Seating Solution – I have typical living room seating with just a couch, love seat and a rocking chair. When we host a big party, that usually means bringing out some extra chairs for everyone to have a comfy seat. I do have folding chairs, but I usually opt for those awesome camping chairs. Camping chairs are more comfy than steel folding chairs and usually have a built-in drink holder. Bonus!
6. Activities for Kids – If you or your friends have kids that attend the party, have a few activities and fun toys ready for them to do in a separate area from the game watching. Big bonus if the kids have their own TV room where they can watch a kid friendly movie while the adults enjoy the game!
These are my tips for having a low-key, low-stress and budget-friendly football party. I'm always a fan of simple parties to make more time for spending quality time with friends and family and watching the big game together!
What other tips do you have for a fun football viewing party?