Disclosure: Contains affiliate link
Do you have a young reader? My 1st and 4th grader are huge readers and usually pick up so many books each week at the library that we can barely carry out the bag. I love to encourage them to read and pick up their favorite books and series as gifts for birthdays and every Christmas. When my daughter finds an author she loves she will read every book in the series multiple times!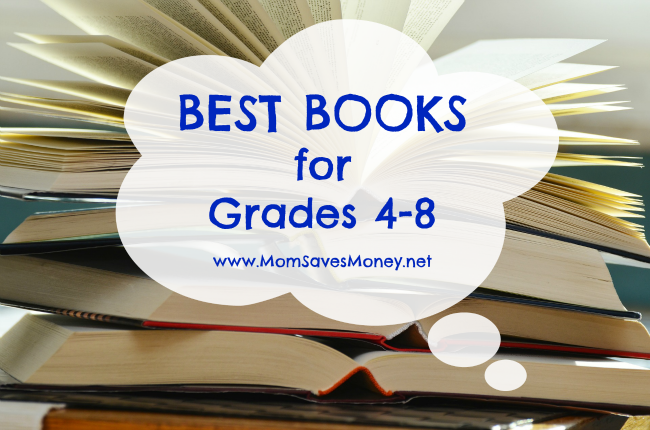 I've compiled a list of their favorite books and a few of my favorites. These are all appropriate for grades 4-8. When a child dives into a great story that encourages a lifelong love of reading! I included all of these books because they are entertaining, great stories that will hold a child's attention and get them reading.
1. Harry Potter! There's a reason these books are still bestsellers even after a decade. The Harry Potter series is an amazing story and I devoured the entire series in a few short weeks. I would recommend books 1-3 for elementary kids. The series does get darker after that, so save those for middle school.
2. Diary of a Wimpy Kid – These books are hilarious! Even before my kids could read the words, they would flip through and giggle at the pictures.

3. Percy Jackson and the Olympians – I'll admit, I'm the one who absolutely LOVED this series and read them all! Follow Percy navigate a world of Greek Gods and monsters as he learns his true identity. Lots of imagination, adventure and thrills in this series.

4. Smile & Sisters – My daughter absolutely loves the books by this author. The characters are relatable and the stories are fun.

5. Dork Diaries – This is one of my daughter's all-time favorite series of books! The main character is in middle school and discusses mean girls, BFF drama and first crushes. There are also cute cartoons throughout the book to compliment the story.

6. Goosebumps by R.L. Stine. I remember reading this series as a kid! The books are just a little scary, but very fun to read. Plus, there tons of titles in this series, so always another one to read!

My 4th grade daughter helped me put together this list and I love all her suggestions. What other books do you recommend for this age group?