Disclosure: Review copy provided & contains affiliate links. All opinions are mine.
Calling all Minnie Mouse fans! Disney Junior just released a brand new Mickey Mouse Clubhouse DVD – Pop Star Minnie. In Pop Star Minnie, Minnie Mouse dreams of singing onstage, but all the instruments are stolen. The Clubhouse gang goes on a musical adventure to find the missing instruments and save the day!  This is a fun, interactive episode that will get you signing along to the groovy tunes.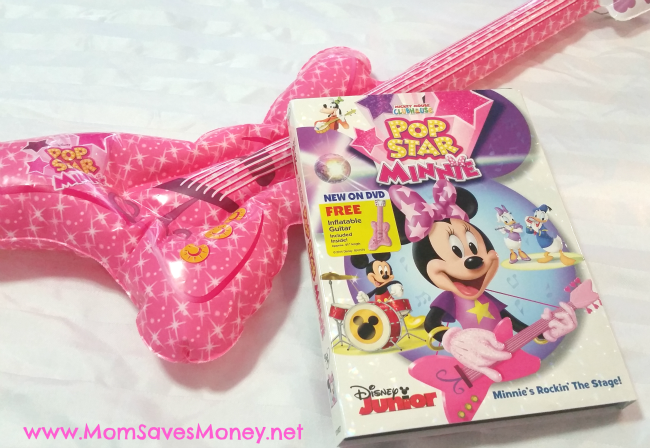 This DVD is over 2 hours of Minnie Mouse & The Clubhouse fun! Plus, every DVD includes an exclusive FREE inflatable guitar for your little to jam out to the music.
Pop Star Minnie DVD features five exciting, music themed episodes including:
– Pop Star Minnie
– Mickey's Clubhouse Rocks
– Minnie & Daisy's Flower Shower
– Minnie's Mouseke-Calendar
– Mickey's Big Band Concert
Bonus features include:
– Minnie's Bow Toons
– Rooftop Repair
– Alarm Clocked Out
Ready for some Minnie Mouse fun now? Check out this free downloadable 5-page activity booklet to enjoy with your kids today.
GIVEAWAY:
One lucky person will win a DVD copy of Pop Star Minnie. Enter using the Rafflecopter form below.