We visited the drive thru way too often at the end of 2015.  Most of that was because of our kitchen remodel, but I knew that had to change going into 2016.  So I took a few minutes to think about meals that I could get on the table in less than 10 minutes and would consist of things that I had on hand.  That's when I remembered Taco Salad.
There isn't really a recipe for this, so that's why I didn't serve it that often.  If it wasn't in my recipe binder, I just never thought of it.  And it's a shame – taco salad is inexpensive, it comes together very quickly and my whole family loves it.  That's a clear winner!  And because it's a "throw a bunch of stuff into a bowl" kind of recipe, it's easy to feed a family of 2 or a family of 12!
It comes together really quickly if you have browned hamburger ready to go in the freezer or fridge.  Just warm it up and add it in!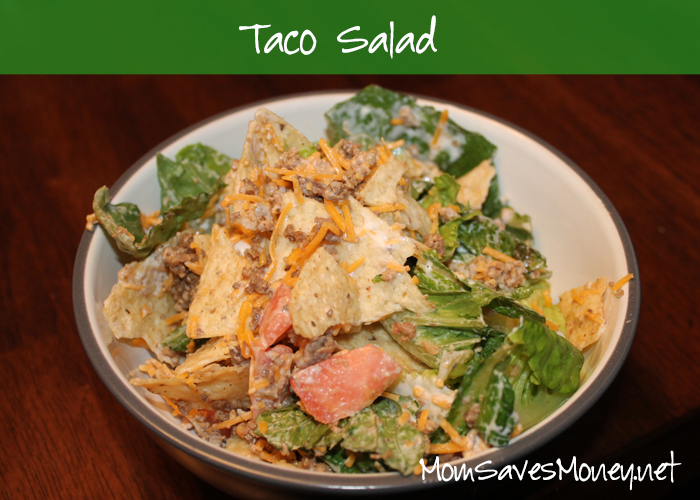 Taco Salad
Ingredients
Lettuce

Ground beef, browned

Shredded cheese

Taco toppings – I use tomatoes and onions, but you can also add in black olives

Dressing – Ranch, Dorothy Lynch or salsa

Tortilla chips
Instructions
Put all your ingredients into a bowl.

Mix it up.

Serve and eat.
Notes
Sounds simple because it is! I know many people swear by Dorothy Lynch dressing for their taco salad, but I've always been a ranch dressing kind of gal. To make simple mexi-ranch dressing, you can mix a little bit of salsa into the ranch dressing. Or really, just put both the salsa and the ranch in the bowl when you mix it all together. It'll have the same effect!
You can also serve it "naked" (without dressing) to let your family put their own dressing on. My husband will often add a little bit of spicier salsa for an additional kick!
Jayme is a wife to 1 and a mother to three little boys (soon to be 4 this summer!). She coupons, but isn't super extreme about it. She price matches and loves it! While she likes to cook, she's in the stage of life where simple is usually better! She never knows how many hands she'll have free at dinner time! You can find her at No Regrets Living.