Do you love pineapple? Ever find a great deal and want to buy several fresh pineapples, but are afraid they will go bad before you can use them all? I have a simple solution: dehydration! My kids absolutely love dried fruit and it's a quick and healthy snack they can grab on the go or toss in their lunches.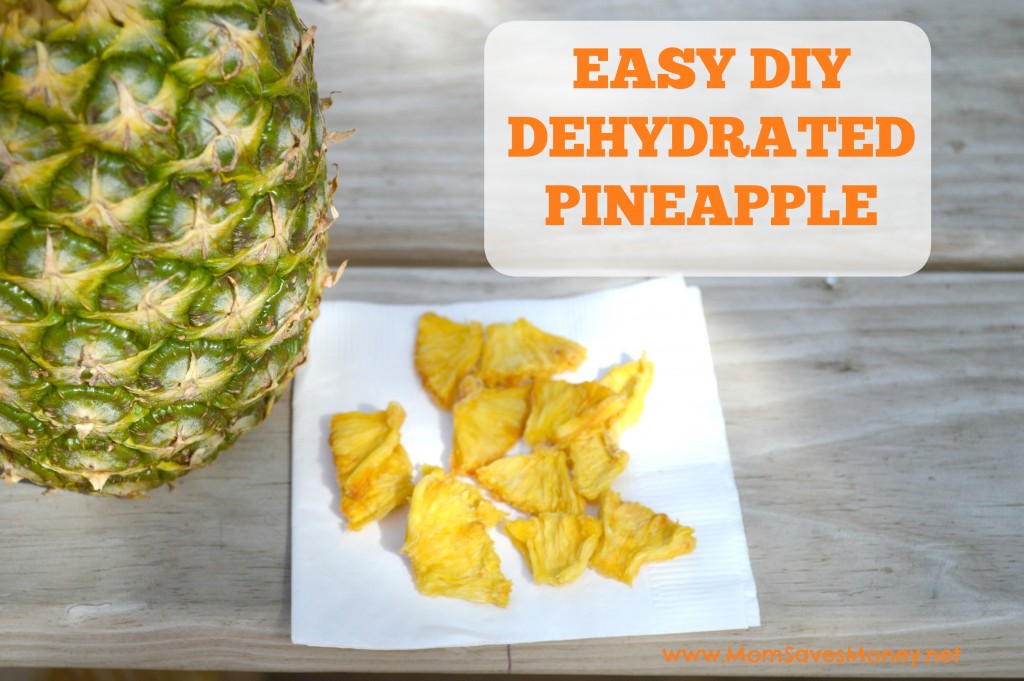 I teach meal planning classes locally and am always amazed that many people don't realize how incredibly easy it is to dehydrate fruit! Plus, it's super economical when you find in-season fruit on sale.
So how easy is it to dehydrate pineapples? I was able to prepare seven pineapples for dehydration in less than 15 minutes with this stainless steel pineapple slicer and de-corer.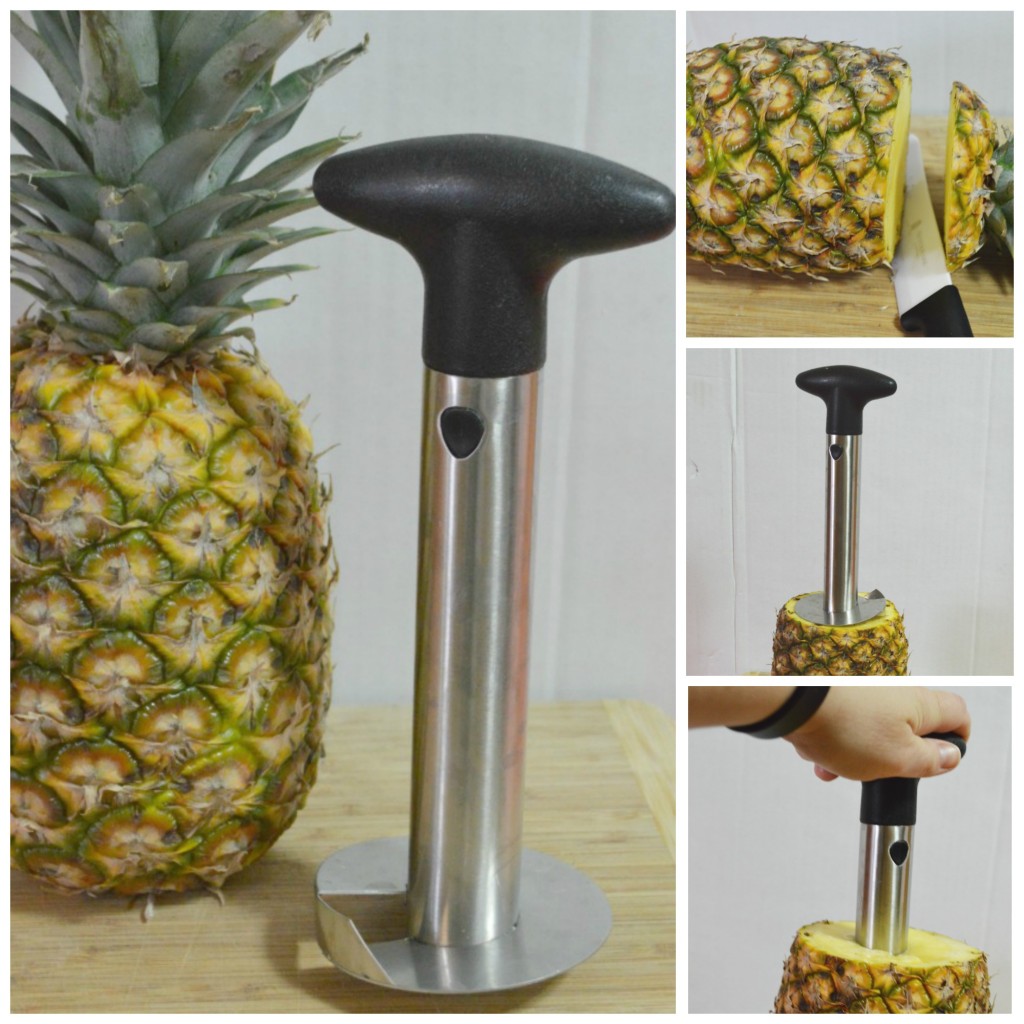 How to de-core and slice pineapple in a minute:
1. Cut off top of pineapple
2. Place pineapple slicer and de-corer on top of pineapple (try to center the tool to the middle of the pineapple core)
3. Turn tool clockwise until you hit the bottom of the pineapple
4. Cut slit lengthwise in pineapple skin to easily peel if from the fruit
5. Remove tool and pineapple will be de-cored and sliced into perfect rings!
If you want hollow pineapples (I'm thinking to hold pina coladas), simply stop turning the tool just before it hits the bottom (to prevent piercing the pineapple skin). Then, pull the tool upwards and out of the pineapple skin. The fruit will be removed and you will be left with a hollow pineapple with just the core intact, which is easy to cut out to fill with your favorite adult beverage!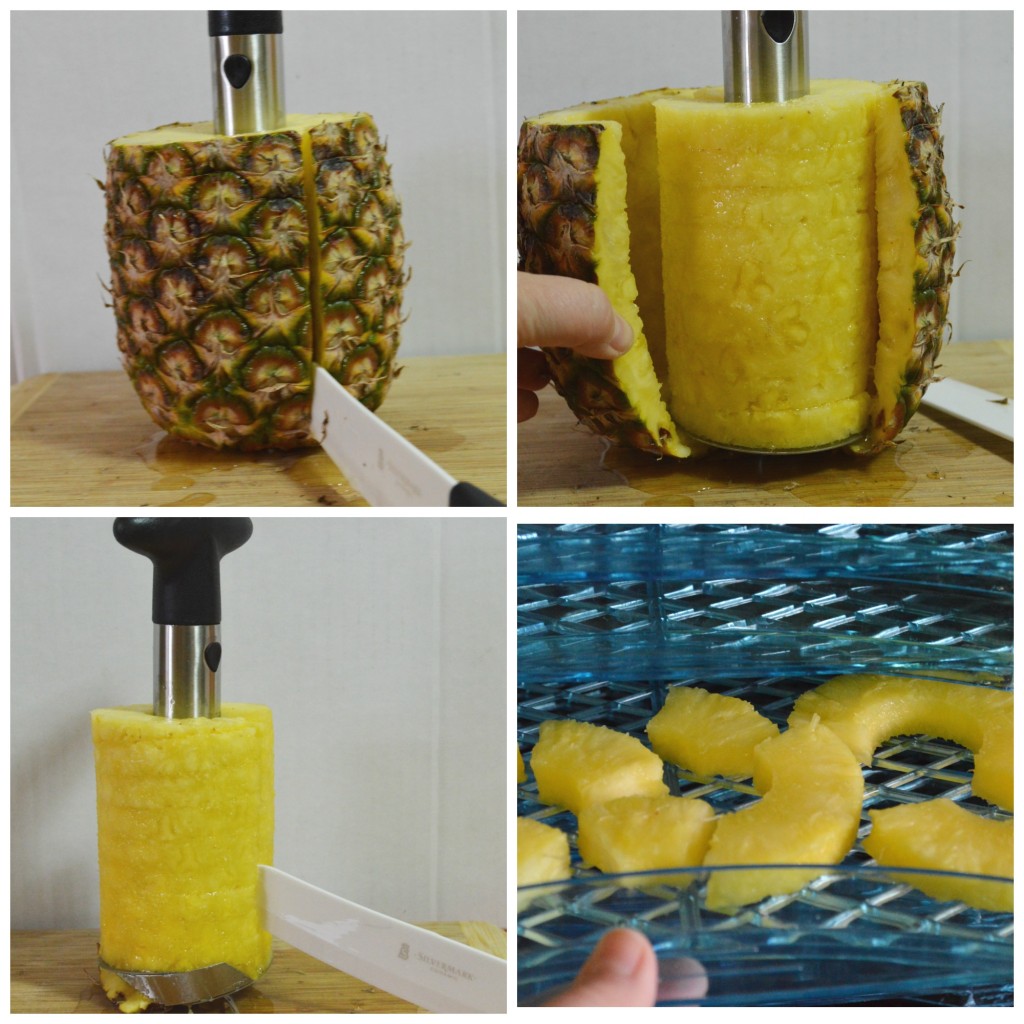 How to dehydrate pineapples:
1. Place pineapple slices on dehydrating racks in a single layer
2. Turn on dehydrator to 135-140 degrees
3. Dehydrate for 8-14 hours (will depend on dehydrator unit and how chewy you like your fruit. Read the instruction manual for your dehydrator for exact times and check the fruit every 30 minutes after the first 8 hours)
4. Pineapple is done when it is pliable and not sticky
Personally, I use a 9 tray, self-circulating dehydrator, similar to this one, but started with a simple and less expensive circular dehydrator. Note – some dehydrator models may require you to flip the fruit halfway through drying process and rotate the trays regularly. I absolutely love my dehydrator and dehydrate strawberries, apples, onions, jerky and more with it year-round.
To store the dehydrated pineapple, just place in any airtight container once cooled. The dried fruit is now shelf stable and lasts at least 6 months to a year. Enjoy!