Disclosure: This post is sponsored by Cedar Fair Entertainment Company in conjunction with Blog Meets Brand, and I have been compensated for my participation. All opinions are my own.
Worlds of Fun is the go-to amusement park in the Midwest. As a kid, born and raised in Nebraska, I visited several times and always had a blast. A few years ago, my husband and I went without kids to check out their yearly Haunt, but we had never taken the whole family until recently. Our kids are 5, 7 and 10 and the perfect age to enjoy Worlds of Fun.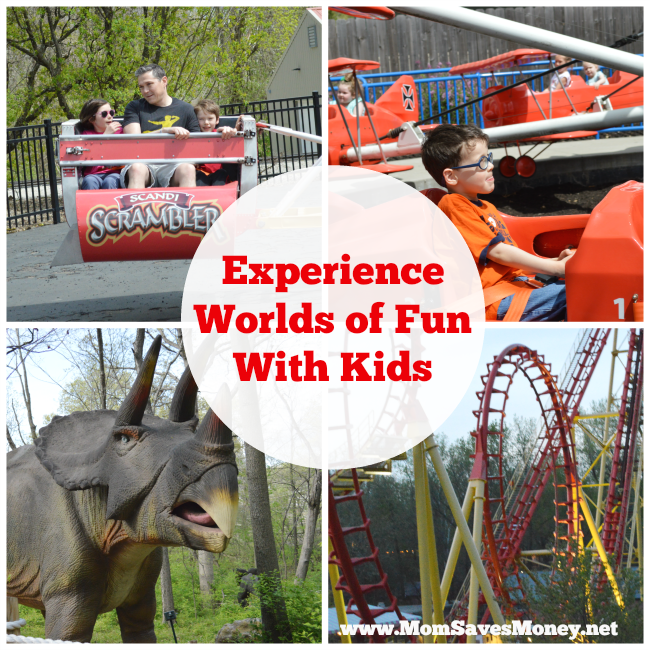 My three kids were beyond excited to visit Worlds of Fun and can't stop talking about how much they enjoyed the rides. We splurged on Fast Passes (skip the lines for the thrill rides) for my husband and two older kids and they rode every coaster and in the park and some multiple times.
My youngest son and I spent most of the day in Planet Snoopy, a perfect place for families to enjoy rides with their kids. There are 21 rides in Planet Snoopy and my son rode most of them since the lines were short. As a mom, I really appreciated that all the seat belts needed a special tool to be unlocked so wiggly kids can't unlock themselves during the ride. I really love that the rides in Planet Snoopy feature our favorite characters from Peanuts (Lucy has always been my personal favorite.)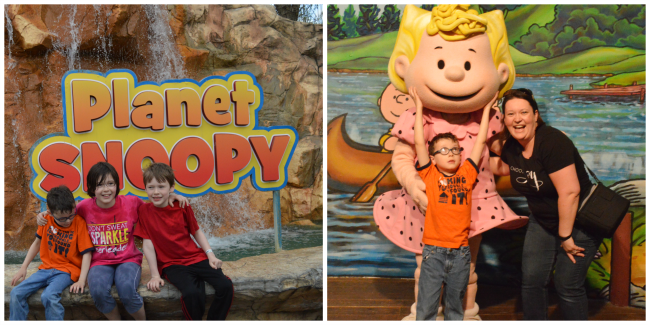 This year, Worlds of Fun added five brand new rides in Planet Snoopy, including:
Woodstock Gliders – Young guests control their own flight with moveable wings.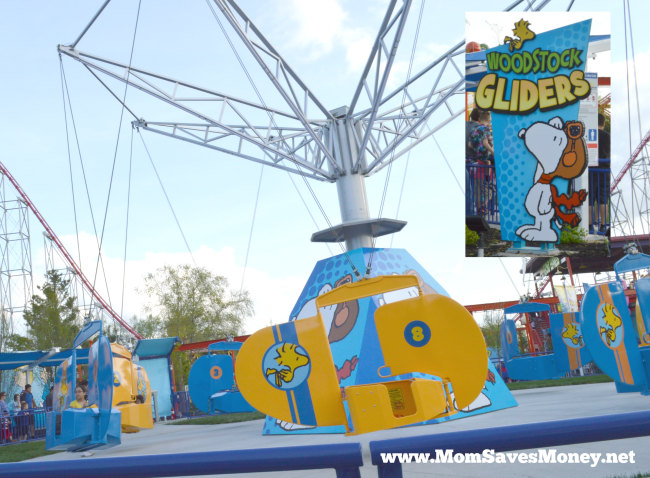 Beagle Brigade Airfield – Get your aviators glasses ready for a high-flying adventure with Snoopy (formerly titled Flying Ace). As you can see, my husband was a good sport and joined the kids on this ride.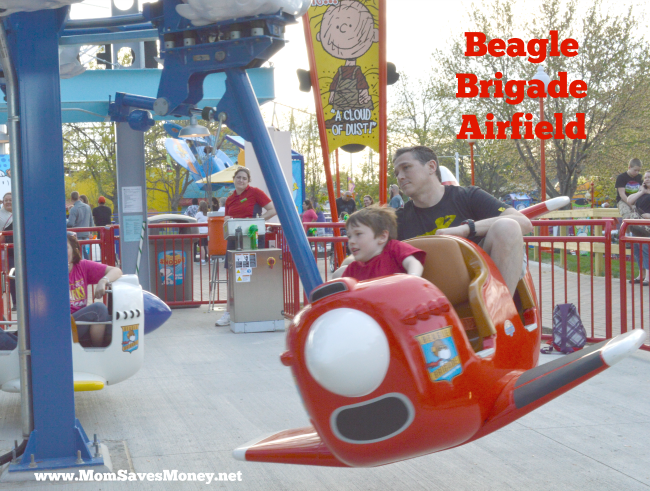 Snoopy Space Buggies – Defy gravity and bounce to the moon and back. My son LOVED this ride. Check out this instagram video of him riding Snoopy Space Buggies. He's the one screaming at the end!
Linus Launcher – Experience the sensation of weightlessness through flight with feet dangling. I rode this one and it was a very different experience since you lay on your stomach for this ride. It was a blast and one of my new favorites!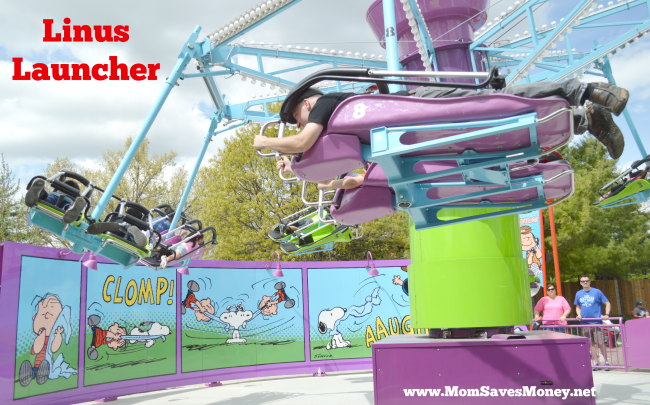 Snoopy Junction – All aboard! Snoopy the conductor leads kids on a railroad adventure. This train ride is an easy and slow ride to start your kid's day if they are afraid of some of the faster rides.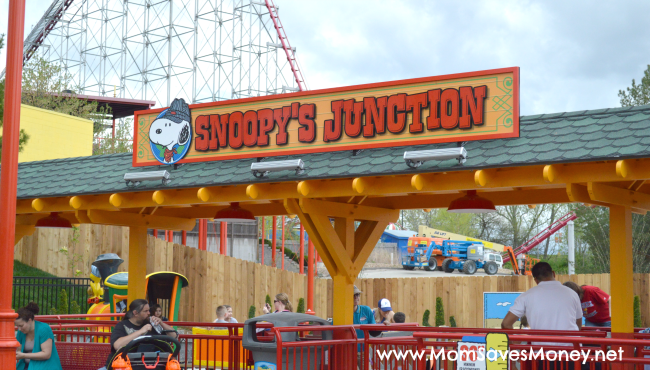 Dinosaurs Alive
The boys wanted to see the Dinosaurs Alive exhibit, which is just $5 for admission and includes real life-size animated dinosaurs on a short 1/2 mile walk. Throughout the walk, the dinosaurs would come alive with motions and sound. Check out my You Tube video of one of the dinosaurs in action.
For every dinosaur, there were educational plaques with information and fascinating stories and facts about that prehistoric time. I learned that Brontosaurus is no longer a dino classification. Apparently, the Brontosauras that was discovered was actually the same dino as the previously discovered Apatosaurus. Who knew?
There are interactive stations where kids can push buttons to make the dinosaurs move. At the end of the walk there is a sand pit with buried dinosaur bones where kids can excavate and discover their own dinosaur fossils.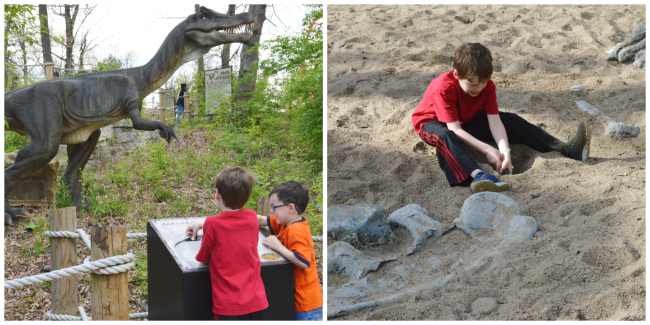 Season Pass
If you plan to visit Worlds of Fun several times over the season, a season pass is a great way to save. Plus, you can make 6 monthly payments instead of paying one big chunk, so you can budget it. Gold Season Pass holders ($20 monthly payments) get access to Worlds of Fun and Oceans of Fun all season, free parking, free admission to Dinosaurs Alive and 10% off merchandise and food throughout the park.
If you are visiting the park this summer with older kids, I highly recommend splurging on Fast Passes. My husband and two older kids got Fast Passes and loved skipping the lines and riding more rides during our visit. Worlds of Fun sells a limited number of Fast Passes each day and you can purchase them online as a combo admission pass to save money.
Plan Your Visit
Make sure to check out my 10 survival tips for visiting amusement parks to make the most of your day at Worlds of Fun! I also recommend you join the Worlds of Fun email newsletter to learn about deals, the inside scoop on rides and events. Also, follow Worlds of Fun on Facebook and Twitter for more details and updates about the park and order Worlds of Fun Tickets online anytime!
Have you visited Worlds of Fun with kids? Which new ride are you most excited about this year?