I once went on a road trip with Peter Pan.  It was really skippy, but it didn't last very long – you might say it was over in a jif when our car got smuckered by an oncoming taxi cab. Nevertheless, some good times were plantered in my memory.
As you may have guessed, I have a peanut butter recipe for you today.  It's a classic one and one that everyone should have in their recipe collection.  (Unless, you know, they were allergic to peanut butter or fun).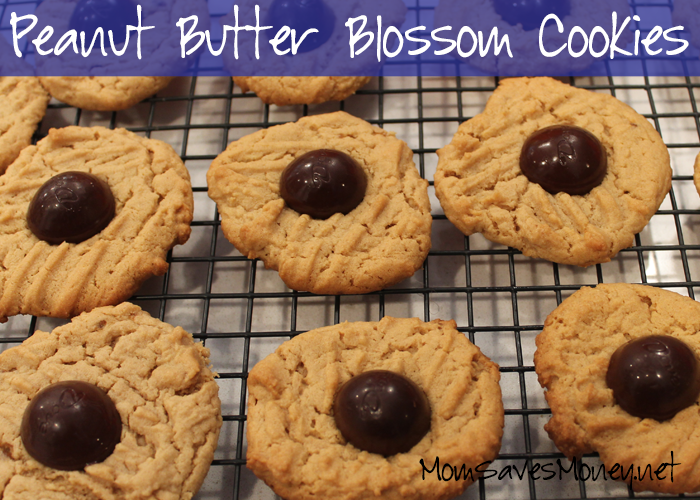 Around Christmas and Easter time, I like to make them with either a Hershey kiss or some other type of chocolate in the middle (as pictured).  But that's optional – this is just an all around good cookie recipe to make any time.  Or every time.  It's a cookie that would make Peter Pan proud!  Be sure and drink a glass of milk while you eat a couple!
Peanut Butter Blossom Cookies
Ingredients
1/2

butter, softened

1

cup

peanut butter (chunky or creamy)

3/4

cup

sugar

1/2

cup

brown sugar, firmly packed

1

egg

1

tablespoon

milk

1

teaspoon

vanilla

1 1/4

cups

flour

3/4

teaspoon

baking soda

1/2

teaspoon

baking powder

1/4

teaspoon

salt
Instructions
Preheat oven to 350.

Beat the butter and peanut butter together until well mixed. Add the sugars and beat until smooth.

Add the egg and mix well. Add the milk and vanilla. Mix well.

Add the flour, baking soda, baking powder and salt. Mix.

Roll into balls and place on an ungreased cookie sheet. You can roll the cookie balls in a bowl of sugar, if desired - but it's optional.

Gently flatten the cookies with the back of the fork a couple of times, crossing over each other.

Bake for 10-12 minutes.

Let cook for a minute or two, then, if using, place the chocolate kiss or candy in the middle of the cookie.

If using chocolate, let cool completely so that the chocolate candy doesn't fall off!
Jayme is a wife to 1 and a mother to three little boys (soon to be 4 this summer!). She coupons, but isn't super extreme about it. She price matches and loves it! While she likes to cook, she's in the stage of life where simple is usually better! She never knows how many hands she'll have free at dinner time! You can find her at No Regrets Living.