Disclosure: The Purex brand provided me with a sample of Purex Plus Clorox 2 detergent in exchange for a product review. However, all opinions expressed here are my own.
Do you have messy kids? I have three kids who seem to find the biggest messes. Messy kids means happy kids, right? But, that can also mean a laundry nightmare and not-so-happy mom.
The latest mess was one of my kids (still not sure which one it was, but we have strong suspicions) decided to use red lipstick to destroy decorate the bathroom. Then, used a nice tan bath towel to remove the evidence. At least they cleaned up after themselves and lucky for me, I had the new Purex plus Clorox 2 to put to the test. Amazingly, the lipstick came out and our light colored towel is good as new.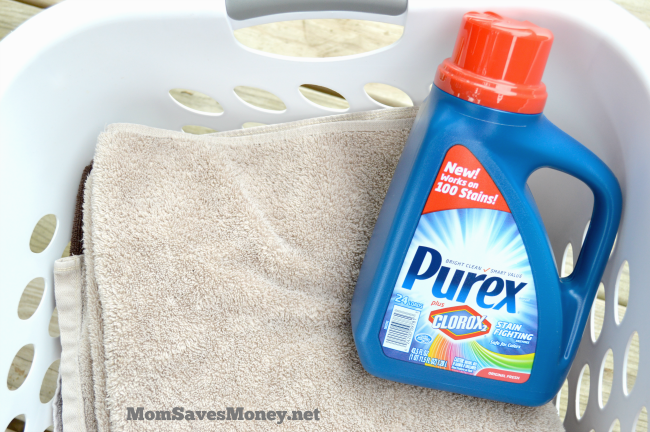 The new Purex plus Clorox 2 contains three stain-fighting enzymes that remove 100 stains. Chocolate? Tomato sauce? Ice cream? BBQ sauce? Grass stains? No problem with this new detergent. It's safe for colors and is bleach free. I prefer the Original Fresh fragrance, but it also comes in Sunny Linen.
Got a really tough stain? Purex plus Clorox 2 also doubles as pretreatment. Simply rub some of this detergent into the fabric and let it sit for five minutes before washing. No need to buy extra products for pretreatment. The detergent does it all.
Giveaway
Are you ready to try Purex Plus Clorox 2 on your toughest stains? Two lucky winners will each receive a coupon for a FREE Purex liquid or powder detergent (up to $7.00, expires 12/31/2016). Enter using the Rafflecopter form below. Giveaway ends June 9.