Disclosure: This is a sponsored post with Absolutely Her Consignment. All opinions are mine.
Who loves to shop for clothes, but doesn't want to pay full retail prices? I need a professional wardrobe for teaching and that can add up fast. So, I started shopping consignment stores to find quality clothing and accessories at great prices.
If you want fashionable clothing at discounted prices, consignment stores are the perfect place to shop. Here are the reasons I shop consignment: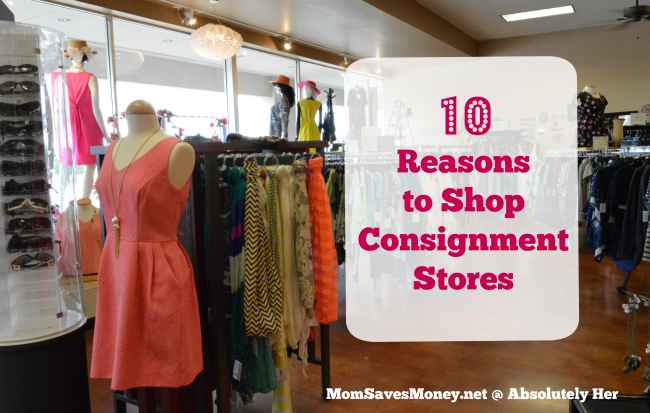 Name Brands
Consignment stores carry many name brand items and I've found they hold up better for me over time. I would rather invest in 3-4 classic, quality business pieces, than have to replace it every six months to a year due to poor quality.
Discounted Prices
Name brand clothing can be expensive, but consignment stores sell at a huge discount off retail prices. You can find Coach purses, Ann Taylor dresses and in Nebraska, Husker gear for 50-75% off retail prices! Angie Houloose, the owner of Absolutely Her ( a local consignment boutique in Papillion), says fall is the time to find great deals on Husker gear.
All Quality, Gently Used Clothes
The great thing about shopping consignment vs a thrift store is that the clothes are fully inspected to ensure you only find quality used (and sometimes) new clothing. Plus, consignment stores are typically more organized and easier to find the exact size and type of clothing you want.
Eco-Friendly
Reduce, reuse, recycle. Buying second-hand keeps items out of the landfill and gives them new life.
On Trend & Seasonal
One of the biggest benefits of buying used clothes at a consignment store is that the owners carefully screen the clothing they accept to make sure the styles are current and in-season.
New Merchandise Regularly
Consignment stores get new merchandise almost daily, which means more great finds for you every time you stop to shop.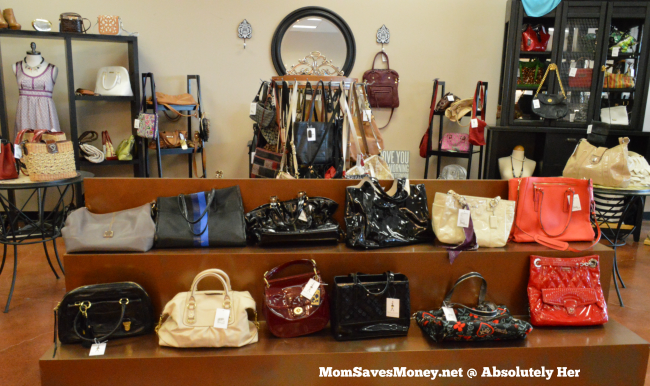 Unique Finds & Selection
The selection at consignment stores is far more than you find at a typical department store. Department stores will have racks and racks of the exact same styles and consignment stores are full of variety. This makes for a fun shopping experience and treasure hunt for the perfect pieces to add to your wardrobe. Who can resist the thrill of the hunt!
Great Sales
Consignment stores already have low prices and will often throw sales or offer coupons. Some stores even offer loyalty programs to earn more great discounts or free clothes.
Shop Local
Consignments stores are usually locally owned, so when you shop, you are supporting your community.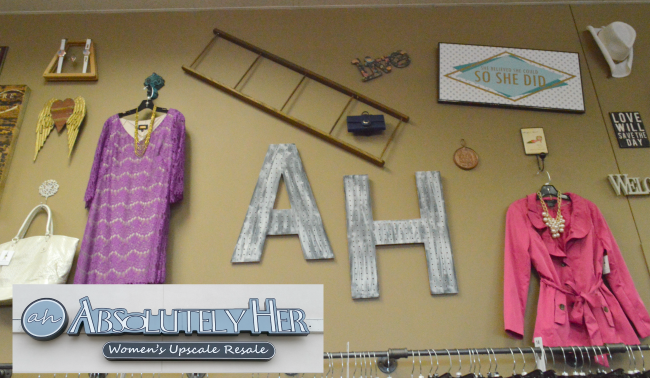 Personal Service
Since most consignment stores are locally owned, I've found that you get lots of personal service and attention. Absolutely Her will even brew you up a cup of coffee at their complimentary coffee station and help you pick out outfits that look great on you. Now, that's service!
Ready to shop? Check out Absolutely Her, an upscale consignment boutique located at 811 Tara Place in Papillion, NE (just off 84th & south of Giles Rd). They have great selection of name brand, quality clothing up to size 4X, purses, jewelry and more!
What has been your favorite find from a consignment store?