Disclosure: Contains affiliate link & Kidstir box provided for review. All opinions are mine.
Does your child love to cook and bake? My 10-year old daughter is a master chef in training. Her passion is baking and experimenting with new recipes in the kitchen and her skills have improved so much in the last few years with our guidance.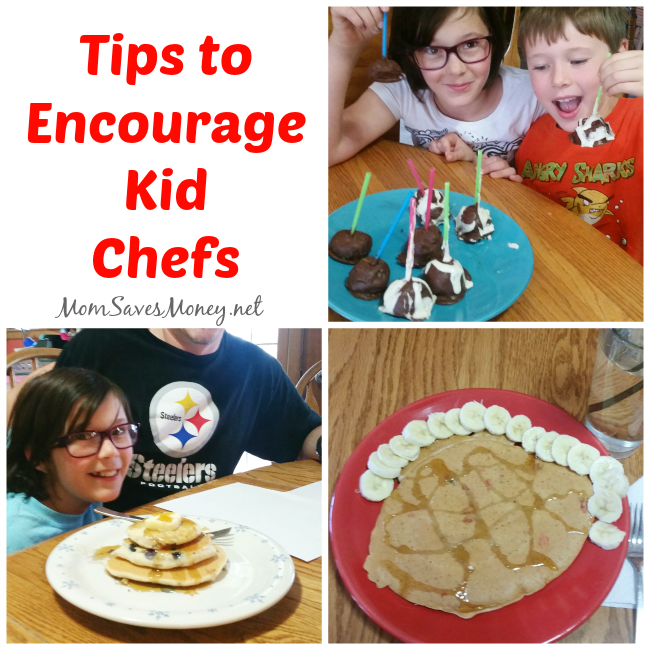 My daughter started cooking on her own with simple mixes, like cake mixes or pancake mixes, that only required a few ingredients. Now, I've shown her how to use recipes to cook from scratch and she easily whips up pancakes or a baked treat in the kitchen. Of course, I help with the oven, but she's very independent and likes working on the recipes alone. Here are chocolate & pumpkin chip homemade muffins she made recently. They tasted amazing!
My 10 year old made chocolate and pumpkin chip homemade muffins this morning. She did it all by herself and they are delicious! #kidsinthekitchen #kidscooking #muffins #homemeade #instayum
Do you want to teach your child a love for cooking from a young age? Here are some things we did to make sure she was always safe and encouraged her passion for food and cooking.
Tips to encourage your young chef:
1. Make it Age Appropriate – When she was preschool age, she started cooking by simply stirring ingredients. As she grew, I gave her more responsibility, like cracking eggs or cutting soft foods with a butter knife.
2. Teach Safety Skills – Kitchens can be dangerous with sharp knives and hot surfaces. I taught all my children from an early age the dangers of these items, but I also let them safely use them (as age appropriate). My daughter can now safely cook on the stove and correctly use knives, but it was several years of training and guidance. And, I'm always nearby to continue to guide and teach her on kitchen safety and supervise.
3. Let Them Help You – My daughter learned to cook from watching me and my husband cook and bake. I would give her simple tasks to participate in the cooking process and set up a chair next to us so she could safely watch us prep and cook meals.
4. Be Okay with The Mess – This was HUGE for me. I do not like a messy kitchen, and when a kid helps cook that is part of the process. The kitchen counters, floors and dishes will get messy, but I learned to be okay with it. It was hard for me to let go of control in the kitchen, but my daughter is learning a life skill that she absolutely loves. Now, I let her cook and bake and will often even clean up after her. She makes some amazing treats and I want to continue to encourage her passion.
5. Let Them Experiment – My daughter is a very adventurous chef and would come up with some crazy concoctions. She likes to make fruit cocktails, but would make some very strange combinations (think limes, bananas, orange juice, cherries, raisans and chocolate chips). Instead of telling her no, I decided to sit back and let her make those zany combinations and learn about flavors. She had some creations that were a complete fail and other times she comes up some amazing new combinations, like pumpkin chip & chocolate chip muffins.
6. Be Positive – Cooking with your kids is quality time while you teach them life skills. I want my daughter to enjoy cooking and baking, so I make it fun and encourage her efforts. I don't make a big deal when she messes up, and instead I use it as a teaching opportunity. Like why you have to be exact in baking measurements. She was throwing stuff in one of her mixes without measuring and the recipe flopped. I encouraged her and helped her make another batch following the recipe exactly. She was thrilled when it turned out perfect.
7. Give Them Their Own Tools & Kid-Friendly Recipes – We received a Kidstir subscription box and it's perfect for my budding chef. This box included a hardbound cookbook with categories, a set of measuring cups and four reusable baking cups.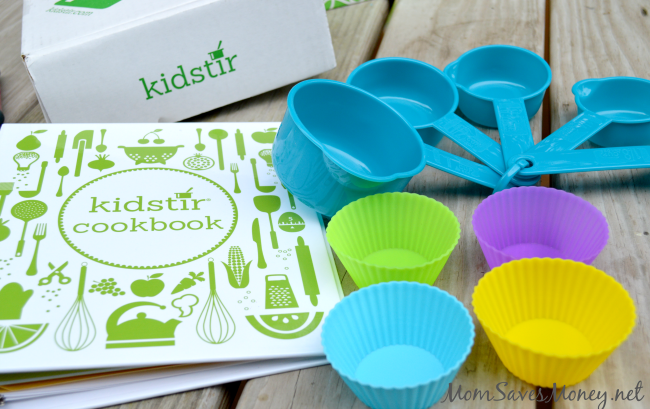 The set also came several simple recipes she can file into her new cookbook and keep. All the recipes utilized the tools she received in her Kidstir box so she could immediately start cooking and using her new goodies.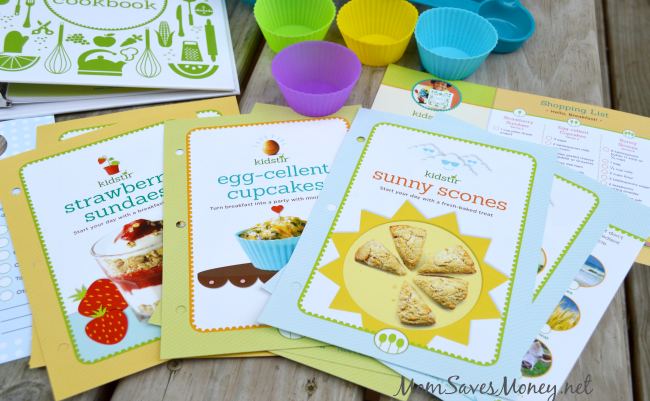 You can join Kidstir for as low as $12.95 a month. Each box includes two kid-friendly kitchen tools and themed activity materials, three step-by-step recipes, three educational food pages, a shopping list, three fun games and puzzles and an e-newsletter full of great information. Plus, every new subscriber will get a special cookbook binder to file all their recipe sheets from Kidstir. This is a perfect subscription box for any young chef.
My daughter loves being able to cook and bake for the family. It is truly her passion and I enjoy nurturing her love for cooking.
Does your child like to cook? What tips do you have to encourage a child in the kitchen?