Disclosure: This post is in partnership with Omaha Children's Museum. All opinions are mine.
Have you heard? It's the 40th year for the Omaha Children's Museum and they are celebrating with a new exhibit. Imagination: Celebrating 40 Years of Play, located on the upper level of the Museum, features fan favorites from past exhibits and several updated versions of 1970s and 1980s exhibits.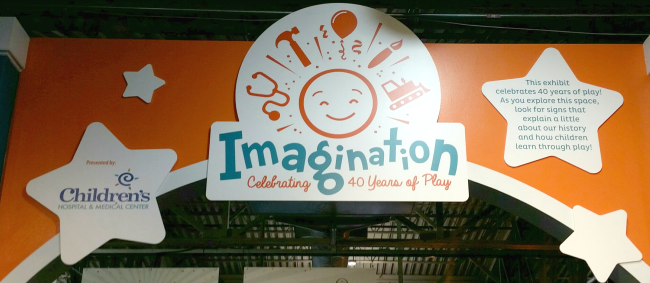 Children will be inspired with hands-on activities ranging from creative arts to engineering. They can explore a bulldozer or life-size combine, take their turn as a news anchor and even see themselves on TV, complete an obstacle course, create a culinary dish or shoot some hoops. The museum has brought back the dentist office, a painting wall and many exhibits from 2012's Construction Zone.
There is an entire medical section, with an ambulance kids can explore, an operating table, dentist's office and an interactive video. All three of my kids enjoyed the giant Operation game. It's really neat and very educational! This is a great way for kids to explore future career options and have fun.
In addition to the exhibits, there is also a Creative Corner where trained educators will help children work on age-appropriate projects.
About Imagination: Celebrating 40 Years of Play
Location: Omaha Children's Museum, 500 South 20th St
Dates: October 15, 2016 to April 16, 2017
Cost: Free for members, $12 for children and adults, $11 for seniors, free for 24 months and younger
Hours: (Now until Memorial Day weekend) Tuesday – Friday 10am-4pm, Saturday 9am-5pm and Sunday 1pm-5pm
More Information on Omaha Children's Museum website
If you visit between now and October 30, your kids can also experience Cobweb Castle, a not-so-spooky haunted house. Inside children can climb a giant spider web, create a 'witch's brew', decorate the glow-in-dark wall or chase the bat and ghost light projections.
In addition to these two temporary exhibits, The Children's Museum also features many permanent exhibits, including the Science & Technology Center, Creative Arts Center, Grocery Store, Rainbow Farm, Grill Station, Wiggle Room, Science Theater, iMove, Curiosity Corner, Fire House, Bank, Hospital, Car Care Center and Exploraporter. They also offer several interactive shows every day. The Omaha Children's Museum is fun for the entire family!
Giveaway:
One lucky reader will win an Omaha Children's Museum Family Admission Pass to check out the new exhibit. This pass admits up to 4 people for one visit to the museum. Giveaway ends October 27, 2016.