The Holidays are my favorite time of year because I get to see all my family and eat delicious food. We always have the traditional meal with ham, pumpkin pie, cranberry sauce, green bean casserole, egg nog and of course, scalloped potatoes. I'm going to share my husband's recipe for the creamiest, cheesiest, most delicious scalloped potatoes using his secret ingredient, Hiland Dairy bacon & cheddar sour cream dip.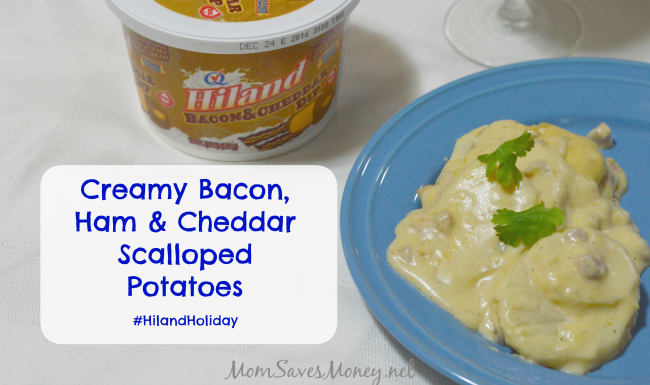 My husband loves to experiment with recipes and this one is a hit! Many of our family members have asked for this recipe because it's such a distinctive and delicious combination. These scalloped potatoes are so rich and creamy that it could even be served as main dish and is super easy to throw together for any Holiday gathering!
We use Hiland Dairy because it is high quality, from local ingredients and they carry unique products, like his secret ingredient, Bacon & Cheddar dip.  You can even enter to win an entire year of Hiland Dairy products and start the Holiday season with a bang. It would be amazing to win this prize and you bet I entered.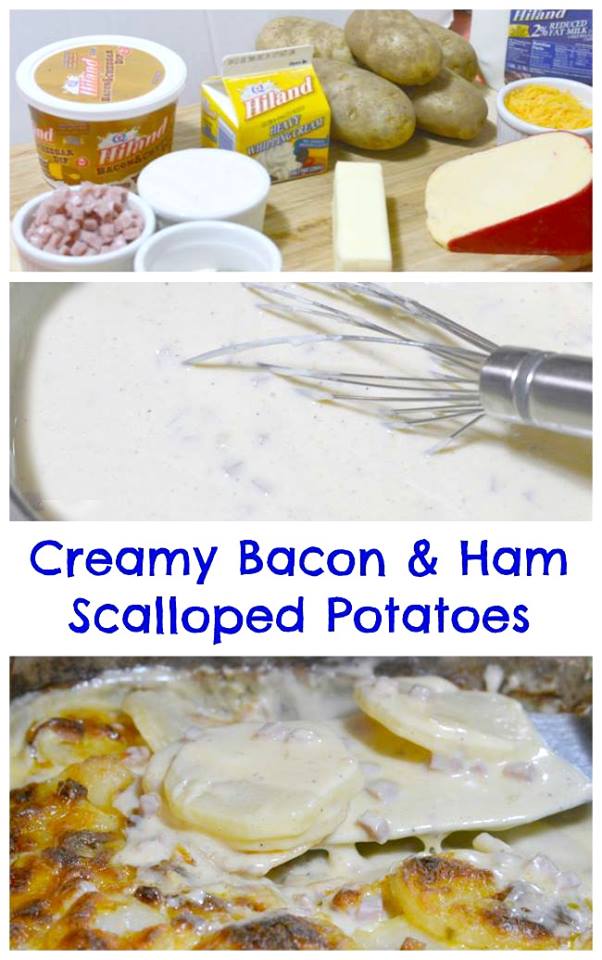 Creamy Bacon, Ham & Cheese Scalloped Potatoes
Ingredients
4-5

medium potatoes, peeled and slice 1/4"-1/8" thick

1

cup

Hiland Dairy heavy whipping cream

1

cup

Hiland Dairy bacon & cheddar sour cream dip

1/2

cup

(1 stick) Hiland Dairy butter

1 1/2

cup

Hiland Dairy milk

1/2

cup

flour

1/2

tsp

pepper

1

tsp

garlic powder

1

tsp

onion powder

1

tsp

smoked paprika

1

cup

Hiland Dairy Cheddar cheese (split into two 1/2 cup portions)

1/2

cup

Gouda cheese

2

cups

diced ham or bacon
Instructions
Preheat oven to 350 degrees

In saucepan on medium heat, melt butter and whisk in flour, heavy cream, bacon & cheddar dip, milk, pepper, garlic power, onion powder and paprika. Continue whisking until fully blended and creamy.

Add 1/2 cup cheddar cheese and gouda cheese. Continue cooking and whisk until cheese is fully melted.

Add bacon or ham to the cream sauce.

Make alternating layers of cream sauce and potatoes in a 9x13 pan. Start by adding a thin layer of cream sauce, then add a layer potatoes, top with cream sauce and repeat layers. Make sure the cream sauce is your last layer.

Sprinkle 1/2 cup cheddar cheese to top of casserole.

Bake 50-60 minutes at 350 degrees or until potatoes are tender.
Now you know my husband's secret potato casserole recipe and I hope you enjoy it as much as we do. Don't forget the Egg Nog this Holiday season and make sure to enter to win a year of Hiland Dairy products!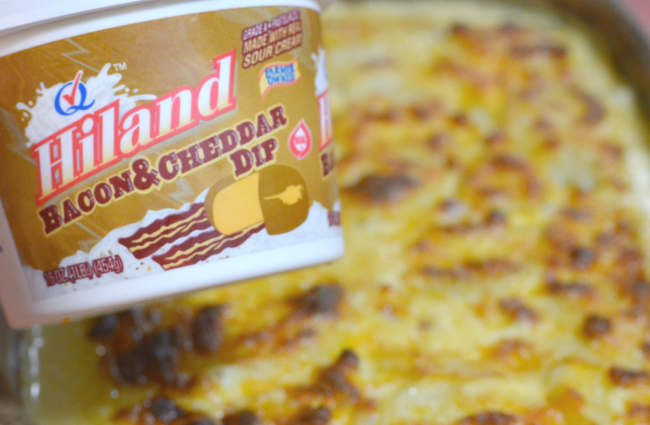 Do you have any Holiday recipes with secret ingredients or a favorite Holiday dish? Please leave a comment and share.