Disclosure: Complimentary dress provided to facilitate this post. As always, all opinions are mine.
I was introduced to LuLaRoe clothing a little over a year ago. I had successfully ignored party invites on Facebook for about six months and then my good friend, Karissa Marks, hosted a party and her mom was the consultant. I decided to support my friend and try out a pair of these leggings so many of my friends were raving about. I figured for $25 I could help my friend earn free stuff for her party and have a new pair of comfortable pants. As luck would have it, I won a free shirt during the party too, so now I had a full outfit.
A few days later, my new LuLaRoe arrived and oh my goodness, I couldn't believe when I tried them on. I finally understood why my friends were so excited about these clothes. The leggings are amazing, soft and comfortable. And, the obsession began. I ordered a few more pairs and slowly got rid of my jeans. Will you believe, I haven't worn jeans for almost a year now and I've never felt so confident!
Now, my dear friend Karissa, is also a LuLa Roe consultant and I'm so excited to support and share more about her business (LuLaRoe Omaha by Karissa Marks) and why I love LuLaRoe clothing.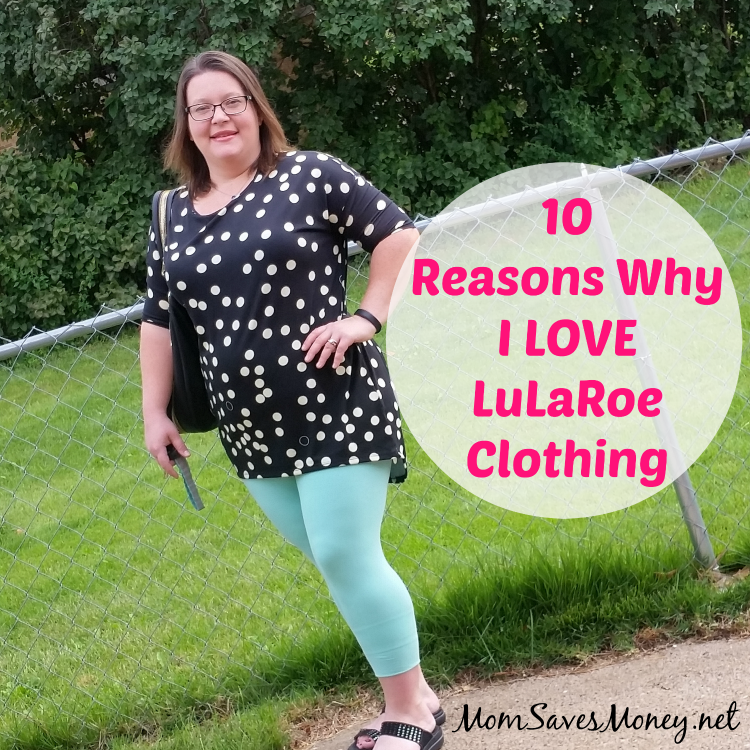 Here are 10 reasons I fell in love with LuLaRoe Clothing:
Comfortable – This is the #1 reason I fell in love with LuLa Roe. The fabrics are soft and so comfortable.
Confidence Boost – I would never have believed that clothing could make me feel so much better about myself, but LuLaRoe clothing is forgiving for those of us with mom bellies. No more belly overhang from tight jeans! Bonus, is they make clothing that looks great when you want to dress up too. (Pictured below in Classic Tee and Cassie Skirt)
Modest Clothing – I'm a mom of three and I appreciate that LuLaRoe clothing is modest and cute! When I hit 30, I struggled with finding clothes at department stores for my demographic. I either found form fitting teen clothes or old fashioned styles. LuLaRoe fills the void with clothing that is modest and stylish.
Flexible Sizing – The leggings have two sizes, One Size (fits size 0-12) and Tall & Curvy (sizes 12-22). If you fluctuate in weight, these are great because you can lose or gain weight and still be able to fit into the same leggings!
Cute Patterns – They have patterns for everyone. You can get solid colors, paisleys, stripes, polka dots, fun animals, flowers and much more. You name it, they probably sell it.
Soft Leggings – This is how the addiction begins. The leggings are so incredibly soft and you won't want to wear anything else. Plus, all the shirts they sell provide coverage, so you don't have to worry about showing too much booty in the leggings. (Pic below is me saving money at CVS in leggings and an Irma shirt)


Fits All Sizes of Women – LulaRoe understands women come in all shapes and sizes and makes cute clothing (leggings, shirts, dresses, skirts, kimonos and maxi skirts) for sizes up to 3XL.
Kid's Clothing – Yes, they even sell clothing for little girls. What's so great about this is that you can sometimes even find matching pairs of leggings for you and your daughter.
Support Small Businesses – LuLaRoe clothing is sold through independent sales people. When you shop LuLaRoe, you are supporting a small business.
Earn it FREE – One of my favorite things about LuLaRoe is that you can earn free clothing when you host a party, either online or in-person. Karissa offers generous rewards and I've hosted several online parties for free clothing.
Giveaway:
Karissa Marks with LuLa Roe Omaha by Karissa Marks has generously offered a $45 LuLaRoe shopping credit at her online store for one lucky winner. If you are a LuLa Roe addict like me or want to try the clothing, enter this giveaway! Good luck!