When Irish eyes are smiling, it means that an angel gets its wings.  Nah, that ain't true.  When Irish eyes are smiling, it means that someone clapped to keep Tinkerbell alive.  That's a lie too.  Maybe it's when Irish eyes are smiling, a clipped coupon gets doubled?  That'd be cool, but probably not right either.
It must be that when Irish eyes are smiling, it means that corned beef & cabbage are being served!  After all, I know my eyes are smiling when I serve this.  It's easy to make – just stick it in the slow cooker, let it cook all day.  It's "holiday-ish" – it just reminds me so much of St. Patrick's Day – and that's worth smiling about!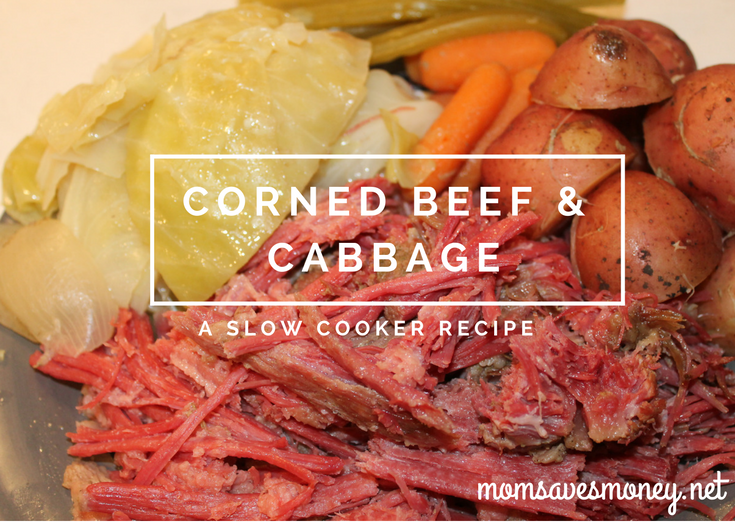 The last few times that I've served this, my boys (all under the age of 5) LOVED it.  Even as young as 11 months old – he just ate it up.  And, for a family of my size, it gets us at least 2 meals.  It might seem expensive because corned beef normally is, but it goes waaayyy on sale at St. Patrick's Day time, so I buy a couple for the freezer.  And, during the middle of the year, I'll buy a few when I see them marked down (nearing expiration date) at the grocery store.  I have good luck at Target that way, especially if they have a meat coupon or a cartwheel deal.
We really like the carrots that get made with the corned beef.  In fact, we like it so much that occasionally, I'll only use a few potatoes and instead, load up on more carrots.  Definitely keep that as an option if that suits your family better.  Not a cabbage lover?  That's okay — just leave it out.  Some people prefer the taste of sauerkraut, so you can always use that instead.
You can always use this meat to make Reuben sandwiches, but we like it just as a meat & potatoes meal.  It's tasty however you serve it!
Slow Cooker Corned Beef & Cabbage
Ingredients
2

celery stalks, cut into big pieces

3

carrots, cut into big pieces (or a couple of handfuls of baby carrots)

1

small yellow onion, cut into 8 large pieces

1/2

pound

small potatoes, cut into half

1/2 - 1

Tablespoon

dried thyme

1

corned beef brisket (about 3 pounds) - save the pickling spice packet!

1/2

head Savoy cabbage, cut into 1 1/2-inch wedges
Instructions
In a 5-to-6-quart slow cooker, place celery, carrots, onion, potatoes, and thyme.

Place corned beef (fat side up), on top of vegetables and sprinkle with the spice packet that comes with it.

Add water to cover most of the meat.

Cover and cook on high until corned beef is tender, 4 1/4 hours (or 8 1/2 hours on low).

Add the cabbage by placing it top of the corned beef. Re-cover. Cook until the cabbage is soft - about 45 minutes on high (1 1/2 hours on low).

If desired (and I do), remove whatever fat you can easily get to from the top of the corned beef.

Using 2 forks, separate the corned beef into pieces. Serve with the vegetables.
Jayme is a wife to 1 and to four little boys. She coupons, but isn't super extreme about it. She price matches and loves it! While she likes to cook, she's in the stage of life where simple is usually better. She never knows how many hands she'll have free at dinner time. You can find her at No Regrets Living.