M&Ms.  Who doesn't love them?  They're great for snacking on.  They're great for rewarding potty training toddlers.  They're great for handing out at Halloween.  They're great for putting in Easter Eggs, Christmas stockings and as a topper on birthday presents.  And we all know that "M&Ms melt in your mouth, not in your hand."  Who doesn't love that!?
They're also fun to bake with!  Because they instantly turn a regular M&M cookie to a HOLIDAY M&M cookie!  Use red, white & blue and you have 4th of July cookies.  Use red and green, and boom! Christmas cookies.  Use pink and purple M&Ms and you have cookies fit for a Princess Party!  There are many options.
Considering that Valentine's Day is coming up, this would be a great time to use M&Ms to make Valentine's Day parties.  There's got to be co-workers who need to hear "I appreciate you!" or kids who hear "I love you!" or kids' classmates who hear "Be mine!"  The best part is that you can make them NOW, freeze them, and bake them LATER.  I love that!
This is the same recipe that I posted over a year ago, so there's nothing new or life shattering about these.  Just simple.  Wonderful.  Freezer-friendly cookies!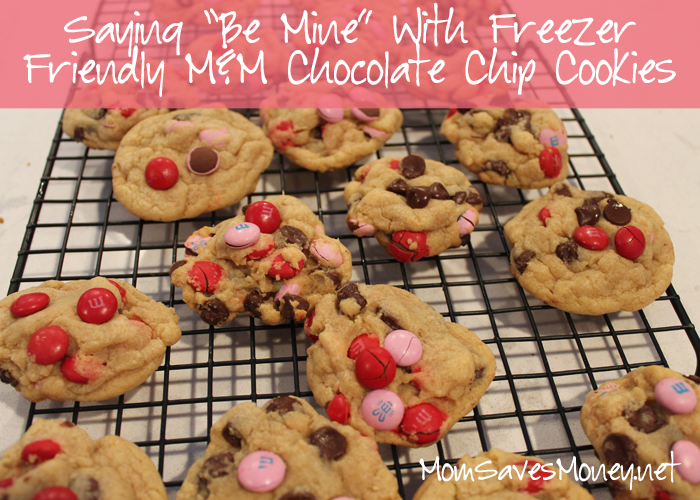 M&M Chocolate Chip Cookies
Ingredients
2

sticks (1 cup) unsalted butter, softened

1

cup

granulated sugar

1

cup

packed light brown sugar

2

large eggs

1

teaspoon

pure vanilla extract

3

cups

all purpose flour

1

small package of instant vanilla pudding mix (if halving the recipe, about 3 – 3.5 tablespoons)

1

teaspoon

baking soda

1

teaspoon

kosher salt

1

cup

mini chocolate chips

2-3

cups

M and M's
Instructions
Preheat oven to 350 degrees F. and line a large baking sheet with a silpat liner or parchment paper. (I admit that I don't do this — I just grease the cookie sheets.)

In a large mixing bowl cream your butter and sugars until well combined. Add your egg and vanilla. Mix to combine.

Add your flour, pudding mix, baking soda and salt, stirring to combine. Add chocolate chips and M&Ms, stirring to combine.

4a. If baking right away: Scoop your dough onto cookie sheet leaving some room between them. Top each cookie with a few more M&Ms. Bake for 10-12 minutes until cooked through. Let cool on cookie sheet for 10 minutes before transferring to cooling rack. Enjoy!

4b. If freezing to bake later: Scoop your dough onto cookie sheet as close as you can without touching. Top each cookie with a few more M&Ms. Freeze on cookie sheet for a few hours. Then pop into a freezer-safe baggie. To cook the frozen dough, increase baking time to around 12 minutes. Enjoy!
Notes
Makes about 4-5 dozen cookies, depending on size.
Jayme is a wife to 1 and a mother to four little boys. She coupons, but isn't super extreme about it. She price matches and loves it! While she likes to cook, she's in the stage of life where simple is usually better! She never knows how many hands she'll have free at dinner time! You can find her at No Regrets Living.