The foodie scene may not be as popular in Nebraska as it is in California or New York City, but that doesn't mean Nebraska is short on amazing restaurants! Omaha is known for more than it's steak and some of the best food can be found off the beaten path! No matter where our road takes you, you will find good food and amazing scenery!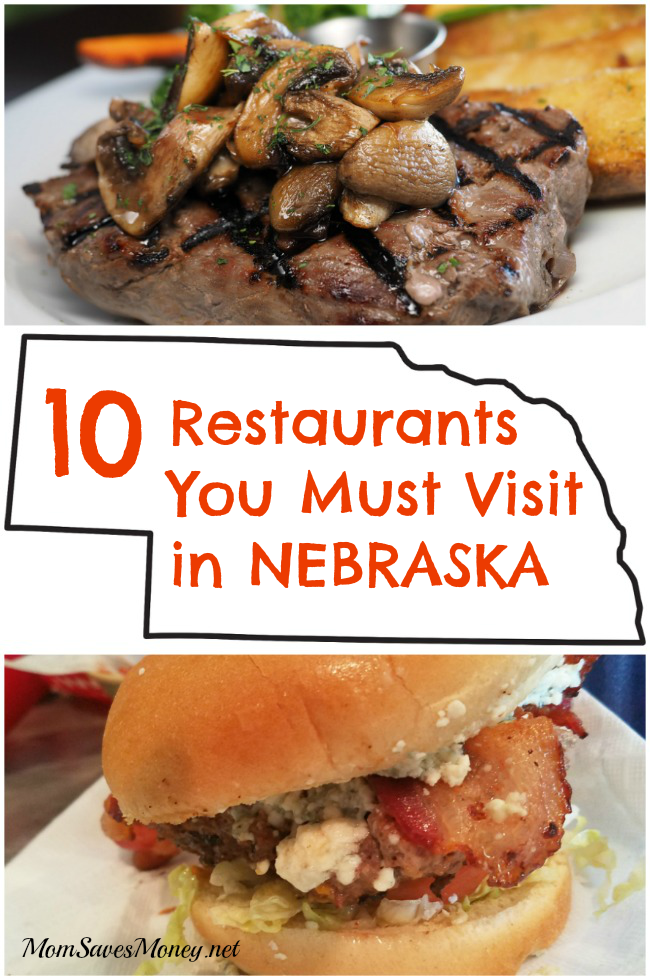 THE BOILER ROOM – Omaha
The Boiler Room, located in Omaha, is actually housed in the boiler room that provided heat for the 120 year old Bemis Bag Building. The owners preserved as much of the aging and weathering as they could. The ambience creates an experience like no other in Nebraska. Chef Tim Nicholson creates stunning dishes using fresh ingredients located right in the heart of Nebraska. The work with several growers and always keep in mind that what they put on the plate starts with what goes in the field. They strive to use ingredients that are organic and grown in the most humane way possible. They are open Monday-Saturday for dinner. After you are seated we highly recommend you order the braised pork belly to start with. If pork belly is not your thing, the egg yolk ravioli is a great second choice. For an entree I highly recommend the Morgan Ranch wagyu sirloin steak. It is served with butternut squash puree, braised anasazi beans, roasted parsnips, and a potato cake. If you still have room after an amazing dinner, you can end your experience sweetly. The dessert to order: white chocolate raspberry mousse bomb. It really is the bomb. Reservations are highly recommended due to popularity. It is easier to get one during the first of the week than toward the weekend.
THE EMPORIUM – Scottsbluff
If you are looking for an affordable, authentic dining experience in Scottsbluff, The Emporium will fit the bill! The Emporium is hidden gem with a gorgeous open floor plan that lets in a lot of natural light. It is open for Lunch and Dinner 7 days a week. Lunch is wonderful but the real star is dinner. For starters we recommend the Pomme Frites. The fries are hand-cut and tossed with truffle oil and parmesan cheese. For an entree we recommend the chicken scaloppini. It is served with fresh corn plenty, brussel sprouts, and black trumpet mushrooms. If you are looking for something other than chicken that the sirloin of Colorado lamb is also amazing. It is served with crispy potato pave, roasted carrots, and mushroom marsala cream sauce. The desserts are pretty low key but the creme brulee is really good and so is the seasonal desserts like chocolate covered strawberries.
B&B CLASSIC DOGS – Bellevue
Located in Bellevue, if you want a Hot Dog, the only place to go is the B&B. This place is for the whole family! Not only do they have some of the best hot dogs in Nebraska, but they also have old fashioned arcade that is a lot fun! And it is not a "swipe your card and steal your money" type of arcade. You have to use actual quarters! How novel is that? They have several hot dogs to choose from but if you want something out of the ordinary you have to try the Big Spartan. It is a hot dog wrapped in bacon, served on a soft, warm pretzel bun and topped with Tzatziki sauce, tomatoes and minced onions. If you want to spend some time with the family and have a lot of fun B&B is perfect!
AVOLI OSTERIA – Omaha
Located in Omaha, Avoli is named after the owners two beautiful daughters, Ava and Olivia. The owner and chef, Dario is dedicated to choosing the freshest ingredients and turning them into Italian dishes that are unlike any other. The ambience is clean and modern, with a little splash of color. It is open for dinner Tuesday-Saturday, 5PM to 10PM and Sundays from 5PM to close. You are in for a treat when you are seated. The menu is not fancy but that is because Dario knows what tastes good and stick with it. You can enjoy a 3 course prix fixe on Tuesdays and Sundays. On the other nights you can do the full menu and I highly recommend the Bolognese Bianco.
FARMER BROWN'S STEAKHOUSE – Waterloo
Farmer's Brown has been locally owned and operated since 1964. Located in Waterloo, Farmer Brown's specializes in steaks, seafood, and chicken. The whole menu is available for take-out, which is pretty awesome! The best part? You don't need reservations, you can just stop on in. Farmer Brown's is only open for dinner and has a full menu. We highly suggest you start with the Chicken Livers. They are very delicate and quite tasty. For an entree you can't beat Steak and Shrimp. It is a 6 oz filet, cooked just you want and 2 fried shrimp. It is served with cole slaw, choice of potato, bread, and a vegetable. You will definitely leave stuffed. But if you have room for dessert, definitely try Carrot Cake! It is moist and delicious!
SUWANNEE – Kearney
If you want decent Thai food, you need to make the trip to Kearney. Suwannee offers authentic Thai food at a relatively decent price. Everything is fresh and made to order, so there may be a little bit of a wait, but it is worth it! The best thing about it being made to order is that you can add as little or as much heat as you want to your dish. One of the best items on the menu is the drunken chicken with noodles. It is so good! If you really want to take a Thai adventure, Pad Thai. It is the national dish of Thailand and no one does it better than Suwannee!
THE GREY PLUME – Omaha
If you want to get all gussied and enjoy a fancy meal then you should really head to The Grey Plume in Omaha! The Grey Plume totally believes in farm-to-table and all of it's food is made using ingredients from local farms. The Grey Plume is not cheap but if you want quality, it comes at a price and quality is what makes The Grey Plume stand out above the rest. Appetizers are known as first plates and you really must try the Polenta and Pork Belly Stew. Pork Belly is finding it's way onto menus all over the US and with good reason. It is one of the most amazing things you will ever try. Pair it with creamy polenta and you got a real winner. For your main entree we would recommend the Pork Tasting. If you have room for dessert and want to try something really different, order the Duck Fat Donut and Ice Cream. It is really rich but extremely delicious!
STELLA'S – Bellevue
Stella's secret to their burgers have been handed down to each owner since 1936. They have been named Nebraska's Best Burger 7 years in a row! Located in Bellevue, Stella's serves up some of the most gourmet burgers you will ever taste. They open for lunch and dinner 7 days a week and we highly recommend stopping in here during lunch. If you are feeling super adventurous you can craft your own burger using ingredients like jalapenos, grilled onions, grilled mushrooms, peanut butter, jelly, fried egg, and many more. If you just don't feel like making that many decisions you could opt for a speciality burger. We are partial to Stella's staple burger which comes cheese, bacon, and fried egg. All burgers are served with lettuce, tomato, pickles, onions, and real mayo. For your sides you can fries, onion rings, sweet potato waffle fries, and their home-cooked kettle style potato chips. If burgers are just not your fave you can also choose from several sandwiches. If you are REALLY feeling adventurous you can try the Stellanator challenge. You have 45 minutes to eat it, sounds easy right? Well, the Stellanator consists of: 6 burger patties, 6 fried eggs, 6 pieces of cheese, 12 pieces of bacon, lettuce, tomato, fried onions, pickles, jalapenos, peanut butter, and of course a bun. If you win you will receive a "I crushed the Stellanator" t-shirt, your picture on the wall of fame, and your dinner is free. If you lose? Well, be prepared to pay $35 dollars and have your picture on the wall of shame.
THE DROVER – Omaha
Yes, another one in Omaha but in a state full of Steaks, The Drover stands out as one of the best! Not only is the food great but the atmosphere is too. It is pretty old school and hasn't changed much in the last couple of decades but with food this good you really don't need to. If you want a steak you have to order the Whiskey Filet. It is their own recipe and the best steak on the menu. If Rib Eye is more your liking then you can also order the Whiskey Rib Eye. If you are not in the mood for steak, they also have some of the best burgers and onion rings! Not into beef? They have you covered with a few chicken and seafood options. The sides don't get too fancy here though. Every dinner comes with soup or salad, bread, and your choice of baked potato, fries, rice or vegetable. All the burgers are served with fries but you really should order up some onion rings on the side!
CUNNINGHAM'S FEED – Arapahoe
Cunningham's Feed, located in Arapahoe, is all about the comfort food. The menu has pretty standard fare but what makes it stand out is how good it is. They go the extra mile to make sure every dish stands out. If you are wanting something that is not very typical you have to try the Horseradish Crusted Salmon. Tender Salmon is lightly seasoned and sauteed with a horseradish crust. It is served with a dill cream caper sauce. It is a combination that is truly amazing. If you are still hungry you can't leave without trying the bread pudding!