Disclosure: Contains affiliate link
Ahh…the life of a Stay-At-Home Mom when the afternoon rolls around and your preschoolers ask you "Can we have a snack?"  There's the usual suspects around our house: veggies & dip, pretzels, various fruits (apples, oranges and bananas being the most popular), and popcorn.
But we sometimes mix things up and have something sweet – especially if I've recently made cookies or homemade creamsicles!  Sweet is great, but I like serving sweet and healthy!
That's where these chocolate covered banana slices come in.  I've recently discovered that chocolate covered bananas is actually a thing – like you can really buy them all official like in the frozen food section.
But I didn't know that when I thought of these.  I just thought that bananas taste good with chocolate.  I just thought that banana slices is an easy finger food.  I just thought it'd be a good way to give a little treat to my kids.  I just thought it'd be fun.  Ain't nothing fancy.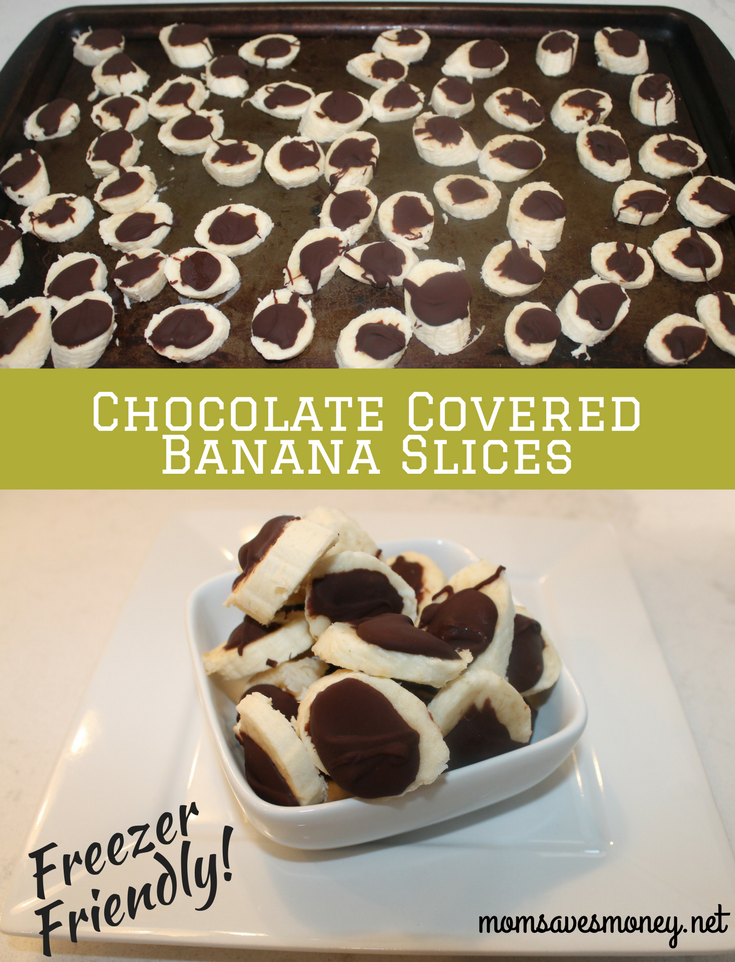 A single banana can actually make quite a bit.  Three bananas fit on 1 cookie sheet (well, depending on how thick you slice your banana).  You can use any chocolate you want – which is great for us because we use milk-free chocolate chips by Enjoy Life.  Since they're kind of pricey, I like it when a little chocolate goes a long way.
Now you can actually dip the banana slice into the chocolate and completely cover the slice.  But, well, that's a lot of work for not much benefit.  It's prettier, but it doesn't necessarily taste better.  This method gets the job done much more quickly.  All the benefit with a fraction of time!
Chocolate Covered Banana Slices
Instructions
Slice bananas and place on a cookie sheet (or anything you can stick in the freezer).

Melt chocolate. I do it on the stove on very, very low heat.

Drizzle the chocolate on top of the banana slices.

Freeze for a few hours. Place in a freezer safe container.
Jayme is a wife to 1 and a mother to four little boys. She coupons, price matches and meal plans. While she likes to cook, she's in the stage of life where simple is usually better – she never knows how many hands she'll have free at dinner time! You can find her at No Regrets Living.
Check out more delicious recipes: