Growing up, I wasn't a big fan of potato salad.  It probably stems from the fact that I'm not a big fan of mayonnaise.  Making a sandwich?  Hold the mayo please!  Tuna salad?  I love it – as long as there is minimal amount of mayo.  Pasta salad?  YES!  As long as it isn't mayo-based.
If there was ever potato salad brought to a family dinner or a potluck, I'd just skip it.  With limited space available on my plate, I just didn't want to dedicate any of it to potato salad.  And I never really found one at a grocery store that I cared for.  Too much mayo in some.  Too much mustard in others.  And another used Miracle Whip.  Miracle Whip and Jayme don't mix.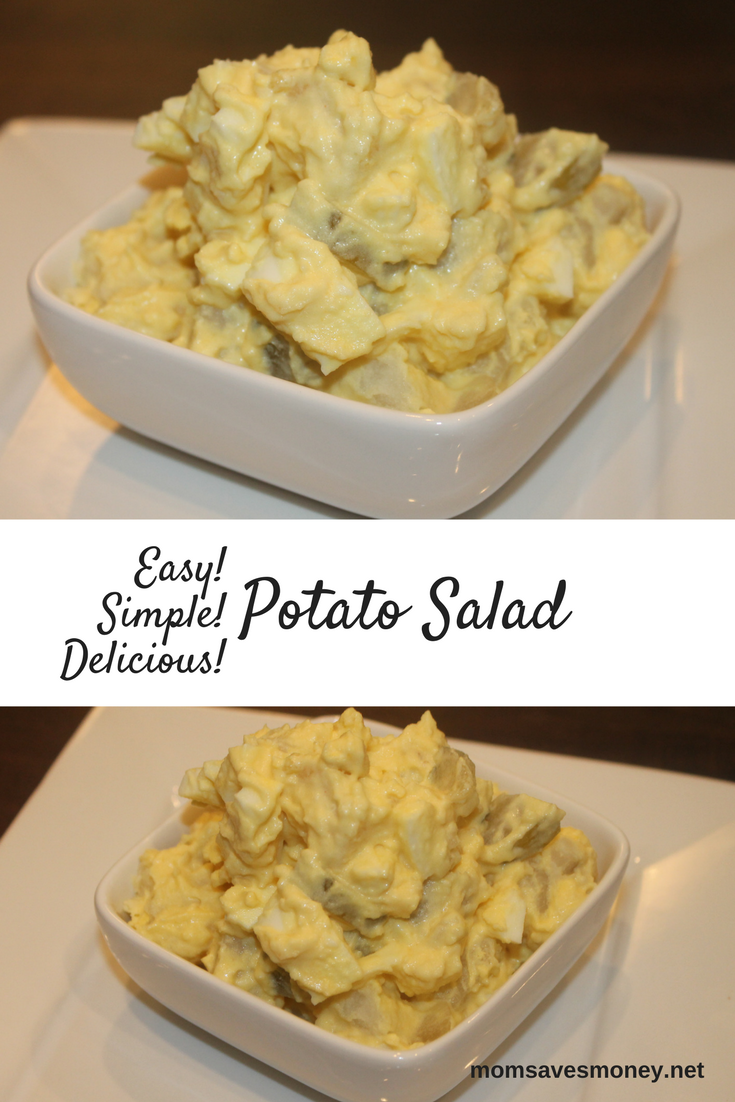 So, I finally bit the bullet and tried to make my own. I stumbled on the right combination for me.  Perfect ratio of mayo to mustard to pickles to sweetness.
It definitely takes some time to make – mostly because you have to boil eggs and potatoes and wait for them to cool.  So it isn't a "whip it together in 5 minutes" kind of recipe.  It doesn't take a lot of time, but you do have to think ahead and prepare for it.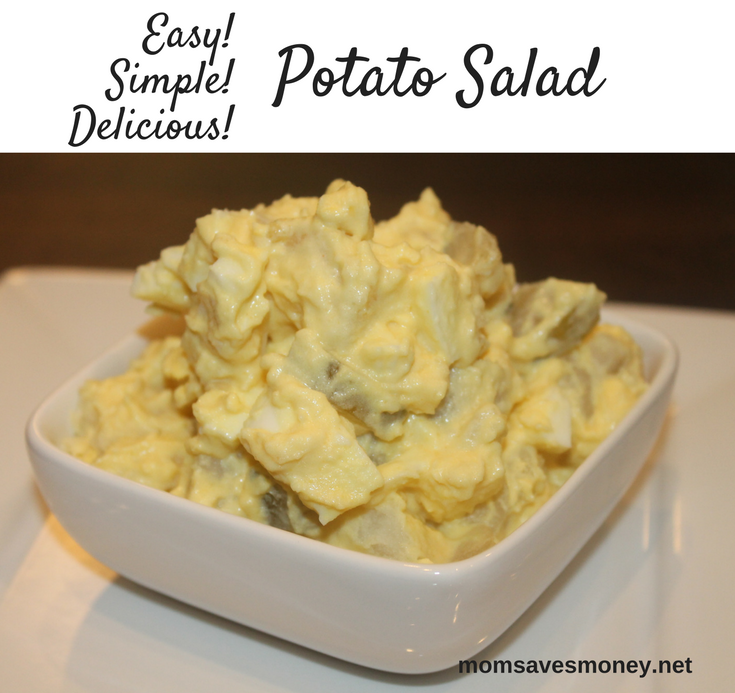 Try it – you'll love it!  I can't guarantee it, but I think you will.
Easy and Delicious Potato Salad
This is a classic potato salad recipe with pickles and eggs. Can easily be doubled to feed a big crowd.
Ingredients
4

potatoes, cooked and diced into bite size pieces (about 4-5 cups once cooked)

5

eggs, hard boiled

2/3

cup

mayo

2

Tablespoons

yellow mustard

1

Tablespoon

sugar

1

Teaspoon

pickle juice

3-4

dill pickle spears (about 1/2 cup), diced

1/8

onion, diced

Paprika, to sprinkle on top (if desired)
Instructions
Prepare potatoes. Peel potatoes, dice into small pieces. Boil for about 20-25 minutes until well cooked. Drain and let cool.

Boil eggs. Bring a pot of water to boil. Add eggs and boil for 15 minutes. When done, put in fridge to cool. When cool, peel and dice.

In a big bowl, mix mayo, mustard, sugar, pickle juice, pickles, onions.

Add potatoes and eggs and mix well.

If too dry for your taste, add more mayo or mustard.
Jayme is a wife to 1 and a mother to four little boys. She coupons, price matches and meal plans. While she likes to cook, she's in the stage of life where simple is usually better – she never knows how many hands she'll have free at dinner time! You can find her at No Regrets Living.