When I was a kid it was common to make your own costumes. I loved seeing all the unique and fun costumes my friends wore on Halloween. Now, it seems like most kids buy the costumes and it's just not the same as making one homemade.
One of my fondest trick-or-treating memories is the year I dressed as moldy meatloaf. I wore white/black polka pants, a green sweater completely wrapped in cellophane and a 5 year old meatloaf label. I loved all the compliments and chuckles I received as I walked door to door for my annual candy haul. I can't remember any of the other costumes I wore, but the moldy meatloaf stands out because I took the time to make it myself and I think I got a few extra pieces of candy from it. I guess you could say I was proud of it (well, as proud as you can be about leaving meatloaf in the fridge for 5 years.)
To carry on the fun tradition of making your own costumes, I am sharing these 15 simple and budget friendly DIY Halloween costumes. There is a mix of adult and kid costume ideas at a fraction of the cost of a store bought costumes. These all look amazing and you have bragging rights that you made it yourself!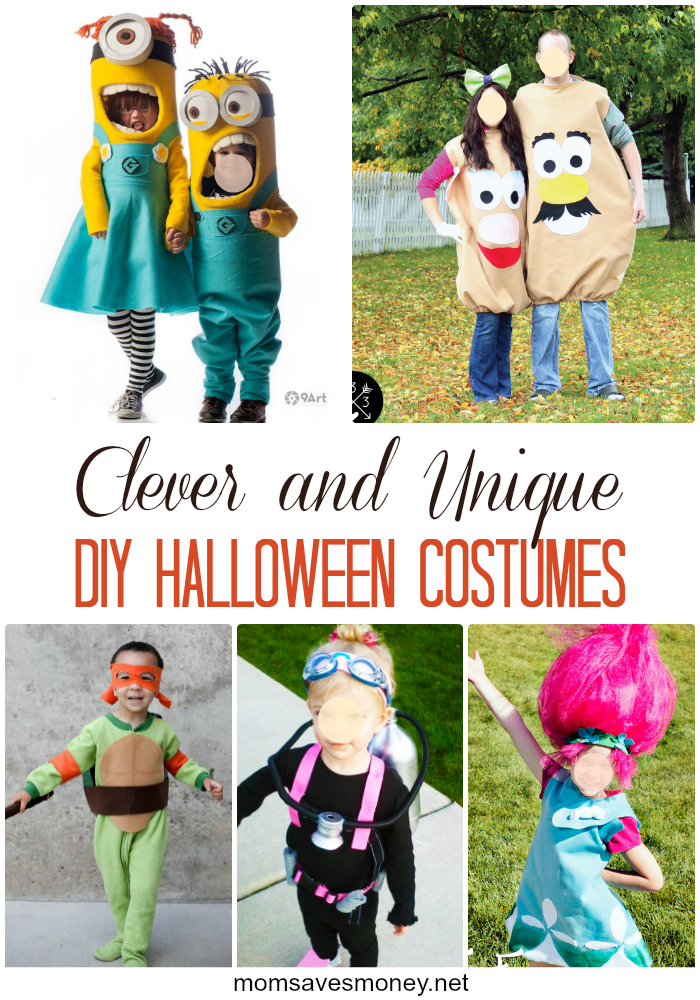 1. DIY Cereal Bowl Costume – This is a creative costume using paper mache and colorful pool noodles.
2. DIY Camping Halloween Costumes – These 3 siblings dressed up as an entire campsite, featuring camper, campfire and a baby marshmallow costume.
3. Quick & Easy RAIN CLOUD Costume – If you are short on time and funds, stop at the Dollar store for supplies to make this super cute cloud costume.
4. Princess Poppy Costume (pictured above) – If you have a Trolls fan, make this simple costume. Pair it with the rain cloud costume above for a fun Trolls duo.
5. Mr. & Mrs. Potato Head Costumes (pictured above)- Love this fun costume made from felt, hot glue and a few stitches.
6. No-Sew Paw Patrol Marshall Costume – If you have a red vest, just add these printable badges to transform your child into Paw Patrol Marshall
7. Mario and Luigi Go Kart Costumes – Decorate race cars to create this fun classic video game duo.
8. Handmade Dress Up DIY Dino Tail Tutorial – If you can sew, this is a very simple pattern for a dino tail.
9. DIY Scuba Diver Halloween Costume (pictured above)- This is a very clever and crafty costume using 2-liter soda bottles and spray paint.
10. Rag Doll Halloween Costume DIY – Create a red rag doll wig in no time with this DIY tutorial. You could even use this DIY wig for a fun clown costume.
11. DIY Fries Costume – This is a simple costume idea that comes together quickly. Just gather cardboard, paint, hot glue and some upholstery foam to create this epic costume.
12. How to Make Minion Costumes Tutorial (pictured above) – These are amazing costumes that look way better than any store bought version. I love these little minions.
13. DIY Toothless Costume from "How to Train Your Dragon" – This is a very cute costume. I love the tutorial for no-sew wings because it's a versatile costume item.
14. Princess Leia Costume Free Pattern Tutorial – This tutorial includes a free sewing pattern to create your own Princess Leia costume.
15. Easy Teenage Mutant Ninja Turtle (pictured above) – This is a genius costume idea, using a green onesie sleeper, a painted roasting pan and some felt. I'm thoroughly impressed.
What's your favorite DIY Halloween costume memory? Do you plan to make your own costumes this year?