Disclosure: I am an Omaha Children's Museum blog partner. All opinions are mine.
Have you heard the news? Omaha Children's Museum has a new exhibit and it's amazing.
Forever Forest is now open to the public and runs through April 15, 2018. This is their first traveling exhibit, which means portions of this exhibit designed by Omaha will be on display at other national children's museums. How cool is that?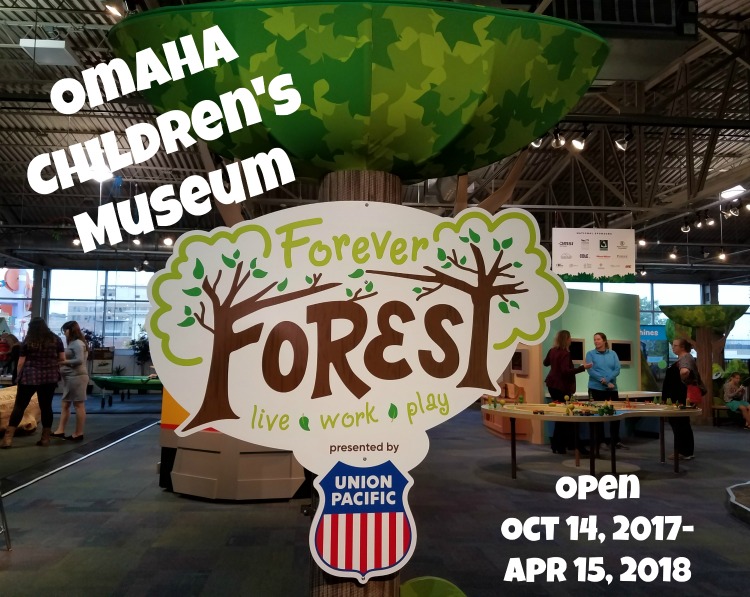 The Forever Forest exhibit includes a fun treehouse with a slide, giant logs kids can climb, a playhouse, a campsite and a train. Kids can fish in an interactive display and even watch live termites under the microscope.
Throughout the exhibit, kids learn more about our natural resources, including sustainability, selective harvesting and every-day products we use that are made from trees.
My older children enjoyed building with the magnetic wood tiles and climbing the giant logs. My youngest spent at least 30 minutes watching the termites and enjoyed the giant train table. This is a fun exhibit for all ages.
Watch this short video to see my kids playing on the exhibits:
The Forever Forest will feature four daily interactive and educational programs:
Nature Explorers -Observe, explore, and investigate amazing aspects of the forest such as the beaks of birds, the fur of mammals, and different parts of a plant.
Timber Trivia – Spin the great tree wheel to play bingo as we learn all about the surprising products that come from trees and the importance of trees in our everyday lives.
The Great Forest Trek – Trek around our Forever Forest with a trail map and binoculars to search high and low for furry and feathery forest friends.
Tree-rrific Treasures – Use the treasures of the forest to help in our artistic endeavors. We may use a wooden drum and rhythm sticks to make beautiful music, act out a play set in the forest, or create any number of arts and crafts projects using materials from the forest.
More about the Omaha Children's Museum:
Location – 500 S 20th St, Omaha, NE
Winter Hours -Tuesday-Friday 10am-4pm, Saturday 9am-5pm, Sunday 11 am-5pm, Closed Mondays (winter hours from Labor Day – Memorial Day)
Admission – No charge for museum members or kids under 24 mos, Kids 2-15 and Adults 16-59 are $12, Adults 60+ are $11
Learn more – Check out the Omaha Children's Museum website to learn more. You can also follow them on Facebook or Twitter for the latest news and announcements.
Giveaway:
One lucky winner will receive an Omaha Children's Museum admission pass good for up to 4 people in 1 visit in 2017. Enter using the Rafflecopter form below. Giveaway ends Saturday, October 21 and winner will be contacted via email provided. Good luck!