Disclosure: Mattress provided from MyGreenMattress.com through US Family Guide & contains affiliate links. All opinions are mine.
A few years ago, my husband talked me into a new mattress to replace our decade old one that was not very comfortable. Since I always stress about large purchases, I was reluctant to agree. His argument was that we should spend good money and be comfortable on a place where we spend a third of our life. I caved and agreed to getting a new mattress. He was so right! A quality mattress makes a huge difference in our comfort and sleep.
Now, that I've realized the importance of a good mattress, I wanted to upgrade my kid's mattresses too. Our boys share a room and bunk bed and have been complaining that they aren't very comfortable at night. The more I researched online for new beds, the more worried I became about the chemicals used in many manufactured mattresses.
Why We Went Green
I am very concerned with toxic products in our home and reduce exposures to chemicals as much as possible. My kids spend 8-10 hours in their bed every day and making sure they sleep on a safe, non-toxic green mattress is important to our family.
They also suffer from mild to moderate allergies. Through research I found a non-toxic sleeping environment can help them rest easier at night. I was excited when we were approached by My Green Mattress to test out their non-toxic mattress.
My Green Mattresses are made with all natural and organic materials, without chemical flame retardants, adhesives or high VOC foams. Best part is they are also affordable! A safe mattress shouldn't be a luxury purchase. It's important to the health of the family. Everyone rests better when the kids sleep well (Parents you know what I mean.)
My Green Mattress Story
My Green Mattress was founded by Tim Masters and inspired by his daughter Emily. Shortly after Emily was born, it was apparent that she suffered from eczema and allergies. They found all-natural products could alleviate Emily's symptoms. She now sleeps on a twin-size, all-natural mattress handcrafted by her dad. She is a happy and healthy little girl. Tim offered these all-natural mattresses to his customers and My Green Mattress was born.
They make each mattress by hand in a small factory just outside of Chicago. The mattresses are made to order and shipped free via FedEx. They buy their organic materials in bulk and are able to pass along the savings to the consumer.
My Son's Experience with My Green Mattress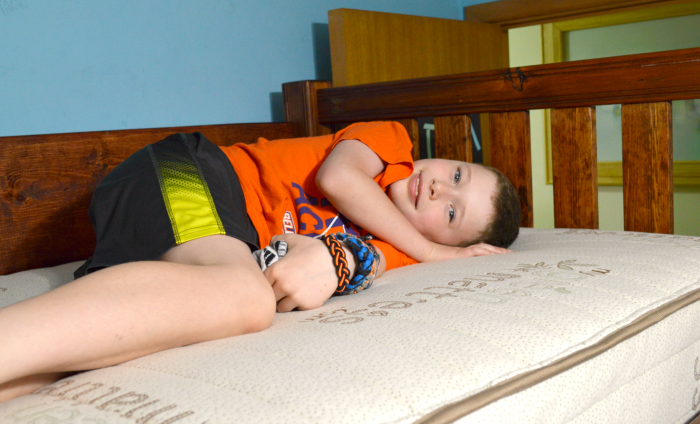 I can rest easy knowing my kids are sleeping on a mattress made from organic cotton and a batting of natural wool (a chemical-free flame retardent.) My son has been enjoying his My Green Mattress for two weeks and loves it. He often requests Melatonin when he can't fall asleep, but hasn't had to use it once in the time he has had the new mattress. I think that alone speaks for the comfort of My Green Mattress.
Watch this short video for our review of the mattress and what my son thinks of his new bed.
More about My Green Mattress
My Green Mattress offers more than just mattresses for the whole family. You can also purchase wool or latex mattress toppers to give you an extra layer of non-toxic comfort. They also sell organic cotton sheets that are a perfect compliment for a new green mattress.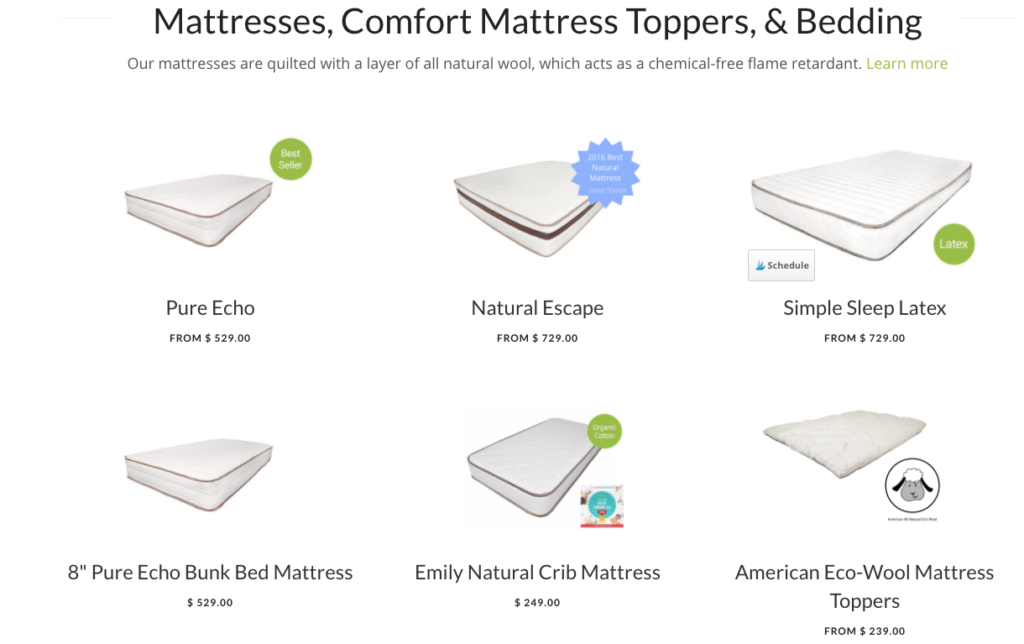 I know I was nervous about ordering a new mattress online, which is why I'm happy they over a 100-night trial on their mattresses. If you are not 100% satisfied you can exchange or return the mattress.
For our family, we plan to continue to add non-toxic products to our home, including bedding and pillows, as the budget allows. I feel confident in our decision to create a less chemical filled environment for our children starting with a My Green Mattress. A mattress is an investment and it's important to buy quality and non-toxic materials.
Learn more about this company and order online at MyGreenMattress.com .
You can follow My Green Mattress on Facebook, Instagram , Twitter or Pinterest.