Disclosure: This post was sponsored by Hefty® & this is part 1 of a 2-part series. All opinions are mine.
You can make a big difference in our environment with small efforts. The Hefty® EnergyBag™ program allows you to recover previously non-recycled plastics – like chip bags and juice pouches – and convert them into valuable energy resources.
As a mom with three kids, I know we throw away our fair share of juice pouches and granola bar wrappers. Now, thanks to the Hefty® EnergyBag™ program, we can recover these clean plastic items and they will be converted into valuable energy resources. Plus, there is less waste filling up our already full landfills. It's a win-win for everyone.
This groundbreaking initiative was introduced in Omaha, Nebraska in September 2016 and has since been expanded across the Omaha Metro. We are one of the few communities in the nation who even have this amazing program. This program takes care of the plastic waste we would normally throw away. And, it's easy to participate!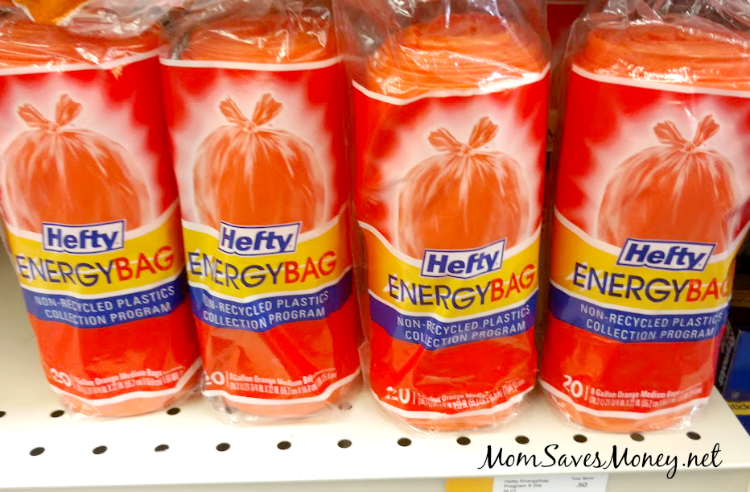 Just purchase the Hefty® EnergyBag™ orange bags at participating Hy-Vee stores or online and fill them with your clean and dry non-recyclable plastics. When full, securely tie the bags and place them inside your recycling cart during your scheduled recycling pickup. That's it!
Check out this quick video to learn more about the Hefty® EnergyBag™ program:
Here's what can go in the EnergyBags:
Potato chip bags and other snack bags

Candy wrappers

Granola bar and energy bar wrappers

Plastic and foam cups, plates and bowls

Shredded cheese packages

Salad bags

Plastic pet food bags

Frozen fruit & vegetable bags

Pudding cups

Stand-up pouches

Squeezable baby food pouches

Foam to-go boxes

Packing peanuts

Plastic utensils

Plastic straws and stirrers

Cake mix liners and other dry powder mix liners

Plastic toothpaste tubes

Condiment packets

All other non-recycled plastic bags
And what aren't accepted in the program, and shouldn't go in the bags:
Food

Glass

Metal

Paper

Aluminum Cans

Liquids

Water bottles
Don't worry, if you currently do not have curbside recycling available to you, simply drop off the full bags at one of these recycling centers and help protect our environment.
You can purchase the Hefty® EnergyBag™ orange bags at these Metro Hy-Vee locations:
Hy-Vee #1 5150 Center
Hy-Vee #2 14591 Stony Brook Blvd
Hy-Vee #3 8909 W Center Road
Hy-Vee #4 10808 Fort St
Hy-Vee #5 7910 Cass St
Hy-Vee #6 9707 Q Street
Hy-Vee #8 747 N 132nd St
Hy-Vee #9 17810 Welch Plaza
Hy-Vee #10 3410 N 156th St
Hy-Vee #11 1000 S. 178th Street
Hy-Vee Papillion 11650 S. 73rd Street
The Hefty® EnergyBag™ program has valuable environmental and economic benefits, including decreasing landfill waste, less fossil fuels extracted from the ground, and converting waste to alternative energy sources. The most important benefit is being an example to our children and teaching them the value of less waste and taking care of the environment through small efforts. The more we do now, the better our future will be for our kids.
Learn more about the program at HeftyEnergyBag.com now.