Disclosure: Contains affiliate link. All opinions are mine.
It's that time again!
Since 2013, Ultimate Bundles has been selling the Ultimate Homemaking Bundle, a complete collection of resources to help you create a home and life you love.
Over the years, a crazy number of people (100,000!!) have invested in themselves by grabbing a copy of the bundle.
People like Nikki, who grabbed last year's version…
"The Ultimate Homemaking Bundle has been a total game-changer for me. As a new momma of two, I have less time to find the resources I need (and more of a need for the actual resources!). Recipes, meal planning & cleaning templates, and SO much more- all in one place! It's a busy mother's dream."
Or Jen, who also bought the 2017 Homemaking Bundle:
"This bundle is absolutely amazing! It was my first bundle and experience with Ultimate Bundles. Now, I'm an avid follower and supporter! The Ultimate Homemaking Bundle has brought clarity, purpose, and positivity to my life. I am more grounded and peaceful. My home is full of love. I have grown as a person and increased my educational pursuits. I feel inspired!"
Even though it's always a great deal and full of incredible resources, this year's Ultimate Homemaking Bundle is the best one I've seen yet!
It's the most resources ever included in one of these bundles! Whether you want decluttering and organizing tips, ideas to help you balance all your roles, healthy meal plans, mothering or marriage tips, or anything else related to homemaking, this bundle has you covered.
Curious what the bundle includes?
When you buy the Ultimate Homemaking Bundle, you'll get access to:
62 eBooks
30 eCourses, videos & audio files
34 printables & workbooks,
and 3 membership sites
… all curated to give you an insanely helpful collection of resources to touch every part of your homemaking journey – at a price that's too good to miss.
Plus, there are more than $180 worth of bonuses, like free kid's books from Bookroo, unlimited books, audiobooks, and magazines with a 3-month Scribd subscription, or free natural eyeshadwo from Orglamix – just to name a few! Learn more here.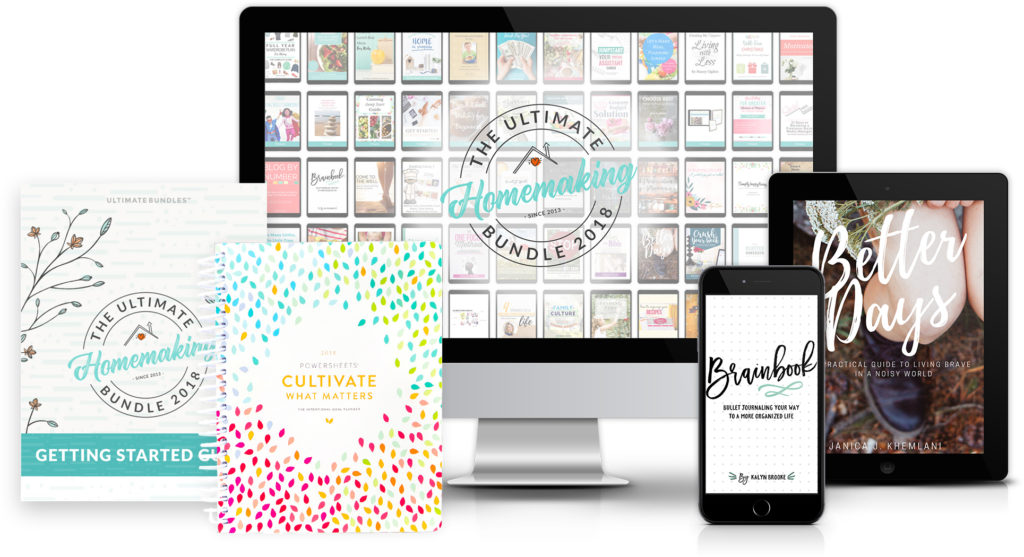 Will our homes ever be perfect? Nope. Will these tools make life completely stress-free? Uh-uh.
But learning smart strategies and solutions, and saving yourself time and stress trying to figure things out on your own, sure does go a long way.
And with a little help, you really can create a home and life that (while imperfect) is pretty awesome.
Check out the Ultimate Homemaking Bundle now.
Hurry, it's only available for a limited time!