Disclosure: I am an independent contractor for the OWH and make commission on sales.
I teach coupon classes locally in Omaha and the Omaha World Herald has partnered with me to provide my readers with exclusive discounts on newspaper subscriptions. Yay for coupons! I currently have two amazing Omaha World Herald subscription offers that you can now order ONLINE!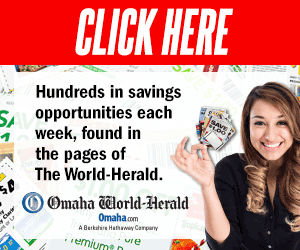 OFFER 1: New subscribers can get the Sunday only paper for just $77.71 a year. That's only $1.38 a week and a 60% savings off the newsstand price. Order now to start your subscription.
OFFER 2: New subscribers can get 7-Day delivery for only $61.85 for 3 months. This includes OWH Platinum Rewards with exclusive savings offers from 250+ local restaurants, entertainment & service businesses. You will also have full digital access to Momaha.com, Omaha.com, LiveWellNebraska.com & more. If you are an existing Sunday or weekend only subscriber, you can upgrade to the 1/2 price 7-Day rate. Order securely online now.
Note: Promotional rates are for NEW subscribers only and include a one time $5.95 activation fee. If there is an active or recently stopped subscription within the last 30 days, any money paid will be applied to the existing account at the preexisting rate.
Questions or need more assistance? Just email me at nicole@momsavesmoney.net.