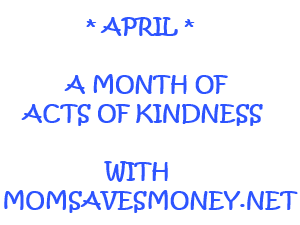 I am really loving the Acts of Kindness challenge. I am amazed at the wonderful acts of kindness happening all over Omaha and even in Texas (by a former Omaha friend). The challenge was even featured by Jen Schneider on the Momaha blog!
An amazing thing happened this week! I was gifted an Act of Kindness bracelet from a stranger while I was in St Louis for a blogging conference. I was discussing the challenge I was doing on my website and he decided I deserved the bracelet. The idea is that you pass on the bracelet when you witness an Act of Kindness. I passed it on a few days later to a woman who is using coupons to make huge donations to the homeless shelters and people in need in Omaha. What a blessing!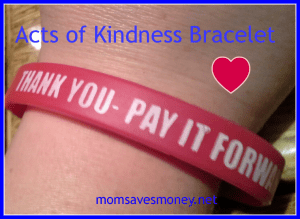 These last two weeks helped me realize that the small things are important. Even a tiny token of appreciation is recognized. Being kind does not cost much money and does not take much time. It's just takes effort to recognize that there is an opportunity to make a difference in someone's life.
This week, I've done lots of small acts of kindness, including writing a letter of appreciation to my husband, giving away coupons, buying a stranger coffee, plugging quarters in the 'rented' grocery carts at Aldi's, watching my brother's dog and volunteering an hour of my time to teach at Bellevue's Parent University. Acts of kindness shared using the #AOKMomSavesMoney hashtag include babysitting for free, giving away coupons to customers at a retail store, donating markers and school supplies to the school, dropping off donations at a thrift store, participating in a food drive, leaving magazines in a break room and giving small gifts to coworkers. Everyone is so inspiring! Keep up the amazing work!
It's not too late to join the Acts of Kindness challenge. Use hashtag #AOKMomSavesMoney on social media so we can see all the good you are doing and get some more ideas to Pay it Forward.
Are you participating in the Acts of Kindness challenge? Please leave a comment about the experience so far or some Acts of Kindness you have done.