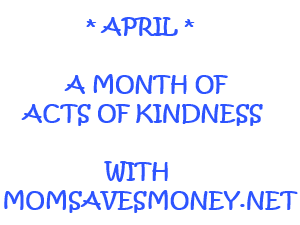 This week I have made a conscious effort to perform an act of kindness each and every day for the April Acts of Kindness Challenge. I absoutely LOVE this challenge! Kindness is contagious and so many friends and fans are joining this challenge and doing amazing things in our community.
Check out these amazing Omaha bloggers who are joining this challenge:
Jen @ Liv, Laugh, Love Media – A personal friend of mine and very inspiring
Heather @ The Home Alien Blog – Check out her Kindness Jar to get kids involved.
We've been using the hashtag #AOKMomSavesMoney to share our acts of kindness on Social Media and there are so many people doing great things in our community. Here's an example of acts of kindness just in the first week:
Organized donation drive for Easter baskets for Lydia House/Open Door Mission
Gave a $75 gift card to a single mom
Bought donuts for coworkers
Sent expired coupons to military serving overseas (they can use six months past expiration)
Donated time to St Jude's telethon
Made homemade treats to share
Sharedcoupons for Free products
Gave a lottery ticket to a stranger (I really hope he won!)
And, lots of sharing, caring & giving generously!
Are you feeling inspired yet? I certainly am and I can't wait for week two of this wonderful challenge.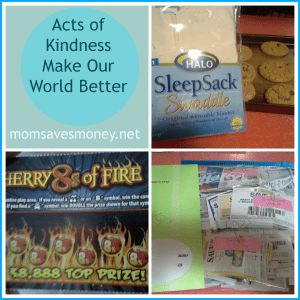 GET INVOLVED
My advice for this challenge is just do it! You don't have to have lots of money or time to make a positive impact on others through small acts of kindness. If every one did just one kind act every day, our world would be a much better place.
This week, get involved and join our challenge! Make sure to use hashtag #AOKMomSavesMoney so we can all see the wonderful acts of kindness.
Are you participating in this challenge? What has been your favorite part of the challenge so far?