Ready to shop this week's best sales?  I'm still doing my best to decrease the amount of food I have in my freezer, so I still don't need much, but I'd be tempted to buy strawberries at Aldis.  I'm sure I can make some good stuff with that!
Here are some menu suggestions:
Main Dishes
This enchilada recipe is on my regular rotation since we love it so much.  You can omit the chiles if that isn't your thing, but it adds a nice touch, I think.  They aren't spicy, so it doesn't add heat.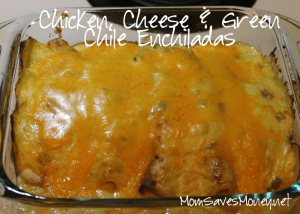 Chicken Enchiladas:
Ingredients:
2-3 cups cooked chicken (chopped)
2 cups cheddar cheese (shredded)
4 ounce can green chiles (chopped)
8 (10 in) soft flour tortillas
1/2 cup onion or celery (chopped)
2 cans cream of chicken soup
1 cup sour cream
Directions:
1. In bowl #1, mix chicken, onion and/or celery and 1 cup cheese.
2. In bowl #2, mix soups, chiles, and sour cream.
3. Spread ½ of the sauce mixture in bottom of 9×13 pan.  Divide chicken mixture between the 8 tortillas, roll up each one and place on top of sauce mixture.
4. Cover rolled tortillas with remaining sauce mixture.  Bake at 350 for 30 minutes or until bubbly.
5. Sprinkle remaining cheese on top and bake for 5 more minutes.
6. Serve with rice.  I like to top them with salsa!
Freezer Instructions:
I usually freeze these pre-baked.  In fact, for my family, I make 2 9×9 pans instead of a 9×13 pan.  Then on the day when I want to make them, I just de-thaw overnight or during the day.  Just know that you'll likely need to bake them longer since they start off cold rather than room temperature.
Jayme is a wife to 1 and, so far, a mother to two little boys. She coupons, but isn't super extreme about it. She price matches and loves it! While she likes to cook, she's in the stage of life where simple is usually better! She never knows how many hands she'll have free at dinner time! You can find her at No Regrets Living.