April's daily act of kindness challenge is over, but the positive impact is not. Many people joined the acts of kindness challenge and shared their amazing good deeds on social media. I loved reading the beauty of kindness and how many lives were impacted by simply being kind. A huge thank you to everyone who participated. You are all so amazing!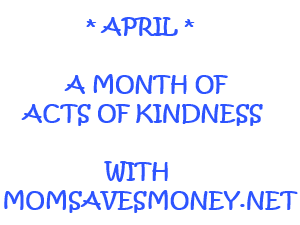 I think kindness is contagious and can really make someone's day. It doesn't take much effort or money to be kind, but the effects can be life changing. Plus, throughout this month it was evident that karma was in full effect. Several wonderful things happened to many of the people participating in the challenge. Personally, I saw many great things happen in my own life that really proved to me that kindness all day every day is truly the way to live.
Doing this challenge I also realized that I was already doing acts of kindness most days! Sharing on social media and blogging about the acts of kindness made me more aware of the good deeds I could be doing and allowing me to share the love even more. This challenge was amazing and I plan to live my life doing daily acts of kindness. It is so rewarding and wonderful! I highly recommend everyone make daily acts of kindness part of their routine. It just makes the world a better place and brightens everyone's day.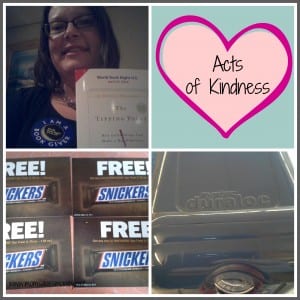 Here are the 30 daily acts of kindness I performed in April:
Day 1 – Donated to the Thrift Store
Day 2 – Made oatmeal chocolate chip lactation cookies and gave a swaddle blanket to my sister in law with a new baby
– Handed a $1 lottery ticket to a man in line behind me at the grocery store (I REALLY hope he won!)
Day 3 – Sent expired coupons overseas to military families to use
Day 4 – Paid cabfare for my blogger friends at a conference in St. Louis
Day 5 – Shared my external battery charger with several friends at the blogger conference with dead cell phones
Day 6 – Gave away books and coupons to friends
Day 7 – Wrote a love letter to my husband to show my appreciation for him
Day 8 – Showed some love for other bloggers by sharing their content and commenting on their posts
Day 9 – Left quarters in the carts at Aldi's for the next customer
Day 10 – Shared Kindness bracelet I received at conference with a generous and amazing person
Day 11 – Bought coffee for a stranger
Day 12 – Volunteered my time to teach at Bellevue's Parent University
Day 13 – Gave away coupons
Day 14 – Helped a new blogger find great opportunities and fine tune her blog
Day 15 – Gave away more coupons (I love to share what I can't use)
Day 16 – Shared free snickers bars with blog followers
Day 17 – Let someone go ahead of me in line & gave my cashier a sincere compliment
Day 18 – Gave my neighbors new makeup from my stockpile
Day 19 – Left a big tip for the waitress on our date night
Day 20 – Hosted Easter dinner and took care of clean up
Day 21 – Wrote a kind message to a friend who's been having a rough week
Day 22 – Shared Aldi $10/40 coupon at the store with mom of two girls
Day 23 – Was a World Book night giver and gave away 20 copies of a book
Day 24 – Mailed out almost $200 in coupons to a dozen people
Day 25 – Was a coupon fairy (left coupons next to the products in the store)
Day 26 – Gave my babysitter bonus pay
Day 27 – Donated money to Splash Pads for Bellevue
Day 28 – Taught someone in my freebies class & I witnessed her use that knowledge to win $200
Day 29 – Sent random puzzle pieces with my son to school for their art table
Day 30 – Went on a personal coupon and shopping trip to teach my tips and share my coupons
My last act of kindness will be giving a shout out to my wonderful blogger friends in Omaha. Please, visit their blogs and show them some love. They are wonderful people and very talented writers.
Bolton @ Bolton Carley's Blue Jeans & Bologna
Cynthia @ Sensory Mama Saving Cents
Heather @ The Home Alien Blog
Jen @ Liv, Laugh, Love Media
Julie @ Family Fun in Omaha
Lisa @ The Walking Tourists
Nicole @ Life as a Lindquist and The Council Bluffs Blog
Please leave a comment about your experience with the Acts of Kindness Challenge.