I bought more beef this week and made over 4 dozen meatballs.  Now, for a big family, that won't go very far.  But for my family, that's at least 6 meals for all 3 of us (non-baby) eaters.  They're in the freezer just waiting to be used!  Tonight, we're going to have Italian Sausages and I'll use the leftovers in spaghetti next week sometime.
Take a look at what's on sale this week and make a great menu!  It's the 4 of July next week, so be prepared to grill something!
Main Dishes
Baked Ziti – Her recipe doesn't even require that you pre-boil the noodles!
Spaghetti Stuffed Calzones – I haven't tried this, but I'm really tempted to.  I'm always piling my spaghetti on top of a piece of garlic bread, so this just seems a great way to combine the 2 things!
Cheesy Chicken & Rice Bake – I'm a sucker lately for green chiles, so this really appeals to me, but I'd leave them out if it's not your thing.
Sante Fe Chicken Foil Dinner – You can really customize this "dish" easily for each member of the family.  One kid doesn't like beans?  Leave it out of his packet!
Hot Ham & Cheese – Or make it turkey and cheese.  Or roast beef and cheese.
I've had trouble finding a canned enchilada sauce that I really like, so I've been experimenting with making my own homemade version.  I really liked this one.  Maybe you will too!  If you have a canned sauce that you really like, by all means, use it.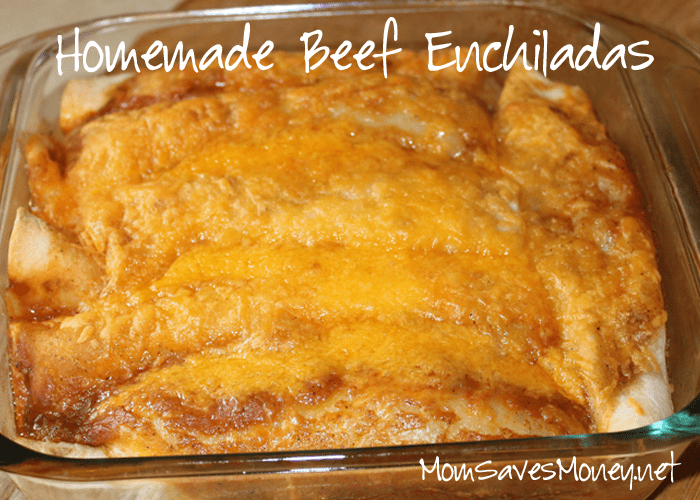 Simple Homemade Beef Enchiladas
Enchilada Sauce
Ingredients:
1/2 cup butter
1/2 cup flour
2 tsp. chili powder
1 1/2 tsp. cumin
1/2 tsp. garlic powder
3/4 tsp. onion powder
1/2 tsp. black pepper
4 cups broth or bouillon (I use 4 cups water with 4 bouillon cubes)
8 oz. tomato sauce
Directions:
1. In a medium saucepan, melt butter over medium heat.  Stir in flour to make a smooth paste.
2. Add spices and continue to stir until bubbly.
3. Add in broth and bring to a boil.  Cook and stir 1 minute.
4. Stir in tomato sauce.
This makes a lot of sauce – 6 cups worth.  Which is enough for about 2 9×13 pans, so you can halve the recipe if you don't need that much.  I make that much and then freeze the rest.
Enchiladas
Ingredients:
1 lb. beef
1/2 onion, diced
1 can kidney beans, drained & rinsed (optional)
1 can corn, drained (optional)
4 oz. diced green chilies  (optional)
enchilada sauce (1 big can or 2-3 cups of homemade)
10 tortillas
1 cup cheddar cheese
Directions
1. Preheat oven to 375. In a 9×13 pan, spread some of the enchilada sauce on the bottom of the dish.
2. Brown ground beef with onion.  Drain.
3. Mix in beans, corn, and diced green chilies.
4. Put some of the meat mixture into the middle of the tortilla and roll.  Put the seam side down in the dish.  Repeat until the meat is gone.
5. Cover enchiladas with remaining sauce.
6. Cover with foil and bake for 25-30 minutes til heated through.
7. Remove foil and sprinkle cheese on top.  Bake for another few minutes until cheese is melted.
I like to eat them with sour cream and salsa on top!
Freezer Tip: I made a batch and put them in 2 9×9 pans instead of a 9×13.  I baked one and froze one.  Froze beautifully!  In the morning, I put the enchiladas in the fridge and it just took a little longer to bake.
Jayme is a wife to 1 and, so far, a mother to two little boys. She coupons, but isn't super extreme about it. She price matches and loves it! While she likes to cook, she's in the stage of life where simple is usually better! She never knows how many hands she'll have free at dinner time! You can find her at No Regrets Living.