I'm back with some menu ideas based upon what's on sale this week!
Like many of you, I'll be at Bakers this week with their Mega Sale! See, I love Kraft's Mac & Cheese shapes and it's at my "Buy Lots Of It" price! And we're out of Turkey Hill Vanilla Bean ice cream at our house, which is practically criminal. Plus, you can't beat the prices on Kraft BBQ Sauce and Pace Picante. Stock up time!
If you're looking for a few main dish ideas, go to Baker's and get some of their chicken drumsticks. Here are several good-looking recipes:
• Crockpot BBQ Drumsticks from The Frugal Girls (love crockpot recipes and you could also use the BBQ sauce that's on sale at Bakers!)
• Slowcooker Buffalo Chicken Drumsticks from Stuff I Make My Husband (we're not a drumstick kind of family, but I bet I could easily get my husband to enjoy these!)
• Oven Fried Drumsticks from Betty Crocker (can't go wrong with Betty!)
Potatoes are also on sale and with the cold weather outside, it might be a perfect week for my Baked Potato Soup or my easy-peasy-better-practice-for-the-Super-Bowl potato skins. Six Sisters' Stuff has an awesome potato salad recipe – I make a batch of this and it'll last us 2-3 meals that week.
If you need a dessert, try Seeded on the Table's Fruity Brownie Pizza or Tasty Kitchen's Fudgy Brownie Cookies or these S'more Brownies.
This week at our house, we have some ham lunch meat that needs to be used (but lunch meat is also on sale this week), so we'll be having hot ham & cheese sandwiches using hamburger buns (also on sale this week). I forgot to take a picture of the final product, but well, it looks like the first picture, except it's hot!
There are a lot of recipes out there that are similar to this one (like this one), but they're more complicated. I'm sure more complicated means more delicious, but these are super easy and super quick! The beauty of this "recipe" is that you could use any meat you want (like turkey or roast beef) and you could use any cheese you want (like American or Mozzarella or Cheddar) and you can use any rolls you want (I use hamburger buns, but feel free to get fancy and go to Kaiser rolls!) and you can serve as many people as you need (just get more ingredients – no fancy measuring needed!) It's a beauty!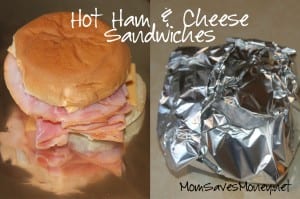 Hot Ham & Cheese Sandwiches
Ingredients:
Mayonnaise (or mustard)
Hamburger buns
Cheese
Deli ham
Directions
1. Preheat oven to 350 degrees.
2. Spread mayonnaise (or mustard) on the buns (as much or as little as you like).
3. Make sure the deli meat is "toweled off" to remove any moisture (you can skip this step, but I find that when I do, the sandwiches turn out a little soggier than I want them to.)
4. Place cheese and ham on the bottom buns; put tops back on.
5. Wrap sandwiches in foil and put on an ungreased baking sheet.
6. Bake at 350° for 15-20 minutes or until cheese is melted.
Jayme is a wife to 1 and, so far, a mother to two little boys. She coupons, but isn't super extreme about it. She price matches and loves it! While she likes to cook, she's in the stage of life where simple is usually better! She never knows how many hands she'll have free at dinner time! You can find her at No Regrets Living.