Have your kids gone back to school yet?  We're still not at school age here in my family, but there's something about other kids going back to school that makes it seem like summer is over.  Strange because it's still in the 90s outside!
Anyway, take a look at this week's sales and get to cooking!
Main Dishes 
Ground Turkey Meatballs – You can use ground turkey in almost any recipe calling for ground beef.  Maybe try Tasty Kitchen's meatball recipe with the turkey that's on sale at Bakers.
Biscuit Cups – this looks intriguing to me.  Basically, you take canned biscuit and make mini-sloppy joes with them.  Or mini-barbeque beef.  Or mini-tacos.  Seems a kind of fun way to practice portion control!
Saucy Broccoli Bake – I need to make this more often.  It's got chicken.  It's got broccoli.  It's got yummy sauce.  It's got rice.  It's practically perfect!
Slow Cooker Buffalo Drumsticks – If buffalo sauce isn't your thing, try these with barbeque sauce.  I have a big pack of these sitting in my freezer – this will be a good week to use them.
Bow Tie Fiesta – This is an easy recipe that you can customize by mixing and matching different spices that your family likes.
Oh yeah – with all the fruit that's on sale, I might make a big batch of fruit salad and eat that for a few meals.  Ever tried the trick of adding pudding to the fruit?  Tasty!
When it comes to side dishes, I'm often lazy. I like making one side dish that we can eat for 2-3 meals or maybe as a snack.  Enter pasta salad!  Last weekend, I made this pasta salad.  But the secret is that there isn't a recipe!  Don't feel like you have to go all fancy just to make it a "real" dish.  I just boiled some noodles.  Then I diced some veggies.  Then I added some cheese.  Then I added some salad dressing.  I mixed.  I refrigerated.  We ate.
I usually use Italian salad dressing, but this time, I did Greek dressing. Straight from a bottle.  Ain't no shame in that!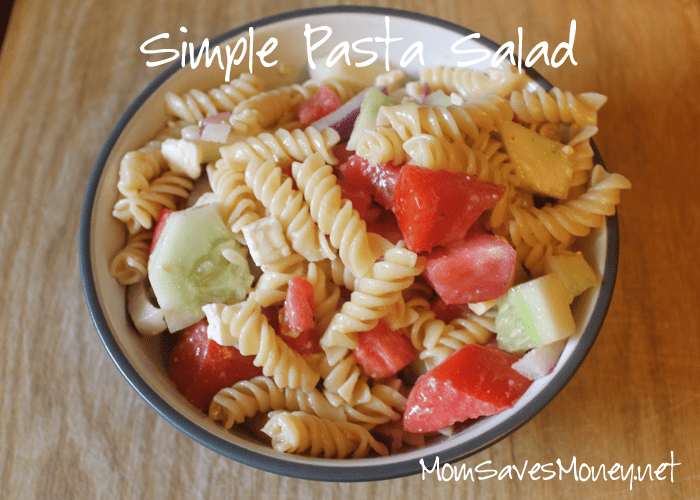 Simple Pasta Salad
Ingredients
Some pasta

Some veggies

Some cheese

Some dressing
Instructions
Refrigerate. Give it at least a couple of hours for the flavor to soak together.
Notes
For this salad, I did rotini noodles, cucumber, tomatoes, red onion, feta cheese and greek dressing. But mix it up! Use what you have. Use what's on sale! It doesn't have to be any more complicated than that.
Jayme is a wife to 1 and, so far, a mother to two little boys. She coupons, but isn't super extreme about it. She price matches and loves it! While she likes to cook, she's in the stage of life where simple is usually better! She never knows how many hands she'll have free at dinner time! You can find her at No Regrets Living.