Look at what's on sale this week!  Awesome stuff that makes some awesome meals!  Especially if you like potatoes and cheese and eggs…
Main Dishes
Use those eggs!
With eggs at a great price, maybe this is the week where you create some egg-cellent dishes!  Like:
As for me…
I made Buffalo Drumsticks a couple of weeks ago and I gotta tell ya, I think I'm in love.  They were so easy to make and they really were like eating a big buffalo wing.  We'll definitely make them again and I'd like to try some other versions.  Start them off in the crockpot.  Finish them in the broiler.  So tasty!  (And you can make them as hot or as saucy as you want.)
I use skin-on drumsticks and it was great!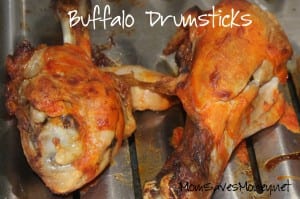 Slow Cooker Buffalo Drumsticks
As found on Stuff I Make My Husband
Ingredients:
About 4 lbs chicken drumsticks, skin-on or skinless, your choice
1 cup bottled buffalo wing sauce such as Frank's Red Hot (plus a little more)
1 tsp paprika
1/2 tsp chili powder
1/4 tsp garlic powder
1/4 tsp cayenne
Salt to taste
Directions:
1. Combine the ingredients for the spice mix in a small bowl.
2. Measure out 1/2 cup of wing sauce. Pour a small amount of it into the bottom of a large slow cooker. Arrange the drumsticks in the slow cooker.  Lay them flat as possible, although I definitely had to do 2 layers of chicken.
3. Sprinkle with the spice mix and cover with the rest of the sauce. Shake the pot or stir them around a bit to coat evenly.
4. Cook for 4-6 hours on low. Remove the drumsticks from the crock pot.
5. If using skinless drumsticks: Microwave the remaining 1/2 cup of wing sauce for about a minute to heat it through. Brush or spoon the remaining sauce over the drumsticks and serve.
6. If using skin-on drumsticks: Adjust oven rack to upper-middle position. Place drumsticks, skin side up, on a wire rack set on a rimmed pan or a slotted broiler pan that has been sprayed or brushed with oil. Brush chicken with half of the remaining wing sauce (1/4 cup) and broil until skin crisps up and chars lightly, about 10-15 minutes. Flip it over, brush with remaining sauce, and broil for another 10-15 minutes. Serve.
Jayme is a wife to 1 and, so far, a mother to two little boys. She coupons, but isn't super extreme about it. She price matches and loves it! While she likes to cook, she's in the stage of life where simple is usually better! She never knows how many hands she'll have free at dinner time! You can find her at No Regrets Living.