Last week, I posted about my deep freezer.  How it's gotten to a bad state.  How I was going to start intentionally eating from the freezer.  Here's my update on how it's going so far.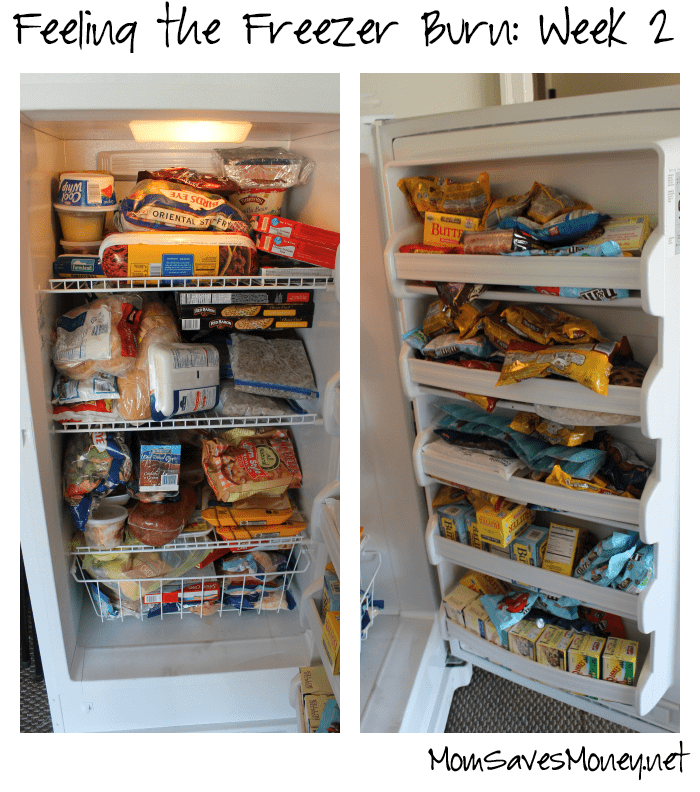 This week:
We ate out a couple of times when we could have eaten from the freezer.  But I'm happy that it was my husband's suggestion and not mine!
I started off the week doing really well and was encouraged by the progress.  By the end of the week, I took a look at the freezer and thought "Man, I didn't get as far into this as I thought I would."
Here's my rough list of what we were able to eat:
o   2 pounds chicken
o   2 pounds hamburger
o   1 pound smoked sausage
o   3 pound roast
o   1 bag of frozen tortellini
o   4 frozen dinners (SmartOnes – I take them for lunches often)
o   5 bags of frozen veggies
o   1 pound of butter
o   2 bags of butterscotch chips (1 bag was essentially wasted because my recipe didn't turn out well.  At all.  Not a keeper!)
o   1 ½ bags of peanut butter chips
o   1 ½ bags of chocolate chips
o   2 boxes of Girl Scout Cookies (my husband actually took these to work instead of baked goods because the recipe didn't turn out.  Yes, I still have Girl Scout cookies in the freezer!)
o   2 slices of Dairy Queen ice cream cake (yummy!!!)
Here's what I threw out because it was just too old or didn't taste good:
o   5 English muffins
o   4 individual frozen meals (that I had made and frozen before, just did not freeze well)
BUT….Here's what I added to the freezer this week:
o   5 bags of frozen veggies
o   6 bags of chocolate chunks (a good sale on these doesn't come around often!)
o   6 bags of cheese
For some, this doesn't look like a lot of food.  But, remember that it's just me, my husband and 2 toddlers.  Two pounds of chicken is 2-3 meals for us (including lunches).
So what's it look like?
It's looking better.  Not a lot better.  But better.  I think another week or two of really concentrating on eating from it will make it "empty enough" to start organizing better.  That's something that I'm really lacking with as full as it is – the other day, I pulled out cheese that expired in October of 2013.  That's 15 months ago!  That just doesn't need to happen.
How are you doing on your goals this month?
Jayme is a wife to 1 and a mother to two little boys and a third boy due in April 2015. She coupons, but isn't super extreme about it. She price matches and loves it! While she likes to cook, she's in the stage of life where simple is usually better! She never knows how many hands she'll have free at dinner time! You can find her at No Regrets Living.