Let me check the calendar?  Yup!  Easter's on its way.  I can tell because of all the ham & baking supplies at stock up prices, starting this week.  You did check out Nicole's list of weekly sales to know what to pick up, right?  Be sure that you do!  Look here for some menu suggestions!
Main Dishes  
Fajitas – Many of the ingredients for fajitas are on sale this week, making it a great time to use this recipe for fajitas in the oven.  I use one that's similar.
Pot Roast – Some comfort food!  Use the easy recipe that I have linked here or you can get a little more creative and use this Balsamic Pot Roast.  Both are great and especially wonderful as leftovers in paninis!
Breakfast Sandwiches – You can use all kinds of things in a breakfast sandwich, but try this one with egg and spinach.  Or this one with cheese, ham & bacon.  Breakfast for dinner!
Stuffed French Bread – Finally some good prices on beef this week!  This dinner makes for a quick one, while still being really tasty!
Hot Ham & Cheese – There's nothing that says you have to make these sandwiches with ham.  If turkey is your thing, use that.  If roast beef is your thing, buy that.  But this is a cheesy, gooey, warm-ya-up kind of sandwich!
I'm finding that I make a lot of chicken recipes and this recent find of mine is one of my new favorites!  It's fancy enough to serve when you're having guests, but it's still quick to pull together.  It kind of reminds me of Applebee's Fiesta Lime Chicken without the lime flavor (but if you wanted the lime flavoring, feel free to sprinkle some of that on there too!)  It's a nice chicken-and-rice casserole without being all mixture together.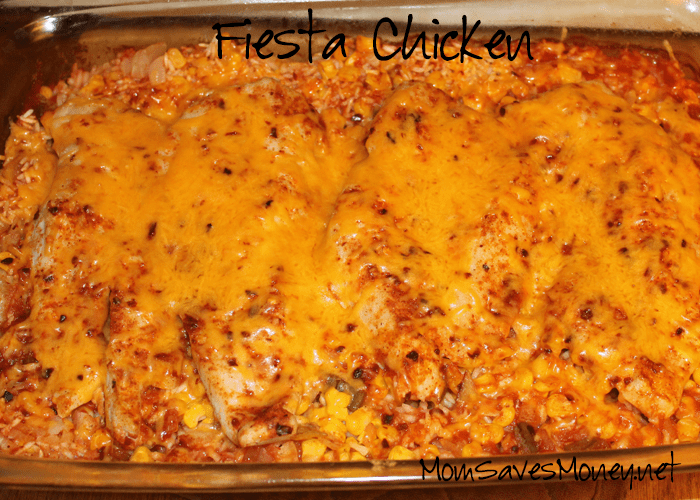 Fiesta Chicken
Ingredients
1

(16oz) jar salsa (mild or medium works best -- hot gets to be too much - at least for me!)

1

cup

water

1

can corn, undrained

1

can black beans, drained & rinsed (optional - I don't use, but it would be wonderful!)

1 1/2

cup

of long grain white rice

1

tsp

kosher salt

2-3

chicken breasts, sliced in half width-wise to make 4-6 "flatter" chicken breasts

1/2

packet Taco Seasoning

1/2

cup

+ medium cheddar cheese

Green onions, diced (optional)
Instructions
Grease a 9x13" pan with cooking spray. Dump salsa, water, corn, beans, rice, & salt into the pan. Stir together.

Place chicken breasts on top. Season generously with taco seasoning.

Bake at 375*F for 45 minutes or until chicken is done. Sprinkle with cheese & return to oven for 3-5 minutes or until cheese melts. Top with freshly chopped green onions.
Jayme is a wife to 1 and a mother to two little boys and a third boy due in April 2015. She coupons, but isn't super extreme about it. She price matches and loves it! While she likes to cook, she's in the stage of life where simple is usually better! She never knows how many hands she'll have free at dinner time! You can find her at No Regrets Living.