Did you make those cookies from last week?  I'm hoping that you did!  But if you didn't, there's still time!  This week, I'm guessing there will be a lot of Irish-inspired meals in homes around Omaha, but don't despair if you're not a Reuben lover.  There's plenty of things on sale this week to eat – make sure you check out Nicole's list of weekly sales to know what to look for.  Look here for some menu suggestions!
Main Dishes  
Corned Beef & Cabbage – I haven't experimented with many corned beef recipes.  I only make it once a year.  I tried this one a few years back and really liked it, so I'm sticking with it!
Pulled Pork – This is still one of the easiest recipes that I make that easily feed a crowd OR it freezes well in case you're not feeding a crowd.  Make it with BBQ sauce or Buffalo sauce or let people top their own.
Creamy Chicken Pockets – Using chicken, crescent rolls and cream cheese along with some common spices, this is a really nice way to use some common ingredients!  And they just plain look fun!
BBQ Ribs – They're on sale this week and this recipe looks easy, even if it takes a while for the ribs to cook.  Might be the perfect thing for your weekend!
Beef Enchilada Casserole – The taste of beef enchiladas and rice without all the work of rolling tortillas? Yes please!
I get that it feels like winter is behind us, but what if it isn't? What if it gets cold again? Or, maybe more possible, what happens if you or a loved one gets sick and needs a good chicken noodle soup? This could be the one for you!
I have a slow cooker recipe that I use often, but this is one that can be made without much advanced notice – especially if you have the chicken already made.
I'm also a chicken "chunk" fan rather than shredded chicken, but you can make it with either. Now, I like my chicken noodle soup more heavy on the broth & veggie side and light on the chicken side. It's just my preference. If you think it needs more chicken, by all means, add more. If you think it needs more pasta or broth or veggies, add more. That's what's nice about this soup – it's so flexible!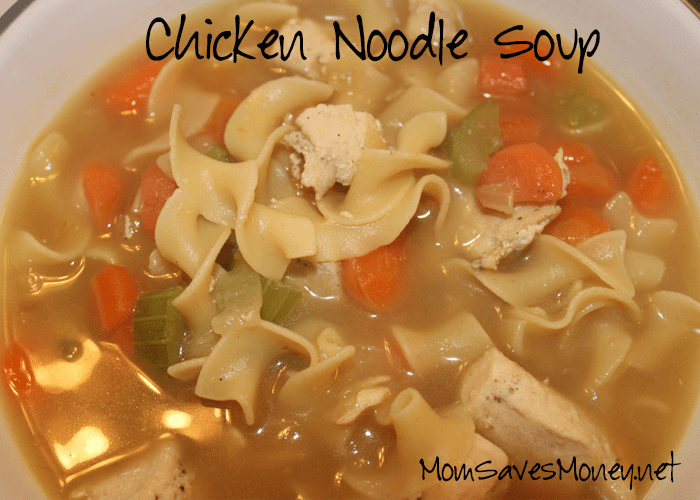 Chicken Noodle Soup
Ingredients
4

tablespoons

butter

1

teaspoon

minced garlic

1

onion, peeled and diced

4

celery stalks, small-diced (about 1 cup)

4

carrots, peeled and small-diced (about 1 - 1.5 cups)

2

bay leaves

Salt & pepper, to taste

8

cups

chicken stock or broth (64 ounces)

2

cups

cooked chicken, shredded or diced

3

cups

wide egg noodles
Instructions
In a large pot, melt the butter with garlic, salt & pepper. Add the onion, celery and carrots until they're soft. About 5-7 minutes.

Add the chicken stock/broth and bay leaves. Simmer for 10 minutes.

Add in the chicken and noodles. Cook until the noodles are done - about 10 minutes more.

Put in bowls. Eat!
Jayme is a wife to 1 and a mother to two little boys and a third boy due in April 2015. She coupons, but isn't super extreme about it. She price matches and loves it! While she likes to cook, she's in the stage of life where simple is usually better! She never knows how many hands she'll have free at dinner time! You can find her at No Regrets Living.