When Irish eyes are smiling….buy some corned beef and cabbage!  Well, and buy some other stuff – look at Nicole's list of weekly sales to know what to stock up on and to buy for the week.  Look here for some menu suggestions!
Main Dishes  
Skillet Nachos – Whether you make this with chicken or with beef, it's yummy!  And easy!  Which, these days, are 2 of my most important criteria in meals.
Bow Tie Fiesta – A nice way to serve pasta without being all Italian about it.  Add a Mexican flare to your food!  Many of the ingredients for this are on sale this week.
Drumsticks – Whether you make them in the crockpot with Buffalo sauce or in the oven, this is a meal that comes together very quickly.
Italian Sausage & Peppers – Bakers has their bell peppers on sale.  This Italian dish is great either on hoagie buns or served on top of spaghetti noodles.
Chicken & Broccoli Stir Fry – I haven't tried this yet, but I want to!  A homemade version of a Chinese dish is much needed in my recipe collection.
Need a cookie recipe for St. Patrick's Day?  Okay, probably not.  Need a cookie recipe for any reason?  Sure!  Try this one!  It's a little more complex than your typical cookie because it has 3 steps.  Which means that it just takes longer to make from start to finish.  But none of the steps are complicated.
And, because you make your own frosting, you can dye it whatever color you want.  So if you use green food coloring (which I did), then you have a St. Patrick's Day cookie.  If you use red food coloring, you could have a Valentine's Day cookie.  Or 4th of July cookie.  Or a "it's-the-middle-of-September-and-I-just-want-to-eat-a-cookie-gosh-darn-it" cookie.  Whatever!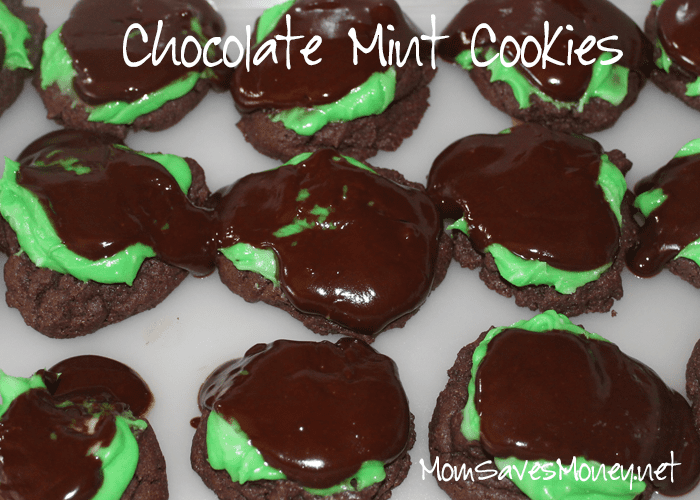 Chocolate Mint Cake Mix Cookies
Ingredients
Cookie bottom:
1

Devil's Food Cake Mix

1/2

cup

oil

2

eggs
Peppermint Frosting:
1/2

c

butter, softened (1 stick)

2

Tablespoons

milk

2

c

powdered sugar

1 1/2

tsp

peppermint extract

Green food coloring (optional)
Chocolate Topping:
1 1/2

c

semi-sweet chocolate chips (about ¾ of a bag)

1/2

c

butter (1 stick)
Instructions
1) Make the cookies.
Ignore the cake mix directions and mix the cake mix, oil & eggs together. Drop spoonfuls on a greased baking sheet. Bake at 350 degrees for 6-9 minutes.
2) Make the frosting.
After the cookies cool, mix the butter, milk, powdered sugar, peppermint extract and food coloring. If you want it thicker, add more powdered sugar. If you want it thinner, add more milk. Spread on top of the cookie.
3) Make the chocolate topping.
Melt the chocolate chips & butter together. I like doing the stove top, but most people like it in the microwave. If using the microwave, do it in 30 second increments, stirring often. Spread the topping on top of each cookie. I just use a spoon to drizzle it on there.
Notes
Note: This makes about 24-30 cookies, if you make them small. I like to make them small because each cookie is really rich!
Jayme is a wife to 1 and a mother to two little boys and a third boy due in April 2015. She coupons, but isn't super extreme about it. She price matches and loves it! While she likes to cook, she's in the stage of life where simple is usually better! She never knows how many hands she'll have free at dinner time! You can find her at No Regrets Living.