We just bought our house this past summer, but we're about to remodel our kitchen. We knew when we bought the house that we would – it just took a couple of months to settle on which of 17 different floor plans that we wanted. Because we consider this our "forever" home, we're willing to spend the major time and the major money that it would cost. Time to go big!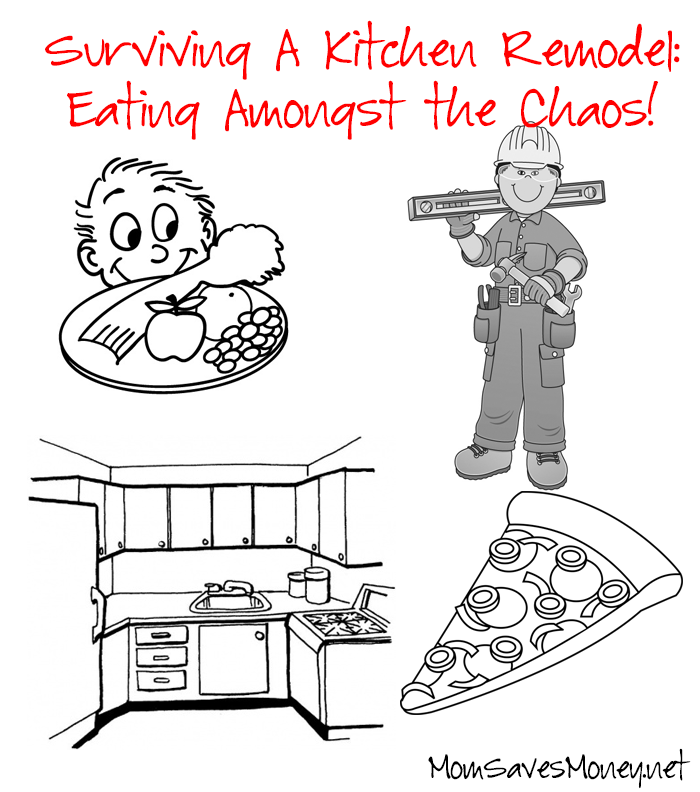 This isn't just a "apply some lipstick" kind of remodel. This isn't a "replace the cabinet door fronts and repaint the walls" kind of remodel. This is a "tear out 3 walls, install a load-bearing header beam, tear out a window, and move every piece of plumbing and most of the electrical" kind of remodel. About the only thing being left untouched is the door to the backyard deck!
With that kind of remodel comes a 6-8 week timeline. For most of that time, we won't be able to eat in the kitchen. For a huge portion of that time, we won't have a sink, much less a dishwasher. And we won't have access to an oven or a stove top. At some point, we'll have all the appliances, but no countertops. It's gonna be an adventure!

I'm not going to lie – it's also gonna be a little painful. We have 3 boys under the age of 4, who are home all day long with the contractors who are trying to get things done. We don't eat out much because our family is so young. (Nothing says 'no fun for everyone' like cranky toddlers and a crying baby at Olive Garden.) And to make it more complicated, we're finishing off a big chunk of our basement at the same time, so that area will also be off-limits. There won't be many places to hide when both levels of your ranch house are being torn asunder.  See the picture below for all the parts of my house that will be unusable and tore up during the remodel. Yikes!

So what's a Mom Saves Money gal to do? Answer: Make a plan!
I'm already used to making a monthly menu plan – I just have to be a little more selective about what I put on it. For planning purposes, I'm going to assume that I won't have an oven, stove top, sink or dishwasher. I'll also assume that we'll be eating in the living room with a refrigerator in the entryway.
So…as much as I love freezer meals and take-n-bake pizzas, they aren't the best when I don't have an oven to bake them in. And I love crockpot meals, but they aren't going to work if I need to pre-brown a roast or need to mix a lot of ingredients together for a marinade. Spaghetti sounds simple until you realize that every single dish that I dirty has to be washed in a bathroom sink.
The goal is to make my menu a smart menu! Because if I don't plan ahead, we'll be getting a lot of fast food. And while I'm sure we'll eat restaurant food more often in the next couple of months (I wouldn't say no to a Godfather's pizza now and then), I want to avoid that cost AND the chaos that comes when you don't have a plan!
So join me in my journey to keeping my sanity during a kitchen remodel!
Jayme is a wife to 1 and a mother to three little boys. She coupons, but isn't super extreme about it. She price matches and loves it! While she likes to cook, she's in the stage of life where simple is usually better! She never knows how many hands she'll have free at dinner time! You can find her at No Regrets Living.