How did Monkey Bread get its name anyway? Was the inventor a woman named Sally Monkey? Is it because monkeys go gaga for the stuff? Is it because it was originally shaped to look like a monkey? I have no idea – I can make up a story about it, but that's not really necessary. Once you have overnight monkey bread, you adore monkey bread. And you don't really care WHY it's called monkey bread. You'll bake it. You'll love the way it makes your house smell. You'll love the way it makes your taste buds tingle. You'll love the way it makes your stomach happy. You'll love the way it says "Hey, I really like you" to whomever you're serving it to. It's just good stuff!
How to Prep Monkey Bread in Advance
Now, Monkey Bread isn't complicated to make. There's only five ingredients, but when I make it for a breakfast (like a holiday or a birthday morning!), I like to do as much as I can the night before to prepare. So that I don't have to do as much in the morning. Less dishes that way! That's what I've done here – re-done the instructions so that you can do some of the prep work the night before, and then just a little bit in the morning. But if that doesn't appeal to you, no worries! Just do it all right then and bake it right away!
If you prep this the night before and cook it from cold, the monkey bread need a few extra minutes of baking time. When the top turns a dark brown (but not burnt), it is done.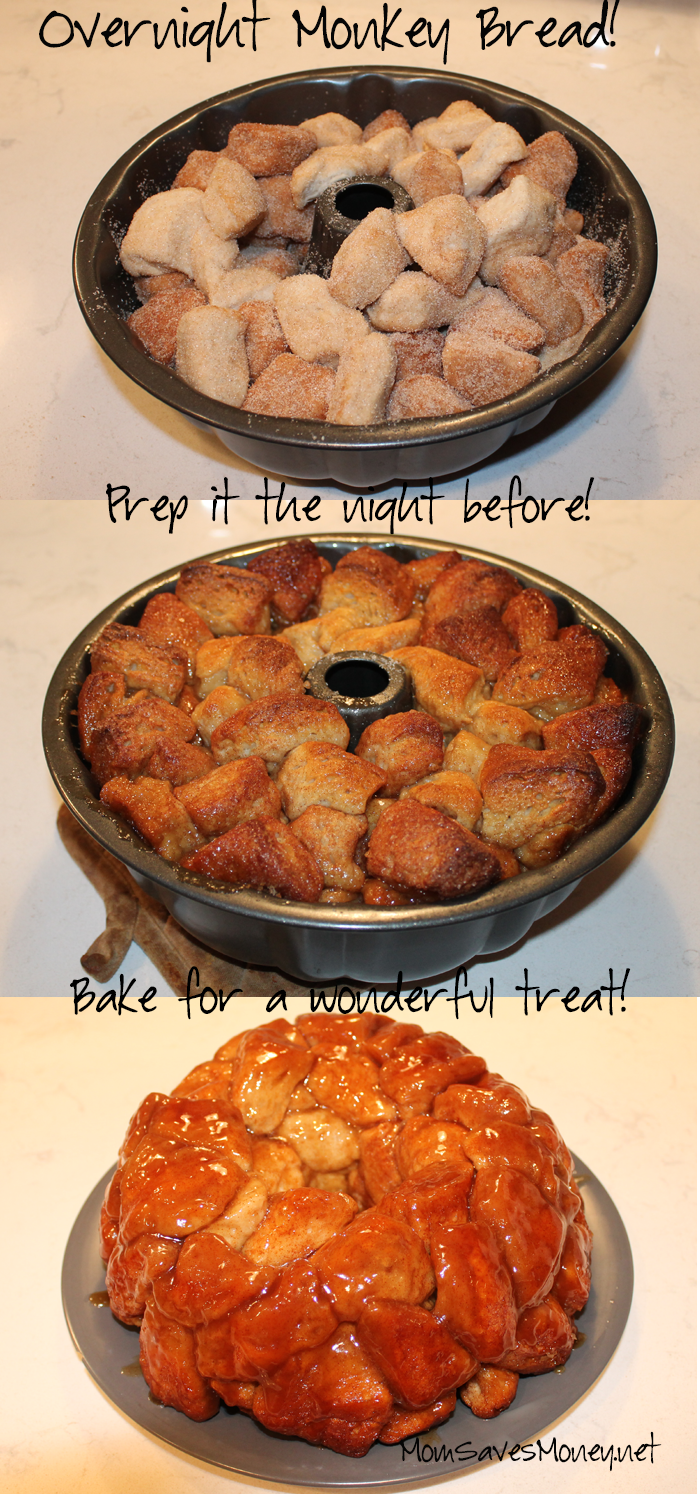 (Overnight) Monkey Bread
Easy, 5-ingredient monkey bread makes a delicious breakfast or dessert
Ingredients
3

cans

buttermilk biscuits (the non-flaky ones) – If you get the jumbo biscuits, you can get by with only 2 cans.

1

cup

sugar

2-3

teaspoons

cinnamon

2

sticks

butter

1/2

cups

brown sugar
Instructions
The night before (if desired):
In a gallon zip lock bag (or a really big bowl with a lid), combine the sugar with the cinnamon. Mix it all up.

Open the biscuits and cut each biscuit into 4 quarters. Drop the biscuits into the bag.

When all are in there, seal and shake. Shake. Shake. Shake what your momma gave you. Shake some more.

Put the yummy biscuits into a big bundt pan. (No mini-bundt pans here!)

Spread these nuggets out evenly in the bundt pan. Refrigerate if you're going to bake it later.

In a sauce pan, combine the butter & brown sugar. Let sit on the stove (covered) or in the fridge for tomorrow morning.
When ready to bake:
Take bundt pan out of the fridge and preheat the oven to 350 degrees.

Turn on the stove top to melt the butter and sugar. Melt on medium heat. Stir until its all 1 color.

Pour over the biscuits.

Bake for about 30-40 minutes if it wasn't refrigerated overnight. Bake a little longer if it started out cold. You can tell it's done because it'll be dark brown on top.

Let sit for about 15 minutes (or longer) before flipping over on top of a plate. I dare you not to eat a piece! Or 5.
Jayme is a wife to 1 and a mother to three little boys (soon to be 4 this summer!). She coupons, but isn't super extreme about it. She price matches and loves it! While she likes to cook, she's in the stage of life where simple is usually better! She never knows how many hands she'll have free at dinner time! You can find her at No Regrets Living