I got a banana problem.  I really only like bananas when they're firm.  Not green, but definitely not in the mushy state.  Since I don't want to go to the grocery store every other day just for bananas, I often find myself with riper-than-I-would-like bananas.  Which, I guess, isn't really a problem.  After all, I have many ways to use bananas.  In freezer-friendly blueberry banana muffins. In easy muffins made with a cake mix.  And banana bars! Many delicious ways!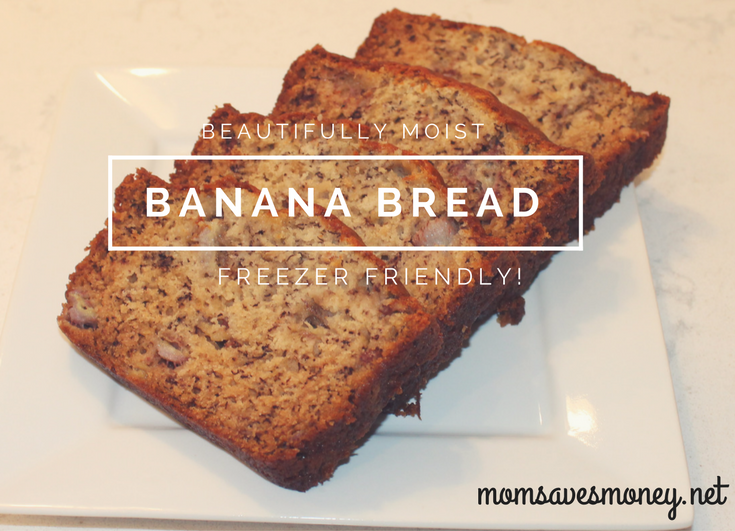 This is another one of those ways – banana bread!  Banana bread isn't something that I've grown up with.  In fact, I can't remember my mom ever making it.  She made Zucchini Bread all the time.  And Lemon Poppy Seed bread, so she definitely baked some good stuff…I just don't recall her making banana bread.
But a good banana bread recipe should be in everyone's recipe box.  And now I have one in mine!
Like most of my recipes, this one is easy.  Comes together quickly with simple ingredients – common ingredients that you'll likely have on hand.  All you really need to do is wait for some bananas to get overly ripe and whip up a loaf.  Got lots of bananas and want to double the recipe?  You should because it freezes so well!  Just let it cool, wrap it up tight in plastic wrap, put into a freezer safe bag and then you'll have banana bread some other day too!
Classic Banana Bread
Ingredients
1/3

cup

butter

2

ripe bananas, peeled

1

teaspoon

baking soda

Pinch of salt

3/4

cup

sugar

1

egg, beaten

1

teaspoon

vanilla extract

1 1/2

cups

of all-purpose flour
Instructions
Preheat the oven to 350 degrees. Prepare a bread loaf pan (I swear by Pam with Flour!)

In a mixing bowl, melt the butter.

Add in the mashed bananas. (I just add the bananas to the bowl and mash them into the butter.)

Mix in the baking soda and salt.

Stir in the sugar, beaten egg, and vanilla extract.

Mix in the flour.

Pour the batter into the bread loaf pan. Bake for 50 minutes to 1 hour.

Remove from oven and cool completely. Remove the banana bread from the pan. Slice and serve.

To freeze: Let it cool, wrap up tight in plastic wrap, put into a freezer safe bag. Defrost when ready to serve!
Jayme is a wife to 1 and a mother to four little boys. She coupons, but isn't super extreme about it. She price matches and loves it! While she likes to cook, she's in the stage of life where simple is usually better! She never knows how many hands she'll have free at dinner time! You can find her at No Regrets Living.