Disclosure: Post sponsored by Verizon. However, all opinions are mine. #vzreviews
Fitness trackers and bands are very popular right now, but there are so many options, it's hard to decide which one to pick. I was given the opportunity from Verizon to test the FitBit Charge, Garmin vivosmart and Jawbone Up2, three popular fitness bands on the current market. I'm on a journey to get fit again, using low-impact exercise, after my medical health scare last year and fitness bands are helping me achieve my goals.
I wore each fitness band for a minimum of two weeks to be able to thoroughly review each one. I can honestly say that having a fitness band really helps increase my activity and that there are things I loved and didn't love about all three of them. Each of these trackers will count steps, track sleep patterns and calories burned and offer challenges. I would be happy with any of these fitness bands, but being able to try all three gives me more perspective on my personal favorites.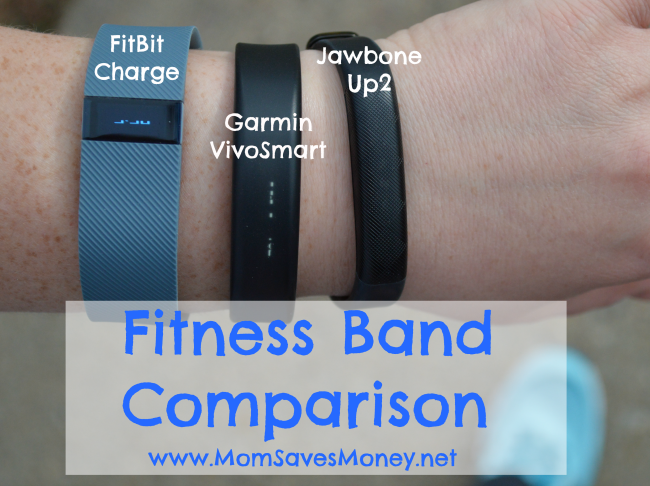 FITBIT CHARGE
(Retail Price: $109.99, available in slate or black)
The Band: On The FitBit Charge band, you can quickly check time, steps, stairs, calories burned and start a timer with the push of a button and even get caller ID notifications. This band was the bulkiest of the three bands and I typically did not wear it at night, since it was uncomfortable for me. However, this band has an altomiter, so it can tell how many actual stairs you took, which is great since I go up and down stairs to our basement multiple times a day. In my opinion, this seemed to be the most accurate step counter of the three bands.
The App: The FitBit is the most social of all three apps, so if you like to have friends cheer you on, this one is perfect! The app has fun challenges that you can do with friends, like daily showdown to see who can take most steps in the day, or weekend warrior to take more steps than your friends. You can challenge 2-10 people, so this feature is great for groups. The app also has badges that you can earn, so you can challenge yourself to get more badges and do more activity! Within the app you can log food and it automatically calculates your daily food allowance based on activity and goals. When you open the FitBit app it takes you directly to a screenshot of your daily summary of all aspects of your fitness, so you can easily check to make sure you are on track for the day.
The Charge: The website says the charge should last 7-10 days on the Fitbit Charge, but I got 36 hours at most on mine. This made it hard to track sleep and all my activities since I was constantly recharging it. My husband also has the Fitbit Charge and his charge does last a week, so I think this is an issue unique to the band I received and not typical for most users.
My Thoughts: It was really fun competing with my husband through the app, but the band design was not a good fit for me. However, I think I would love one of the other fitness bands in the FitBit family.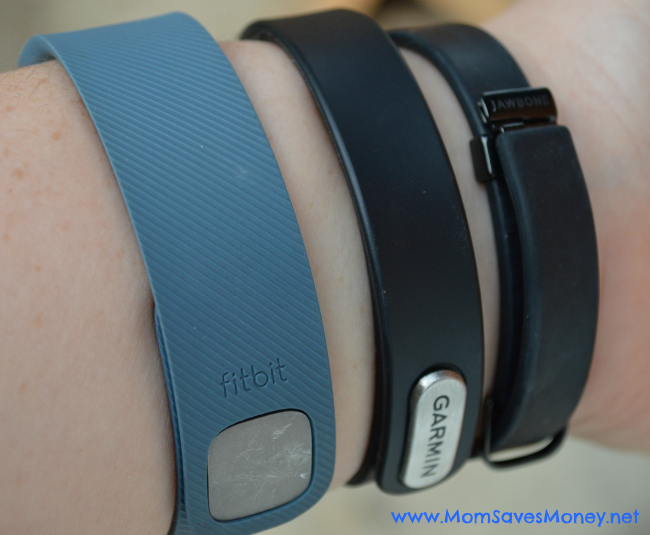 GARMIN VIVOSMART
(Retail Price – $99.99, available in black only)
The Band: The Garmin Vivosmart is a very lightweight band with lots of really great features on the actual band. The Garmin band is a touchscreen and I could easily check steps, time & date, get phone notifications (like email, text, facebook, etc), start/stop music or use a timer for running laps. Plus, you can use your band to FIND YOUR PHONE! Just click a button on the band and it makes your phone buzz. I lose my phone all the time so I loved this feature. It is also waterproof up to 50 meters, which is unique of the three bands, and will vibrate telling you to 'move' if you've been sitting too long. This band is basically a mini smart watch and it was my favorite band of the three.
The App: The Garmin app is very basic compared to the other two. This is definitely more fitness based than social, but offers the basic information, like steps, sleep tracking and weight loss. To track calories, you will need to connect the Garmin app to My Fitness Pal app, since that's not a built-in feature of the app, like the other two. There is a capability to challenge friends, but I did not have anyone that I knew who used Garmin, so I did not test this feature.
The Charge: The charge lasted about a week.
My Thoughts: I loved the actual Garmin band, but the app left lots to be desired compared to the other two. I did notice that step tracking didn't seem to be as accurate when I went on my shopping trips pushing a cart.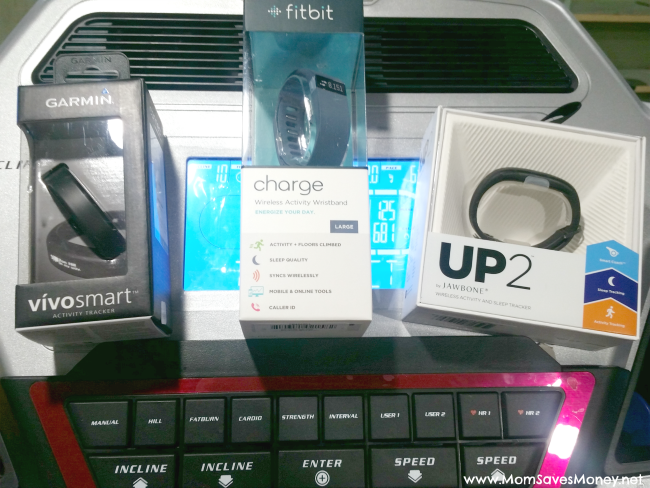 JAWBONE UP2
(Retail Price: $99.99, available in black or grey)
The Band: This is a sleek design band and is definitely the cutest band design of the three. This entire band is all app based, so there is no way to check your steps or time on the actual band. The one thing that drove me crazy on this band is that the charging ports stick out just enough on the underside of the band to bother me when I wore it. I didn't notice it at first, but after a few days of wearing it, I could feel them and it irritated my wrist. If you are considering the UP2 Jawbone, try it on first to see if that feature will bother you as well.
The App: The Jawbone app is my favorite of all three. The app includes daily tips to help you reach your goals, fun challenges and even an easy section to log your calories and food. You can set your weight loss goals and the app will tell you how many fewer calories to eat than you burn daily to reach your goals and the date you will reach them with that plan. The app sends you alerts when you reach step goals, like 2,000 and 4,000 steps. Within the app there are also recommendations for other apps that will help with your training, fitness and eating goals.
The Charge: The charge lasted at least 10 days and was the longest charge of the all three bands.
My Thoughts: Overall, the UP2 Jawbone has a highly engaging and motivating app with lots of features that really help with weight loss goals, but the band design is not optimal.
DECISION TIME
I absolutely love having a fitness trackers and challenging myself to take more steps throughout the day. These fitness bands really do work to encourage me to take more steps every day! (Watch for next week's post on fun ideas to increase your steps.) Each of three bands performs similar functions, but the apps and actual band vary greatly. I think most of it is personal preference, but I hope this comparison helps you decide which one might be right for you.
Now, I have to decide which fitness band to keep and use. Which one would you pick?