Quick and easy.  Quick and easy.  Quick and easy.  That's the theme of a lot of my dinners lately.  Blame it on my pregnancy.  Blame it on working full-time.  Blame it on 3 boys under the age of 4.  Whatever it is, quick and easy is a major theme in my kitchen.
This recipe qualifies as quick and easy.  But even better than that, it qualifies as tasty.  Quick and easy aren't the only things that I want.  After all, bread and butter sandwiches are quick and easy.  But no one wants bread and butter sandwiches for dinner.  This recipe is quick and easy and tasty.  A trifecta!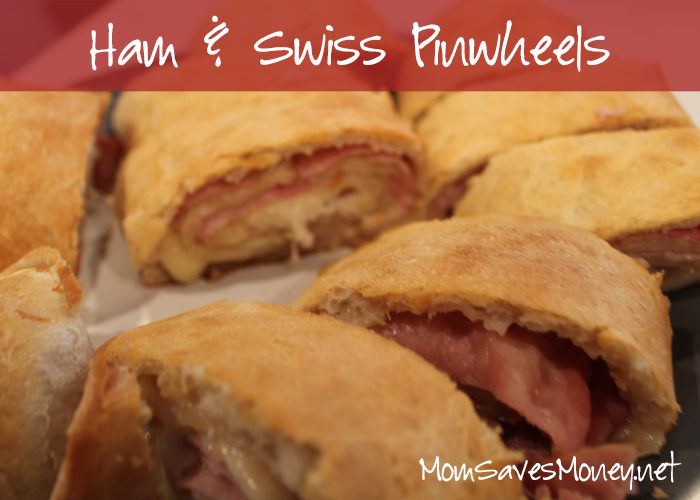 It also makes a great appetizer if you want to serve it that way.  Maybe for football games?  Maybe for a summer picnic?  Maybe for a baby shower brunch?  All sorts of options!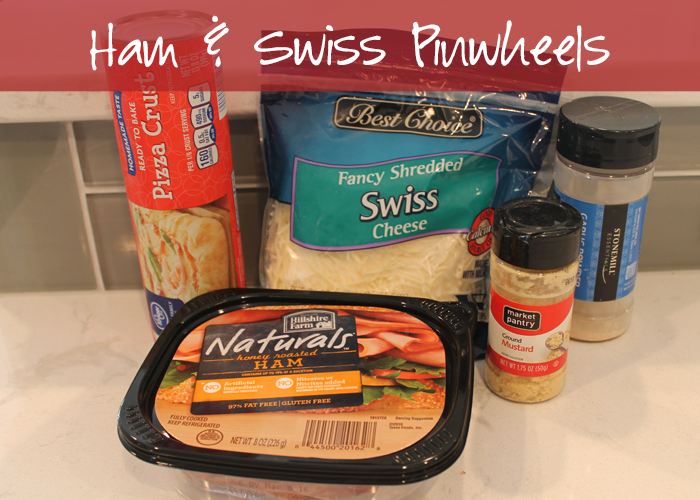 This recipe is essentially the same as my Pepperoni Roll.  Just change up the meats and leave out the pizza sauce for dipping.  And really, there's no reason you can't do this with turkey – turkey and swiss would be a great combination!

Ham & Swiss Pinwheels
Simple & delicious dinner
Ingredients
1

Pizza Crust

8

oz

Deli Ham

Cheese

(use whatever you like – I really like Swiss)

Olive Oil or Melted Butter

(optional)

Ground Mustard

(optional)

Garlic Powder
Instructions
Roll out your crust as thin as you can to about an 10×10 square. Since you're going to roll it all up, you want it thin as each piece will really have 2-3 "layers" of dough.

Brush the dough with olive oil (if desired).


Sprinkle with garlic powder and ground mustard.

Lay the deli ham on the crust. Make sure you get pretty close to the edges.

Roll it up and place on a cookie sheet.

Brush with melted butter or olive oil (if desired). It makes for a nice golden brown color.

Bake at 375 for about 15-20 minutes. It'll be golden brown when done.

Let cool a little before serving. Let cool for a moment before cutting. It's okay to serve warm or room temperature.
Jayme is a wife to 1 and a mother to three little boys (soon to be 4 this summer!). She coupons, but isn't super extreme about it. She price matches and loves it! While she likes to cook, she's in the stage of life where simple is usually better! She never knows how many hands she'll have free at dinner time! You can find her at No Regrets Living.