Omaha is a great place to live with lots of fun for the entire family. Kids are out from school and I'm always looking for a new adventure or place to visit without breaking the bank. Here are more than 25 amazing places to visit and events this summer that are all completely free!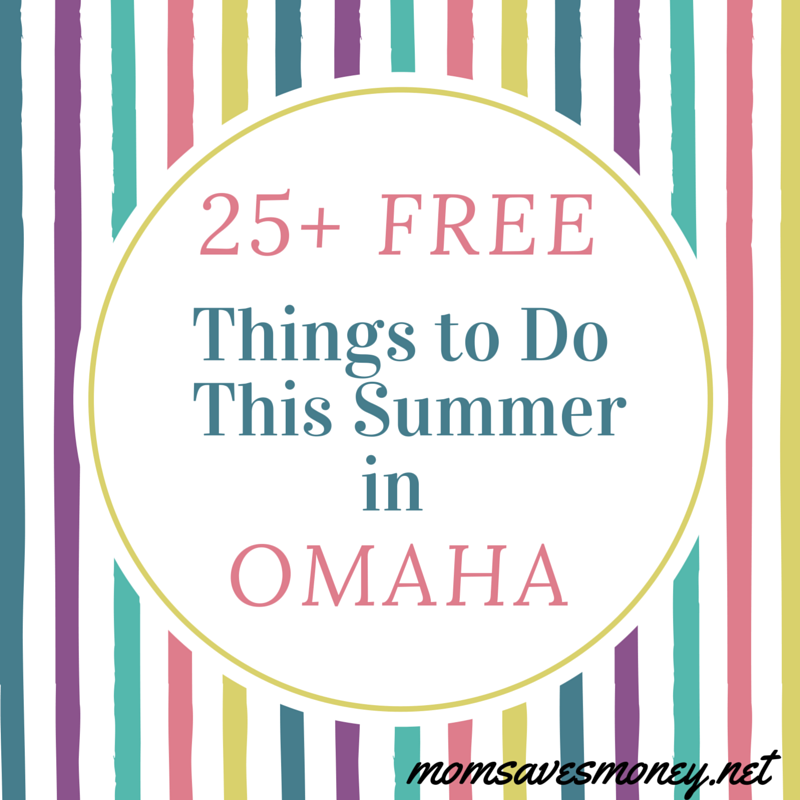 Places to Visit (with no admission fees):
Omaha Farmer's Market – Check out the local farmer's market and grab some yummy produce! I personally love stopping at the Aksarben market on Sundays where they have a playground and little splash area for the kids. Watch for special events throughout the year.
Do Space – If you haven't checked out Do Space, you are missing out! Located on 72nd & Dodge, they offer free classes, technology and a fun play area for young kids and another for teens. In June, they are running 'A Summer of Invention' series with lots of great events.
Public Parks – Did you know there are over 150 public parks with playgrounds just in Omaha? How fun would it be to visit as many as you can this summer and rate your favorites!
Public Libraries– The library is the best free entertainment for kids. Every library in the Omaha area offers free story times for kids (open to anyone). Plus, they have summer reading programs where kids can earn great rewards just for reading. And, leave with a handful of books, DVDs or CDs to continue the fun at home.
Joslyn Art Museum – View some amazing art and check out an Art Pack during your visit. There are art packs for different age levels and can include toys, projects and more to use while you visit.
Splash Parks – It's hot outside! Head to one of the free splash parks to cool off and have some fun. There are quite a few in the Omaha area. Check out this list from Family Fun in Omaha.
Kaneko – 'Storytelling' is Kaneko's current exhibit through August 27. "Literature, illustration, cartooning, comics, theatre, dance, folklore, archiving, oral histories, photography, and film are among the forms of storytelling highlighted in this exhibition and its ancillary programs."
Bob Kerrey Pedestrian Bridge – This 3,000 foot walkway over the Missouri river is fun for kids and a great way to enjoy some sunshine. Don't forget to stop at the Little Critters River play area on the Nebraska side.
Gene Leahy Mall – Located in downtown Omaha, slide down two massive slides and stroll through the 10 acre park.
Crafts & Building:
Kids Funfare – Enjoy fun kid activities on Thursdays from 10-11 am at Regency Court.
Lakeshore Learning– Every Saturday from 11 am – 3pm enjoy a free craft at Lakeshore Learning with your child age 3 and up.
Mangelsen's – Every Saturday from 10am-2pm kids can make a free craft at their store.
Home Depot Kid's Workshop – Build a project with your child at Home Depot on the first Saturday of every month.
Lowe's Build & Grow – Create a project with your child at Lowe's on the 2nd Saturday of every month.
Free Outdoor Movies:
Camp Fontanelle – Every other week July through October enjoy a free movie at dusk at Camp Fontenelle
Flix at the Chef – Once a month through October enjoy a free outdoor movie and complimentary popcorn behind the Dairy Chef in Elkhorn.
Monday Night at the Movies at Midtown Crossing – Weekly through July 25 enjoy a free outdoor movie at dusk.
Movies in the Park – Free movies every Friday night from June 3 – August 5 at Bayliss Park in Council Bluffs.
Sumtur Ampitheater – Check out the Starlight movies in July & August starting at dusk.
Live Performances:
Bridge Beats – Enjoy music every other Friday through August 19 on the Nebraska side of the Bob Kerrey Pedestrian Bridge.
Jazz on the Green – Enjoy music at Turner Park this summer presented by Omaha Performing Arts.
Music in the Park – Free music every Wednesday night from June 15 – August 17 at Bayliss Park in Council Bluffs.
Rockbrook Village Friday Night Concerts – Enjoy a new band every Friday through August 26.
Shakespeare on the Green – Bring some lawn chairs to Elmwood Park and enjoy free Shakespeare plays this summer.
Stinson Concert Series – Aksarben Village has free concerts on select Saturdays through August 27.
Sounds of Summer Concert Series – Shadowlake Towne Centers provide free concerts every Friday through August 19.
The Vibes at Village Pointe – Free concerts every Saturday through August 20.
Please comment and share any other free places or events in Omaha this summer!