I have received information and materials from JOHNSON & JOHNSON CONSUMER, Inc., McNeil Consumer Healthcare Division, LLC. The opinions stated are my own. This is a sponsored post. #PositivelyPrepared #BacktoSchool #CollectiveBias
Are you stressed about kids going back to school? It seems like the last few weeks before school starts are hectic making sure kids have everything they need for school. I've created an easy checklist to ensure you have everything they need to be successful at school.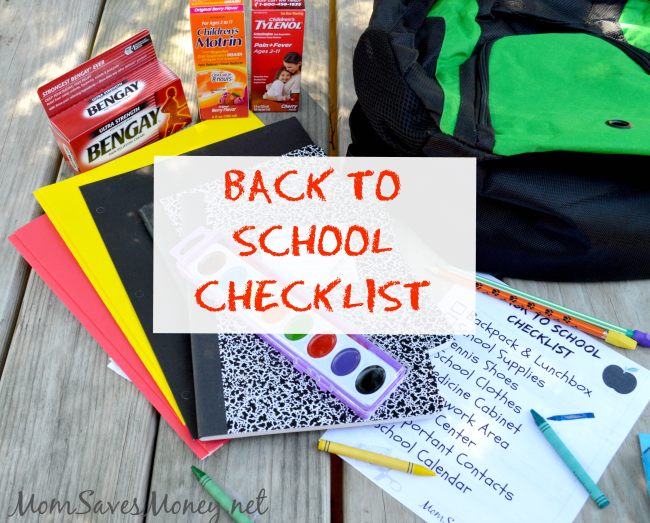 Backpack & Lunch Box
Every kid needs a backpack for back to school. Over the years, I've found they don't need to be fancy or expensive. If my kids want one of the more expensive character backpacks, I simply start with a basic backpack and let them decorate it with pins with their favorite character or attach a keychain toy to the zipper. This customizes their backpack and if they like something new mid-year, we can just redecorate.
School Supplies
It seems the school supply list grows every year. I take advantage of the amazing back to school sales that start in July and run through most of August. I typically spend $10 or less per kid when I shop these sales.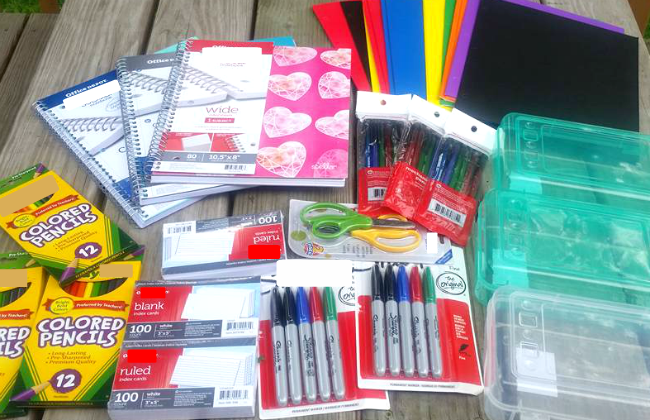 Tennis Shoes
Kids are active at school and flip flops or sandals won't do the job. I know my kids are required to wear tennis shoes on gym days. Double check that their current tennis shoes still fit and if not, invest in a quality, well-fitted pair. I usually shop the outlet stores for great deals on shoes.

School Clothes
The most important thing for my kid's school clothes is comfort. They will be sitting and playing most of the day and I want them focused on school, not on the button that's poking them or itchy fabric. I typically shop a season ahead when the clothes are on clearance to save money. The week before school I simply go through their closet and remove any worn, stained or out-of-season clothes to make getting dressed on school days easier.
Stock the Medicine Cabinet
Back to school also means more exposure to germs and illness. When my kids come down with something, the last thing I want to do is have to run out to the store to buy medicine. I keep a stocked medicine cabinet so I can be prepared for any illness or fever. Target is one-stop shop for everything you need to stock your medicine cabinets so you can be prepared for anything.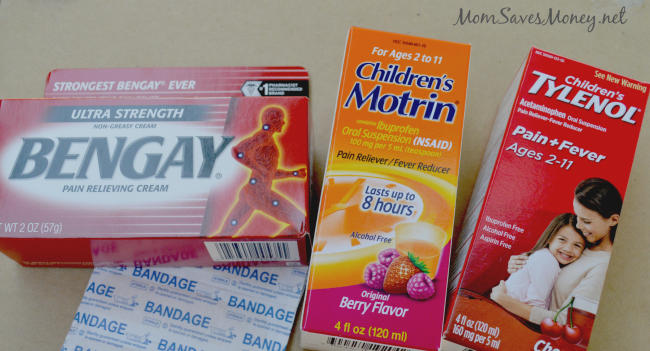 My medicine cabinet includes:
Bandages – I keep bandages on hand year-round, but always stock up when school starts. My kids love the playground and gym, but with 20+ kids also out there, accidents happen. I've treated many boo-boos after school and there's something about a simple bandage that makes it feel better.
Children's MOTRIN® and Children's TYLENOL® to reduce fever and relieve minor aches and pains due to: the common cold, flu, headache, sore throat, & toothache. (Children ages 2-11 years. Use only as directed.)
Ultra Strength BENGAY® Cream – If you have athletes ages 12 years old Ultra Strength BENGAY® Cream temporarily relieves the minor aches and pains of muscles and joints associated with: simple backache, arthritis, strains, bruises and sprains. Use only as directed. For adults and children 12 years and older.
Get positively prepared with the right pain relief for you and your family at Target.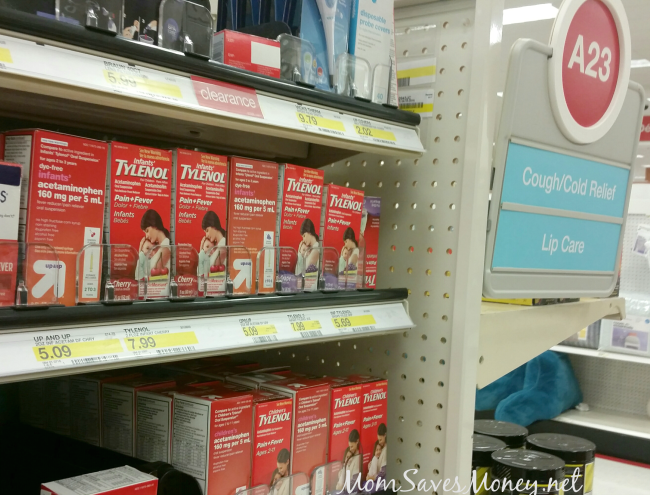 Create a homework area
As my kids get older, so does their workload and amount of homework. Our house is a little chaotic with 3 kids and creating a relaxing homework area is important. I don't have a big home, so I simply transform the dining room table to a homework center every afternoon.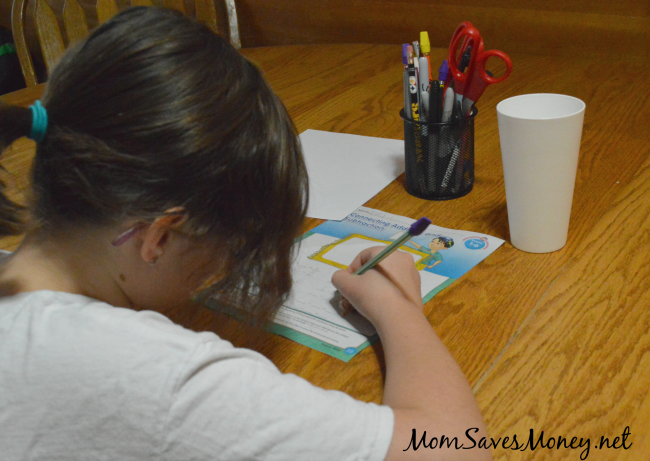 Our homework area includes:
Pens, pencils & paper
Free of clutter and distractions
A drink to sip on while they work
Comfortable chair
Snack Center
My kids are famished after a long day at school and I created a simple snack center with healthy options. They can come home from school and pick something to eat right away.
Be Prepared
Program all school phone numbers into your phone and save teacher's email addresses so you can contact the school quickly if necessary. Also, update all important school dates, events and closings in your calendar for the school year.
Print this free back to school checklist and be ready for back to school!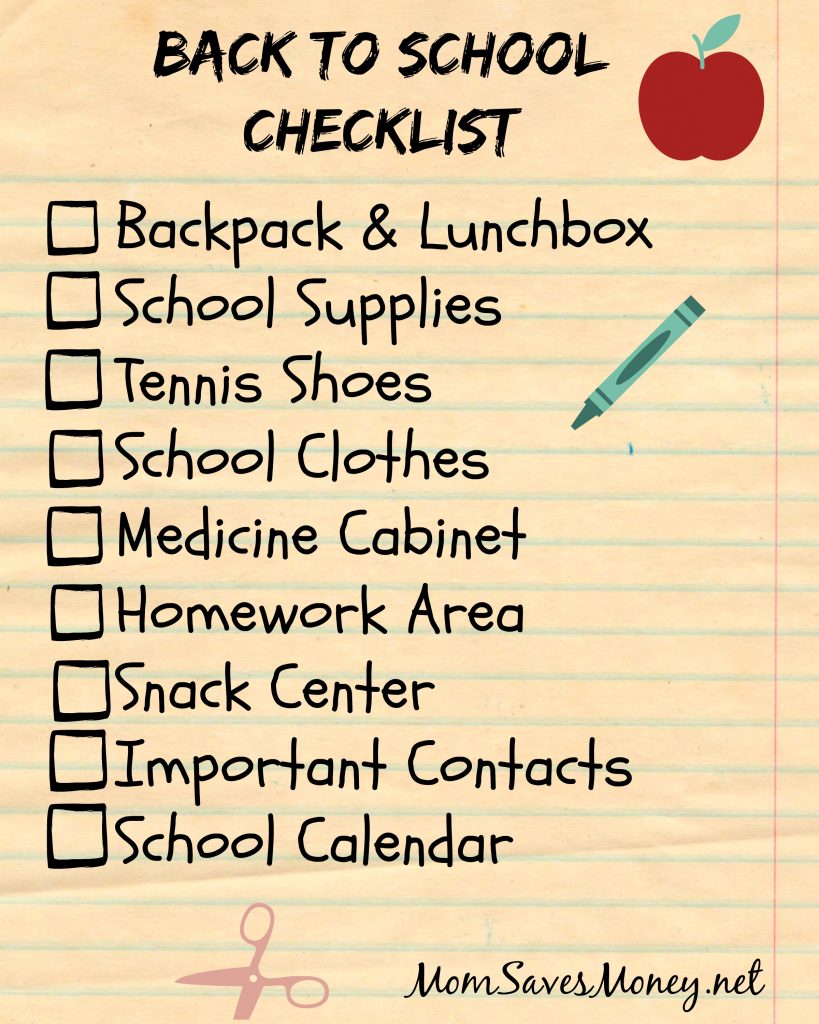 Are you ready for back to school? Please share your tips to make sure your kids are prepared for school?