Peter Piper picked a peck of pickled peppers.
A peck of pickled peppers Peter Piper picked.
If Peter Piper picked a peck of pickled peppers,
Where's the peck of pickled peppers that Peter Piper picked?
I don't like pickled peppers.  In fact, I don't really care for anything pickled except for cucumbers – more commonly known as pickles.  (Does that mean that they're the original pickled vegetable as they won the name pickles? But I digress.)  However, I love peppers when they aren't pickled!  As in bell peppers.  Especially when I add in onions.  And chicken.  And spices.  Served on top of a flour tortilla with shredded cheese and sour cream.  More commonly known as fajitas!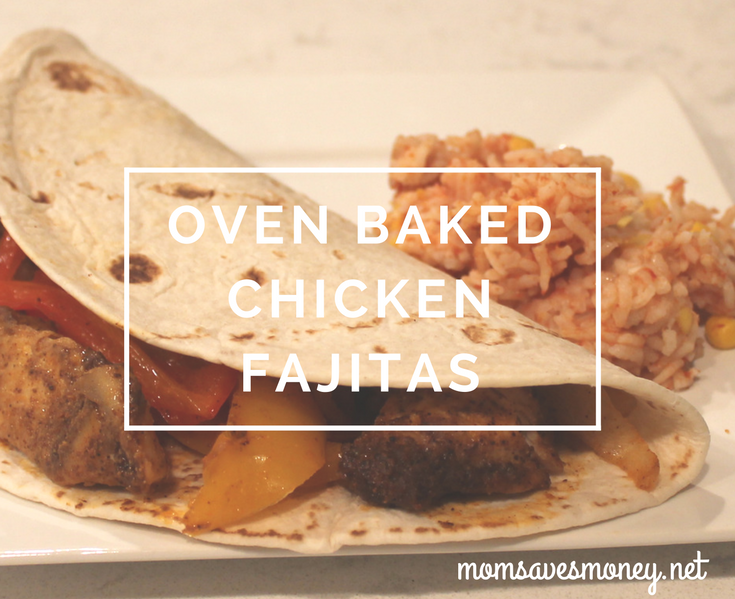 I love fajitas.  What's not to love?  It's like a fiesta in your mouth!  I've posted a way to make fajita veggies before (it makes really wonderful veggies; I drool just thinking about them!) and how to turn those veggies into fajita nachos.  But this way?  This way is even easier and is also a great way to make the chicken for fajitas AND it's easy to make it for a bigger crowd.  It's baking them in the oven on a cookie sheet (or a jelly roll pan if you have one – I love mine!)
It couldn't be more simple.  Just cut your chicken and veggies.  Toss with oil & spices and bake!  In less than 30 minutes, you're ready to go.  And that's 30 minutes of passive time – where you don't have to be doing anything except setting the table and letting your mouth water!
The perfect ratio between meat & veggies is a pretty individual choice.  I personally land on the side of "more veggies please" of the spectrum, but that's up to you.  Really like veggies?  Use more of them and cut back on the chicken.  Like chicken?  Use more of that!  It's very customizable.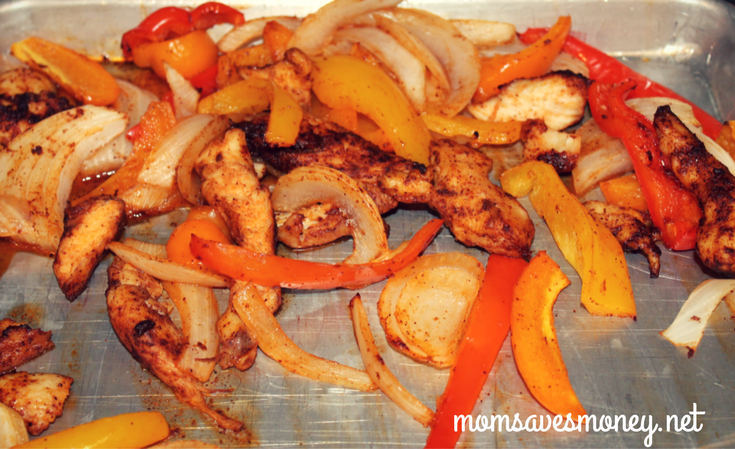 Fajitas are also simple to serve – just lay out the chicken & veggies as well as the fajita toppings and let people build their own.  You don't have to go the tortilla route.  You can put on top of chips to make nachos.  You can put on top of lettuce to make a fancy taco salad.  Either way, simple to make.  Simple to serve.  But there's nothing simple about the taste!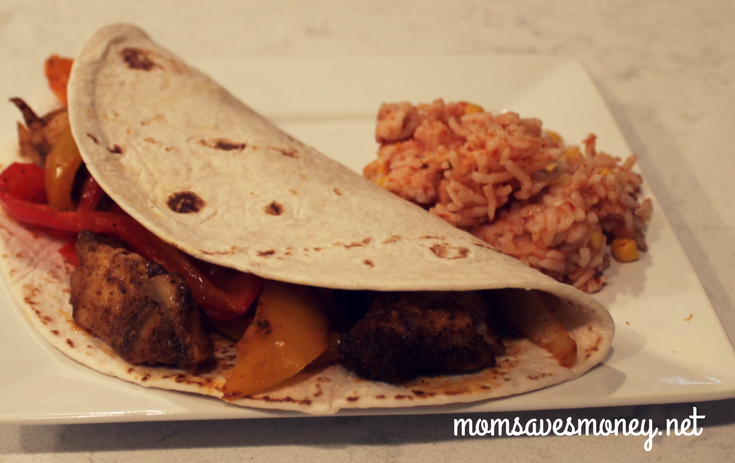 Oven Baked Chicken Fajitas
This recipe serves 4 people, but it's easy to make more or less, just adjust the recipe accordingly.
Ingredients
Fajita Seasoning Mix:
1

Teaspoon

chicken bouillon granules (or 1 bouillon cube smashed up with the back of a spoon; that's what I do)

1

Tablespoon

cornstarch

1

Tablespoon

chili powder (or less if you don't like it spicy)

1

Teaspoon

salt

1

Teaspoon

paprika

1/2

Teaspoon

onion powder

1/2

Teaspoon

garlic powder

1/2

Teaspoon

cumin
Fajita Ingredients:
1

pound

boneless, skinless chicken breasts, cut into narrow strips

3

bell peppers (any color) - cut into long thin strips

1

onion, cut into long strips

1/4

cup

vegetable oil

fajita seasoning (1 packet or 1/4 cup of the recipe below)

tortillas

other fajita toppings - salsa, sour cream, cheese, etc.
Instructions
Fajita Seasoning Mix:
Combine ingredients well.
Fajita Instructions:
On a large sheet pan, mix together the chicken, peppers, onion, vegetable oil and fajita seasoning. Spread out. You can use 2 pans if you're making a lot. (If you like really crisp veggies, then just marinate the chicken, bake for 5-10 minutes, then add in the veggies).

Bake at 425 for about 20 minutes.

Check for doneness. If chicken was cut into big pieces, it may take longer. Remove when done.

Serve with the tortillas and fajita toppings.
Jayme is a wife to 1 and a mother to four little boys. She coupons, but isn't super extreme about it. She price matches and loves it! While she likes to cook, she's in the stage of life where simple is usually better! She never knows how many hands she'll have free at dinner time! You can find her at No Regrets Living.
Check out more recipes you might enjoy: