Disclosure: Contains affiliate link
I love making dehydrated and shelf-stable fruit for quick snack or a healthy treat for on-the-go. Dehydrated bananas are so easy to make and taste delicious! This was the first food I ever dehydrated and now I make a batch every few months.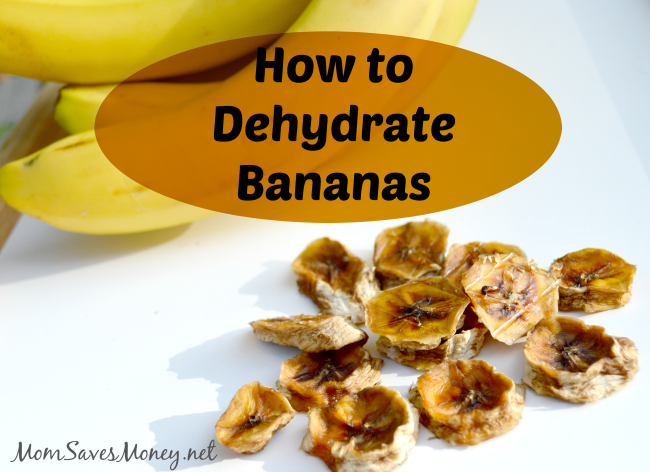 The easiest way to make dried bananas is with a dehydrator. My daughter and I can usually fill up our 10-tray dehydrator with 20-25 pounds of bananas in about 30 minutes. Then I just turn on the dehydrator and let it slowly remove the moisture from the bananas to create perfectly dried fruit.
You will need to slice the bananas into 1/4″ to 1/2″ thick slices. For best results, you want all the slices to be as uniform as possible. I use this 1/2″ banana slicer to make sure that they are all the same size. (Note – if you want a good laugh, read some of the reviews on this product. Although I find this tool quite useful, others make fun of it and the reviews are hilarious.)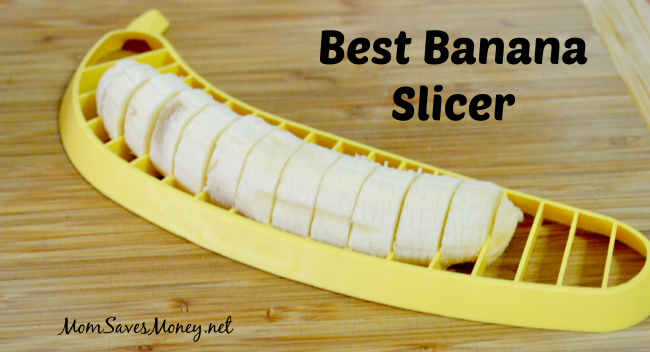 You can also cut your bananas using a butter knife, but I've found it takes twice as much time to prepare. The slices are also not always the same size, which means some of your slices will be done before the other slices. It's best to have slices as similar in size as possible when dehydrating. However, if you want a quicker dehydration time, cut your slices into 1/4″, instead of 1/2″.
How to Dehydrate Bananas
Ingredients:
Fresh bananas
Lemon juice & cold water mixture (optional)
Directions:
1. Peel bananas & slice into 1/4″-1/2″ thick slices
2. Optional – soak slices in a solution of 1/2 lemon juice & 1/2 cold water for about 10 minutes (lemon juice keeps your bananas chips yellow. If you skip this step, your banana chips will be more brown.)
3. Place slices on a single layer on dehydrator tray
4. Dehydrate at 125 to 135 degrees for 6-18 hours or until bananas are pliable and leathery and at your desired level of crispiness (longer dehydration = crispier & thicker slices = more drying time)
5. Cool and transfer dehydrated banana slices to airtight container or storage bag
Don't forget to rotate trays if necessary. I have a 10-tray self-circulating dehydrator which I love because I don't have to rotate. After about 6 hours of dehydrating, I check the bananas every hour to see if they are done.
Properly dehydrated bananas are shelf-stable and can be stored in an airtight container approximately one year. Bananas are my favorite dried fruit and I love that it's so easy to do. What's your favorite dehydrated food?