Growing up, my mom would often serve tuna fish sandwiches, especially for lunch.  Maybe I was a strange kid, but I loved them.  Then I went to someone else's house and they served me a tuna fish sandwich.  Except they didn't make it right.  At least, not right for me.  For me, tuna fish sandwiches aren't served on plain bread, but toasted bread.  And, for me, they don't have celery in them.  Don't get me wrong: I still liked it – at least it was made with mayo instead of the alternative.  But, if it were me, I'd make tuna fish without celery and serve it on toast.
Then, one day, I was at a cafeteria kind of place and they had a tuna melt on the menu.  I thought "Why not?".  So I ordered it.  LOVED IT!  Essentially, it's something that I love (cheese) added on top of something else I love (tuna fish).  Winner!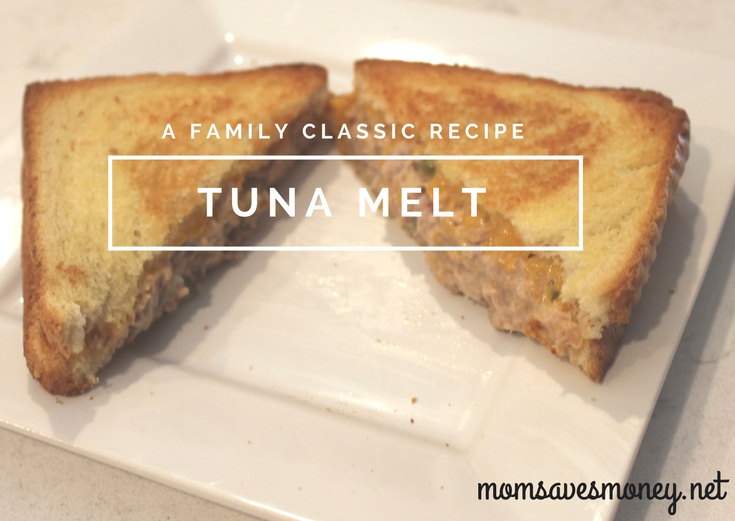 And they're quick to make too.  You might think it's a hassle to make a bunch of them – and that'd be true if you were making it in a skillet, one by one.  That's a great way to make 1 sandwich, but not a great way to make a few.  You know what is a great way to make a few?  Bake them in the oven!  It's the same technique that I use for ham & cheese sandwiches.  You essentially assemble the sandwich and then bake it in the oven.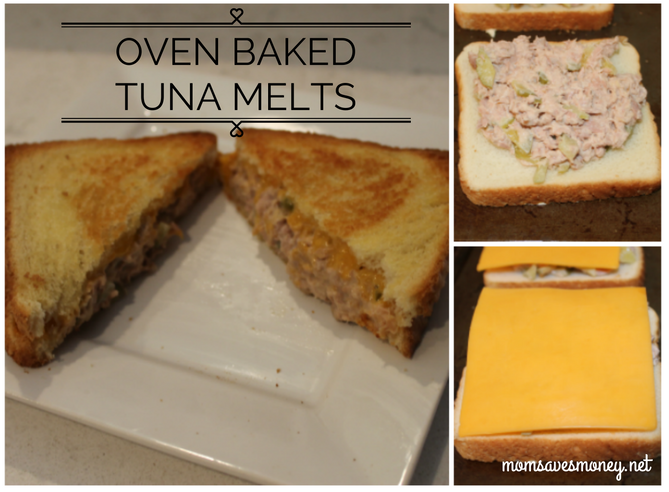 Oven Baked Tuna Melts
Ingredients
For each sandwich:
2

slices

bread

1

slice

of cheese (I'm partial to cheddar, but pick your favorite!)

tuna salad

Butter
Instructions
Preheat your oven to 425 degrees.

Make your tuna salad if you haven't already (I use lots of pickles, just a little mayo and onion.)

Butter one side of each slice of bread.

Put 1 slice of bread butter side down on a cookie sheet.

Put the tuna salad on top of the bread.

Top the tuna salad with cheese.

Top the sandwich with the other slice of bread, butter side up.

Bake for 8 minutes, then flip.

Bake for 4-6 more minutes.

Keep an eye on it to make sure it doesn't get too done. Ovens will vary!
Jayme is a wife to 1 and a mother to four little boys. She coupons, but isn't super extreme about it. She price matches and loves it! While she likes to cook, she's in the stage of life where simple is usually better! She never knows how many hands she'll have free at dinner time! You can find her at No Regrets Living.