Kitchen Hack (noun): Refers to a shortcut found in the kitchen. A tip or a technique that makes one's life easier, specifically when it comes to organizing or preparing a meal.
Here's another kitchen hack for you! In this case, it's a way of making a recipe in a way that is easier, but might not be widely known.
To make 1 grilled cheese sandwich, you can make it in a skillet. To make a few more than 1 grilled cheese sandwich, you make them on a griddle. (A favorite way of mine!) But you could also make them in the oven! While a family-sized griddle can make maybe 8 sandwiches at a time. In the oven? You can make at least 16 at a time! For those that have double ovens, you can make even more at one time.
Which is great if you have a large family. It's also great if you're throwing a chili cook-off and want to serve sandwiches with it. But you know what? It's even great if you want an easier way to make it for your small family. You just prep the sandwiches, put them in the oven and move onto other things.
EASY! EASY! EASY! And when it comes to the kitchen, I like easy things!
This grilled cheese that I'm showing you today isn't just a standard grilled cheese sandwich – it's a Grilled Ham & Cheese sandwich. Just sticking a few slices of deli ham (or turkey or chicken or roast beef) in the middle of a sandwich moves it up a notch. And there's nothing that says you have to use American cheese in your Grilled Cheese. I used cheddar and mozzarella in this one. A nice combination!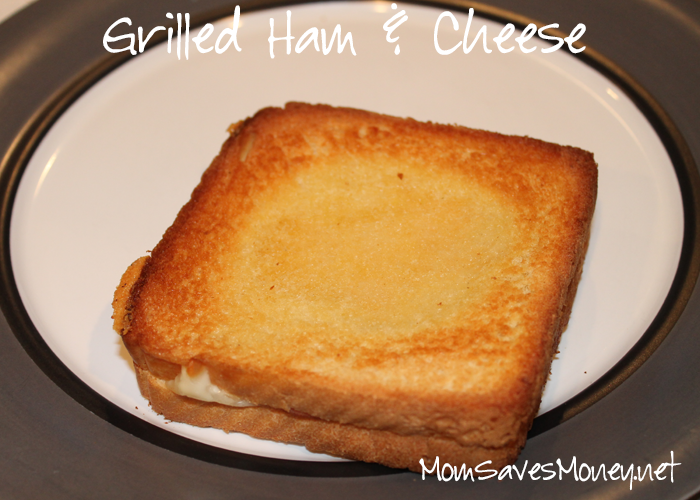 Grilled Ham & Cheese in the Oven
Ingredients
For each sandwich:
2

slices

bread

2-3

slices

of cheese (take your pick!)

2-3

slices

of deli meat (ham, turkey, chicken or roast beef)

Butter
Instructions
Preheat your oven to 425 degrees.

Butter one side of each slice of bread.

Put 1 slice of bread butter side down on a cookie sheet.

Put the cheese & meat on top of the bread. If using meat, make sure the cheese is on the outside for the best meltiness. (Meltiness is a new word. You can use it too.)

Top the sandwich with the other slice of bread, butter side out.

Bake for 8 minutes, then flip.

Bake for 4-6 more minutes.

Keep an eye on it to make sure it doesn't get too done. Ovens will vary!
Jayme is a wife to 1 and a mother to three little boys (soon to be 4 this summer!). She coupons, but isn't super extreme about it. She price matches and loves it! While she likes to cook, she's in the stage of life where simple is usually better! She never knows how many hands she'll have free at dinner time! You can find her at No Regrets Living.