Are you a coffee fan?  I am not.  Unless you count liking the smell of coffee.  I just never acquired a taste for it.  I haven't really tried…it seemed like an expensive habit to pick up, so I've left it alone.
Which has been a little problematic because coffee can be a really big part of American life, you know?  In college, guys often ask "Hey, wanna go grab a cup of coffee sometime?" as a way of asking, but not really asking a gal on a date.  As a new employee, people congregate around the coffee machine, learning some of the more subtle details of office life.  As a new mom, women often meet over coffee to discuss sleeping schedules, feeding difficulties and other mommy woes.
But me?  You should invite me out for a Pepsi.  Or an ice cream cone.  Or a slice of cheesecake.  Then I'm in.  I'll happily pseudo-date you.  I'll gladly learn about your corporate culture. I'll be giddy to discuss post-partum parties.
All that to say, my banana bread is back!  Today is another tweak on my banana bread recipe to provide a different, but delightful experience.  This time, I add cinnamon to make it feel more like a breakfast dish.  Perfect complement to coffee for all you coffee lovers out there!  Which you know, isn't me.  But I love me some cinnamon banana bread anyway!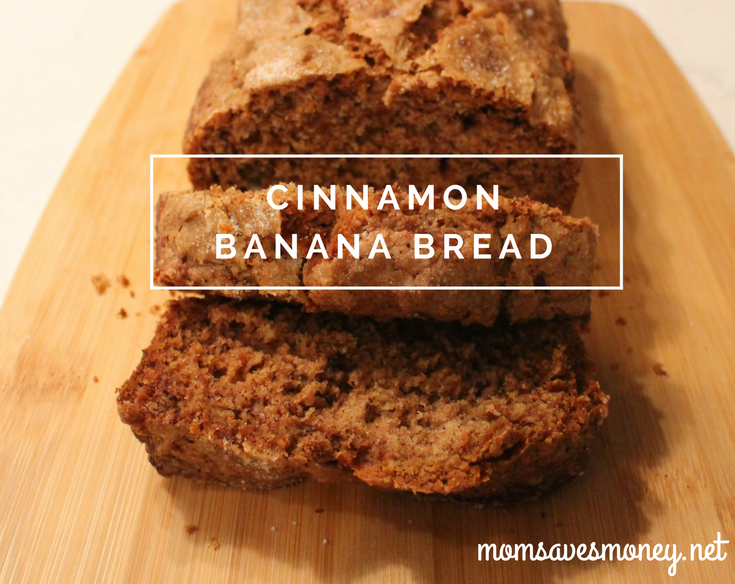 Remember, this freezes really well! Use up lots of bananas – or, I'll even buy the really ripe bananas that have been discounted in the produce section just to make a few loaves.  Bake 'em, cool 'em, pop 'em in the freezer.  Couldn't be easier!
Cinnamon Banana Bread
Ingredients
1/3

cup

butter

2

ripe bananas, peeled

1

teaspoon

baking soda

Pinch of salt

1-2

tablespoons

cinnamon (depending on how strong you want the cinnamon flavor to be)

3/4

cup

sugar

1

egg, beaten

1

teaspoon

vanilla extract

1 1/2

cups

of all-purpose flour
Instructions
Preheat the oven to 350 degrees. Prepare a bread loaf pan (I swear by Pam with Flour!)

In a mixing bowl, melt the butter.

Add in the mashed bananas. (I just add the bananas to the bowl and mash them into the butter.)

Mix in the baking soda, salt and cinnamon.

Stir in the sugar, beaten egg, and vanilla extract.

Mix in the flour.

Stir in the chocolate chips.

Pour the batter into the bread loaf pan. Bake for 50 minutes to 1 hour.

Remove from oven and cool completely. Remove the banana bread from the pan. Slice and serve.
Notes
To freeze: Let it cool, wrap up tight in plastic wrap, put into a freezer safe bag. Defrost when ready to serve!
Jayme is a wife to 1 and a mother to four little boys. She coupons, but isn't super extreme about it. She price matches and loves it! While she likes to cook, she's in the stage of life where simple is usually better! She never knows how many hands she'll have free at dinner time! You can find her at No Regrets Living.
Check out more recipes you might enjoy: