Disclosure: Contains affiliate links. All opinions are mine.
Known as the Cornhusker State, Nebraska sometimes gets a bad rap. People sometimes think of it as one of those "boring plains states". They assume that the people there just spend a lot of time watching the grass grow. When they aren't dodging tornadoes, that is.
But people who actually live in Nebraska know how special it is. They know the beauty of the Platte River. Their hearts fill with joy when they see Goldenrods blooming. And they know that there are many places to go for recreational fun, all across the state, including many museums to see in Nebraska.
Nebraska has an abundance of natural beauty. There are many beautiful places for outdoor activities. But when the summer heat gets to be too much, escape indoors to one of these wonderful museums. Whether you love art, classic cars, baseball, or simply want to find a fun place to take the kids, here are 10 museums to see in Nebraska this summer!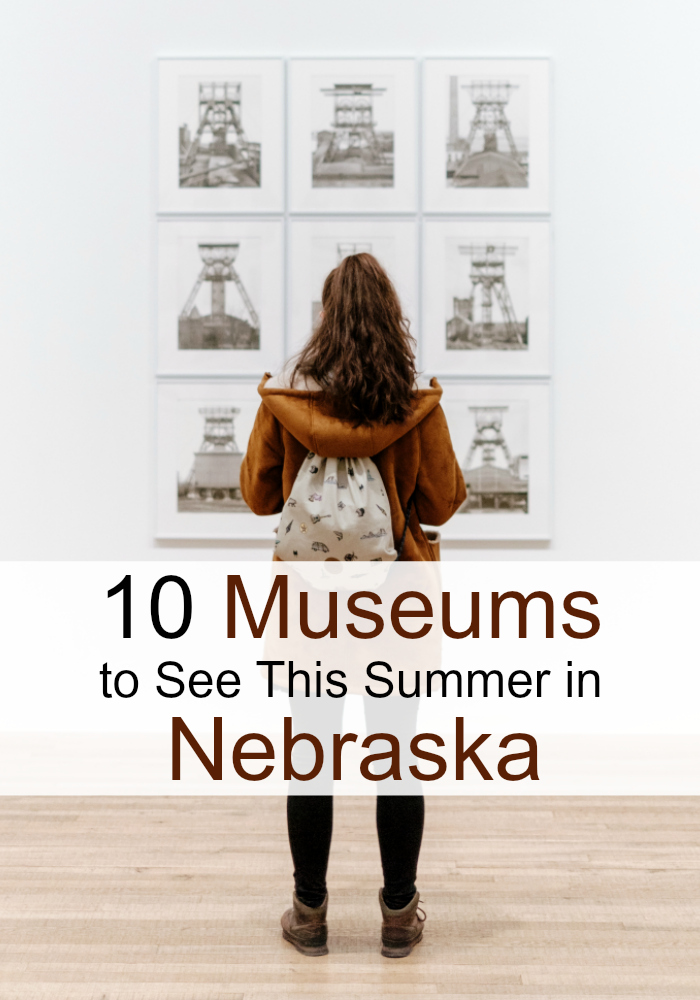 Joslyn Art Museum – Omaha, NE – The Joslyn Art Museum hosts several permanent collections from around the world. They are especially noted for their European Galleries and their Art of the American West. But there is so much more to Joslyn Art Museum. Be sure to check their Calendar of Events. They offer a wide range of temporary exhibits, workshops, and performances you don't want to miss. You can enjoy a bite to eat in Cafe Durham or take a walk in the Sculpture Garden when it isn't too hot. They also offer many programs for teens and adults. If you love art, the Joslyn Art Museum should definitely be on your bucket list!
Nebraska Off the Beaten Path by Diana Lambdin Meyer
Great Platte River Road Archway Monument – Kearney, NE – The Great Platte River Road Archway Monument is amazing. The building alone is an architectural masterpiece, arching over one of the busiest interstate highways in America – I-80. But as you walk through this building of modern architectural advancement, you'll be transported back in time to the Oregon Trail in the 1840s. Experience the history of our country from there to the present time. Hear the stories of the people who made it all happen. Once you're done with your tour, enjoy a bite to eat in the roadside diner downstairs. Convenient and informative, this entertaining museum provides a great family experience, without taking all day!
The Complete Roadside Guide to Nebraska, Second Edition by Alan Boye BS MA
Museum of Nebraska Major League Baseball – Saint Paul, NE – Are you (or is someone you love) a fan of baseball? If so, you really should visit the Museum of Nebraska Major League Baseball. This wonderful place is dedicated to the more than 140 Nebraska men who have made it to the Major Leagues of Baseball over the years. Check out displays of pictures, cards, and artifacts dedicated to some of the greats! Spend time basking in the company of baseball giants like Les Nunamaker and Sheldon Jones. And don't forget your ball and mitt so you can head to the park for a game of catch later. This museum might just give you a major league case of baseball fever!
The Great Platte River Road: The Covered Wagon Mainline Via Fort Kearny to Fort Laramie
Museum of American Speed – Lincoln, NE – If you love fast cars (and honestly, who doesn't?), make sure you make time for the Museum of American Speed this summer. Located in Lincoln, this 150,000 square foot space is filled with an amazing collection of cars and memorabilia from the history of racing. Founded in 1992, the Museum of American Speed was declared to be the "best racing museum in the country" by Automobile Magazine. Filled with excitement and beauty, it is also a great place to beat the summer heat!
One Nation Under Baseball: How the 1960s Collided With the National Pastime by John Florio
Plainsman Museum – Aurora, NE – The Plainsman Museum is a journey back in time, to the people who helped settle the great state of Nebraska. Visit the Plainsman Building and see beautiful exhibits that offer glimpses of the way people once lived. The Wesley Huenefeld Agricultural Building is filled with examples of technological marvel. Take a step back in time with the General D. Bates Home, the Fairview School, and the old Blacksmith Shop. Check out the old Burlington Northern Rail Road Caboose and imagine heading across the country at the end of a long train. The Plainsman Museum is a jewel, offering an opportunity to experience the way life used to be!
Vintage American Road Racing Cars, 1950-1970 by Harold Pace
Lincoln Children's Museum – Lincoln, NE – If you are in the Lincoln area and you have kids, the Lincoln Children's Museum should be on your list of most important numbers. Offering a great place for parties and numerous kid events throughout the year, this magical place makes a great addition to the life of any Lincoln kid. But even if you're just passing through the area, you should make a point of stopping by. Filled with interesting hands-on exhibits for kids of all ages, the Lincoln Children's Museum can put you in touch with your own inner child, too!
Nebraska: An Illustrated History (Great Plains Photography) by Frederick C. Luebke
The Durham Museum – Omaha, NE – Affiliated with the Smithsonian Institution, the Durham Museum is a trip through the history of Omaha, NE. From amazing architecture to life-like sculptures and displays, this lovely place transports you back in time. The Durham offers a lovely mix of permanent and temporary exhibits, along with events and speaking engagements. If you are interested in Nebraska History, you owe yourself a visit. And once you're finished with your museum tour, spend a little time enjoying the rest of Union Station!
Light On the Prairie: Solomon D. Butcher, Photographer of Nebraska's Pioneer Days by Nancy Plain
Morrill Hall – Lincoln, NE – Morrill Hall is the University of Nebraska State Museum, and this wonderous place is not to be missed. Offering dynamic and diverse exhibits, planetarium shows, fun events, and a gift shop where you can buy unique gifts and treasures for everyone you love, Morrill Hall is a special world. Everything here is designed to enchant you while teaching you something special, ensuring that Morrill Hall will stay with you long after you drive away.
A Harmony of the Arts: The Nebraska State Capitol (Great Plains Photography) by Frederick C. Leubke
Classic Car Collection – Kearney, NE – Another incredible place to be for car enthusiasts of all ages, the Classic Car Collection in Kearney offers a glimpse at the class and style of days gone by. There are over 200 automobiles here, ranging back through history to the early 1900s. Many of these lovely vehicles were donated by Bernie and Janice Taulborg in 2011, and these well preserved vehicles are simply amazing to see. This fun museum also puts on some great events, so be sure and check the calendar on their website so you don't miss a thing!
Classic Car: The Definitive Visual History by DK
Omaha Children's Museum – Omaha, NE – The Omaha Children's Museum is a great place for parents and children alike. Filled with fun exhibits and offering great programs that provide both fun and learning, it is an amazing place for inquisitive kids and anyone young at heart. Check out the Daily Calendar and Special Events Calendar so you don't miss anything all summer – and throughout the whole year!
20th Century Classic Cars: 100 Years of Automotive Ads by Phil Patton
Whether you have a special love for museums or are simply looking for something different to do this summer, these 10 museums to see in Nebraska this summer will not disappoint. Have you visited any of them yet? We'd love to hear from you in the comments below!