Disclosure: Sponsored post in partnership with Blog Meets Brand and Cedar Fair. All opinions are mine.
Our family has visited Worlds of Fun in Kansas City several times over the past few years, but we've never visited the Oceans of Fun side. I was so excited to take my kids for their first time and my first visit in almost 25 years! Here are some of our favorite water adventures and tips for your visit to Oceans of Fun.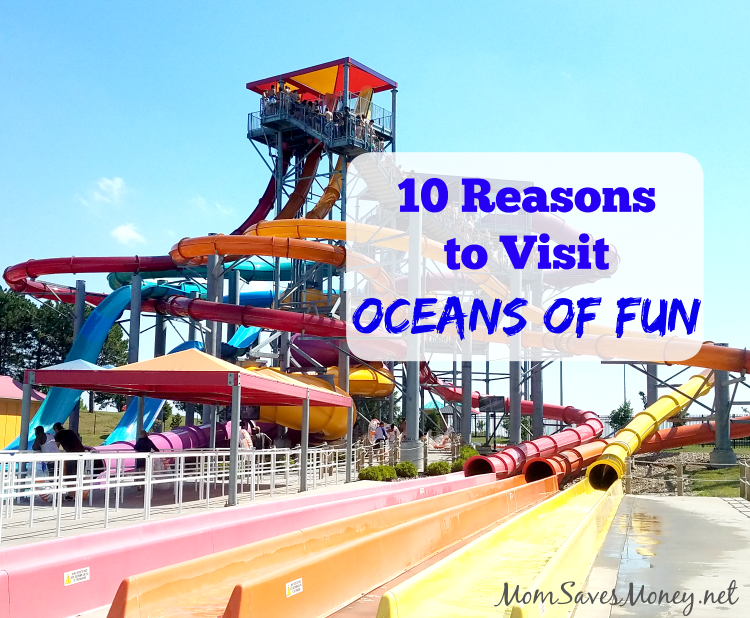 One Admission for Two Parks
Pay one park admission and enjoy both Worlds of Fun AND Oceans of Fun all day! We started early and rode a few rides, ate lunch and then changed into swimsuits to play in the water the rest of our trip. There are changing stations conveniently located at Oceans of Fun so you can get ready to swim anytime during your visit. Check out the new rides and discounts for the 2017 season.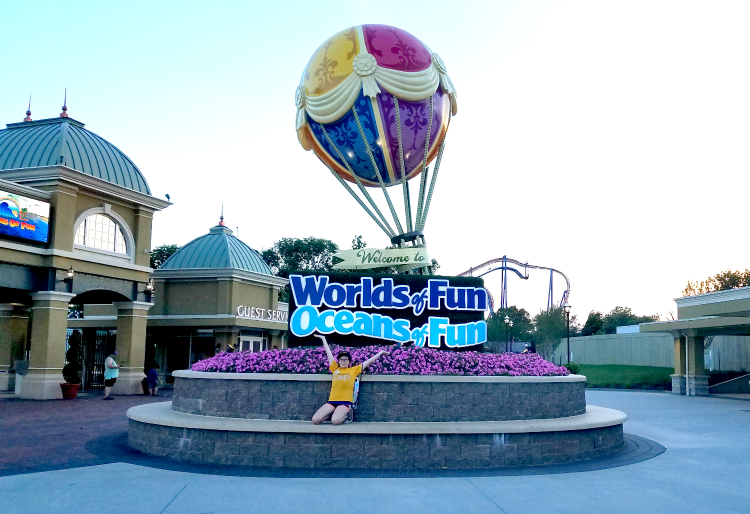 Slides, slides and more slides!
If you love the thrill of water slides, Oceans of Fun has you covered. From Predator's Plunge (a near vertical drop) to the Typhoon (a 400 foot humpback slide), there are plenty of slide adventures. Your entire family can even enjoy Hurricane Falls water slide in a 4-person water raft!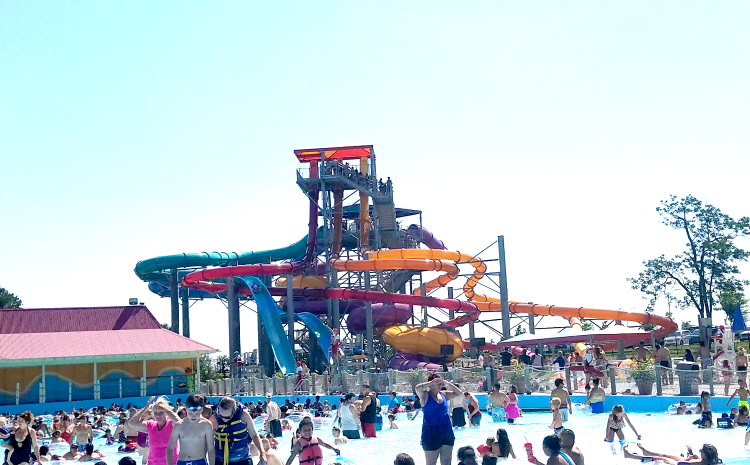 Paradise Falls
This is an amazing play area with multiple water slides, a giant bucket of water that dumps every 5 minutes and many water features. My kids could have spent all day at Paradise Falls. They had a blast!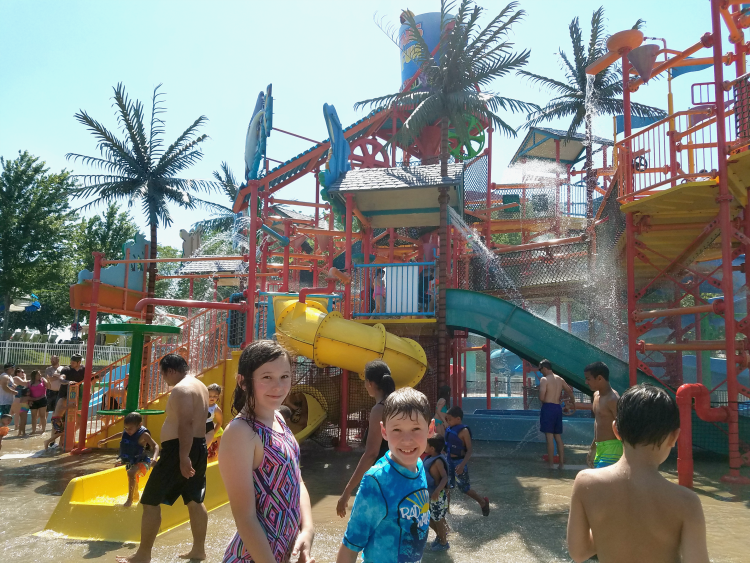 Lazy River
Need a moment to just to relax? Grab an inner tube and float in the lazy river.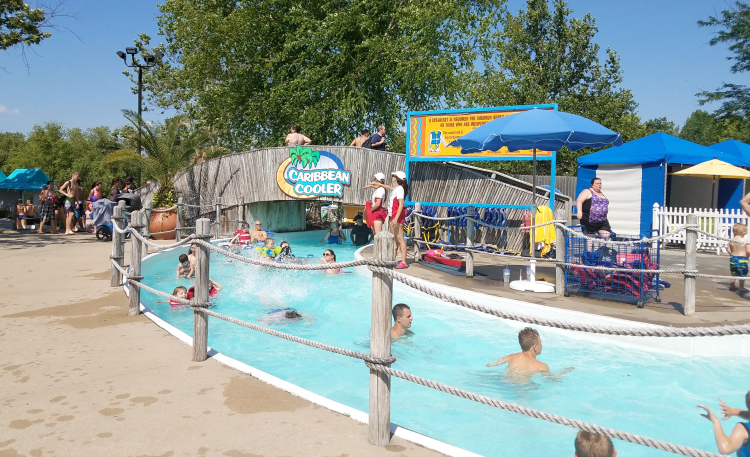 Surf City Wave Pool – This is a zero entry depth giant pool with huge waves every 10 minutes. Grab an inner tube or swim in for some fun and a chance to cool off in the pool.
Kayaking and Paddle Boating
Ever wanted to try kayaking? Now is your chance at Oceans of Fun and it's included with admission!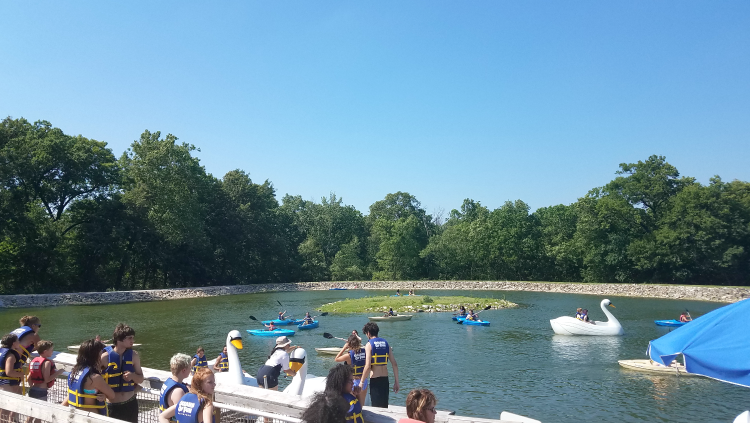 Complimentary Inner Tubes
There is no extra charge for inner tubes for the slides and lazy river.
Splash Island
This is a splash pad area perfect for young kids.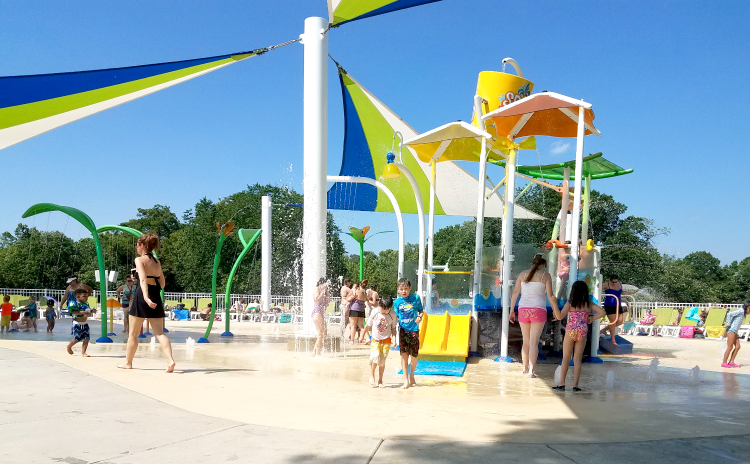 Shallow Play Areas
There are several play areas just for little kids, including this super fun pirate ship! Plus, there are plenty of shorter water slides for kids of all ages to enjoy.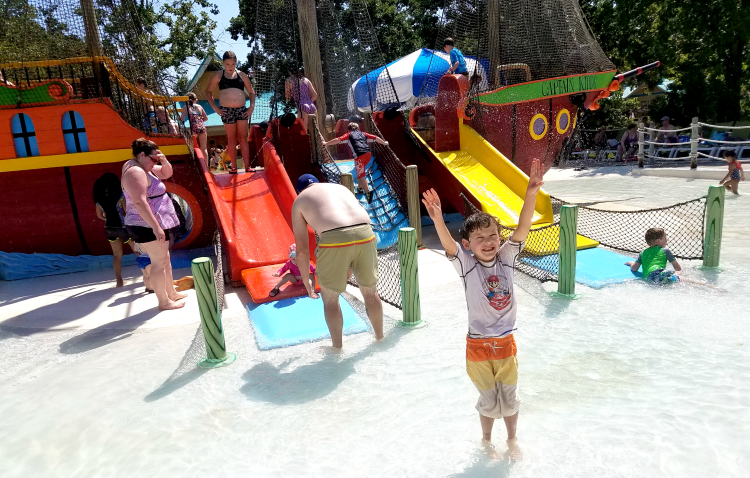 One of the many slides in the kid's areas just for the little ones to enjoy!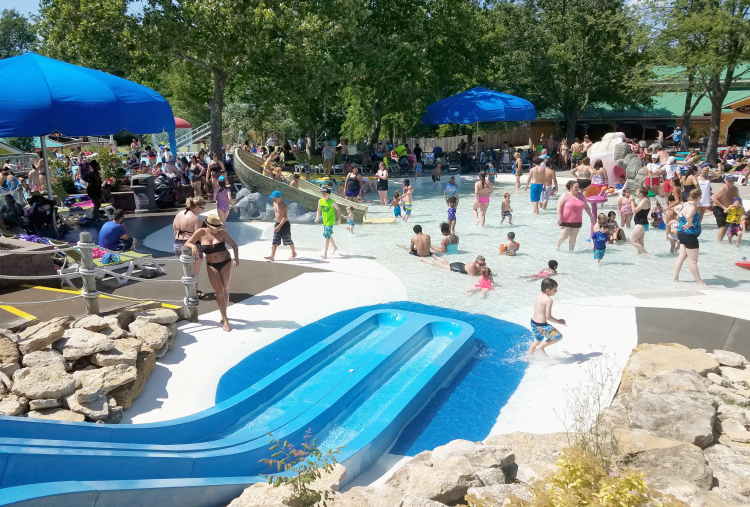 Free Life Jackets
Have a young child or a weak swimmer? Get peace of mind with life jackets in several sizes available at no additional charge.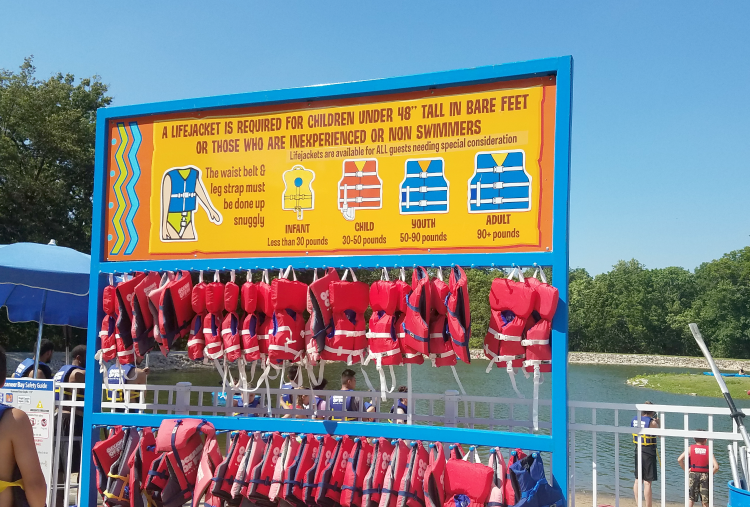 Want to see more Oceans of Fun adventures? Check out our quick video from our visit:
Tips for your visit to Oceans of Fun:
Lockers – There are lockers for an additional fee to store your valuables during your visit. The rentals do accept credit/debit cards as payment.
Cabanas – If you want a private area to gather, you can rent a cabana for an additional fee.
Lounge Chairs – Throughout Oceans of Fun there are hundreds of lounge chairs to set your towels or just relax in the sun.
Food & Drink – You cannot bring any food or drink into the park, but there are several restaurants. Drinking fountains are readily available to stay hydrated.
Parking – If you plan to visit Oceans of Fun only or at the beginning of your trip there is parking available at the entrance to Oceans of Fun. If you park on the Worlds of Fun side it is a long walk to get to the water park.
Make sure to check out my 10 survival tips for visiting amusement parks to make the most of your day at Oceans of Fun (#8 is a must with water attractions)! I also recommend you join the Worlds of Fun email newsletter to learn about deals, the inside scoop on rides and events. You can also follow Worlds of Fun on Facebook and Twitter for more details and updates about the park and order Worlds of Fun/Oceans of Fun Tickets online at https://www.worldsoffun.com anytime!
Are you planning to visit Oceans of Fun in 2017? What's your favorite slide?